A lot has been written about the decline of the brick-and-mortar side of the retail sector--so much in fact that it can be easy to think that the sector itself is in decline. Take a step back from a focus on the retail stores of our childhood memories, and what emerges is a sector that is remarkably nimble in the ways it is adjusting to and profiting from the retail environment of today.
First, let's see what the data says.
We know that the introduction of online and mobile shopping is transforming how and where consumers are shopping. But has there also been a shift in what consumers are shopping for? The recent news from the Census Bureau that median household incomes rose 5.2 percent in 2015, one of the largest increases in the history of the series, is good news for consumer confidence in the near term and the retail sector overall. But connecting that data to the performance of the retail sector would take a very broad brush. The key question is this: if there has been a shift to specific retail goods/services and modes of shopping--and it doesn't take much more than a visit to Amazon to understand that there has--then what must other retail centers/retailers do to accommodate these new trends?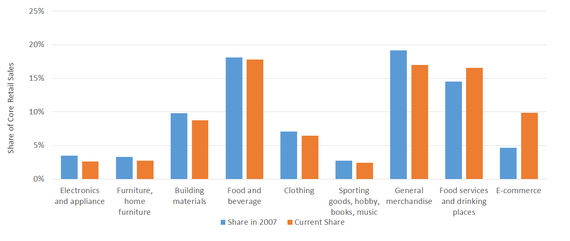 Source: Census Bureau
During the Great Recession, many were talking about a potential shift in consumer spending habits; this shift would come from a pullback in spending overall. It didn't happen. Core retail sales (overall retail sales minus auto and gas station sales), after a rapid and historic decline, had fully recovered (in levels) by the end of 2010. Even though sales recovered, the magnitude of growth in overall retail spending, since the recovery started, has not yet hit those recorded pre-2008. In addition, there has been a shift in what consumers are shopping for and where they are purchasing their goods.
Looking at the share of individual retail sectors, such as clothing and electronics, to overall core retail sales, we see what has become a familiar narrative: the overall decline in sales at traditional brick-and-mortar stores. The data graphed above show evidence of this. The hardest-hit sectors have been general merchandise (department stores, discounters) and housing-related retailers (electronics and appliances, furniture and building materials). Only one sector has continued to gain share of overall core retail sales: food services and drinking places (restaurants and bars). The two trends that clearly arise from the chart above are as follows: 1) significant sales of goods at brick-and-mortar retail stores have shifted to online, where the share of e-commerce sales is almost 10 percent and growing(!), and 2) when at a brick-and-mortar center, shoppers tend to dining out, which is reflected in the one retail sector gaining share.
Every sector of the economy faces its share of headwinds. The retail sector is no different. The emerging narrative will be the strategies used by those in the sector to respond. We can see signs of that agility and creativity showing up in the data and in communities.
Retailers such as Gap and Macy's, for example, are choosing to downsize the number of stores they currently operate, due to the increased focus on online and mobile shopping. That certainly makes sense, and it will be more than a little interesting to see what they do to go beyond hunkering down. Retail centers are adding more tailored experiences to draw in and retain customers. Retailers, such as Barnes & Noble, are expanding food services within their stores to increase foot traffic. Amazon is altering its once online-only strategy by opening brick-and-mortar stores, recognizing that an online-only presence isn't enough. What a dull world this would be if shoppers cut themselves off from the social experience of a day downtown or at the mall.
As long as people need goods and services, there will be a vibrant retail sector. The retail centers/retailers that watch the data, understand their customers, and--more importantly than ever before--swiftly adapt to changes in the retail environment, will be those that succeed.