For as long as I can remember, my life has been steeped in art. My parents are avid contemporary art collectors and opened an art gallery (Analix Forever) in 1991. I studied the history of art in college. While at Harvard, I had the opportunity to befriend the artist Matt Saunders, with whom I have stayed in touch with for over a decade. We share coffee annually, in whichever part of the world we happen to be in simultaneously. Most recently, that has been in Cambridge, as Matt is now a visiting lecturer at Harvard. But coffees have also been shared in Geneva (usually during a show of Matt's work at Analix Forever), or in Berlin (where Matt lived for 10 years after completing his Masters in Fine Arts at Yale).
Recently, we were speaking about collecting art. I like to think of myself as an amateur contemporary art collector (I have a "Matt Saunders" room in my apartment with pieces only by him on the walls), and I was interested in learning about collecting from an artist. How, and more importantly who, do contemporary artists collect? Neither Matt nor I really set out to collect art, but as Matt says, "spending your life in the presence of art, you start to pick up things that you love." Most of the pieces he owns come with a story, and often with a trade. Here, in Matt's own words, are some of the highlights of his own personal collection:
Collages by Mathew Hale (b. 1962, Wiltshire, GB)
"Mathew is one of my favorite interlocutors and best friends, a friendship that developed through a studio visit at which I bought this collage. It hung for years over my desk in Berlin and is one of my most-loved possessions. I first met Mathew briefly through friends, and the next week sought out his work (out of curiosity) at the Liste fair in Basel. The group of collages he showed there was amazing. Back in Berlin, I went to visit him in the studio, where I was blown away, and by providence saw my favorite of the Basel works (back from the fair, as the gallery had just closed its doors). He sold it to me...I think it was my first proper purchase! I have several other small things -- birthday gifts, etc. -- from Mathew now too -- dense little treasures."
Drawings by Wade Guyton (b. 1972, Hammond, Indiana)
"I have two of his drawings. The first was also one of the very first artworks I bought. . I knew Wade a little from New York, and was already a fan when I went to see the "Statements" booth he did in Basel with Francesca Pia. Your mother (actually) had just given me an envelope with some Swiss Francs in payment for a work I sold at Analix. I basically traded this to Francesca for my first, unframed Guyton drawing. This was symbolic and nice for me...a work for a work. Later Wade participated in a group show I organized at Analix. He gave a suite of several drawings. One I bought for myself from the show -- another beloved memento (the rest are in your father's office...I almost had to fight him for them)."
Works by Arturo Herrera (b. 1959, Caracas, Venezuela)
"Arturo is someone I knew from New York, who moved to Berlin about a year after we did. He is a great friend there, and over the years we have traded works on more than one occasion. I have a beautiful print that we got in partial trade when Katarina and I helped him install a big wall drawing in Berlin. In Cambridge we have an edition made of cut and painted MDF board and I have a collage incorporating a picture of a poodle and the front page of the score of Siegfried. In Berlin, we have an enormous cut felt piece. An interesting thing about Arturo is that he is a remarkable collector himself. He buys a lot of work on paper and trades with his friends and has an unbelievable collection...practically a museum."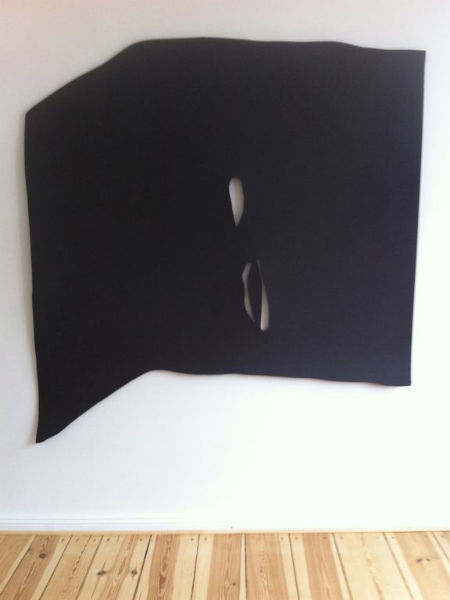 Work by Arturo Herrera
Drawing by George Grosz (b. 1893, Berlin, Germany - d. 1959, Berlin, Germany)
"I bought this last year. It was unsold from the fall auction (2011) at the Villa Grisebach in Berlin (I don't look at auction catalogs, but always look at theirs; they're low key, but have amazing things, especially early 19th and 20th century German pieces) so I called them and made an offer, which was accepted. It's a weird and intense drawing. One thing I love about it is that it is very early...just after his student days, when he was living in Berlin. You must understand the appeal of that!"
[This is a reference to the fact that I own the diptych that Matt submitted for his thesis at Harvard, some of his earliest work.]
Works by Julian Lethbridge (b. 1947, Colombo, Sri Lanka)
"Julian is a mentor and friend. He was a guest professor at Harvard in the late 1990s, where I was his teaching assistant. He really helped me when I moved to New York. I admire Julian's paintings, which, like him, are so inquisitive and open. A few years ago, he liked a picture I showed in New York, and I gave it to him. Later I visited his studio and was enthusiastic about a new small painting. A few months ago, he sent it to me. I love it!"
Paintings by former students
"I have two paintings by former students, Scott Roben and Rebecca Levitan, for which I traded them work. I Iove the pictures in themselves, and also for what they represent of the years-long conversations I had with their makers, both of whom I have high hopes for. I also bought a work from Eric Sidner, who now lives in Holland, but previously worked for me for a while in Berlin. It's a giant collage, both physical and digital. It makes people uncomfortable, and in a way that's something I believe in about it. I think Eric has an incredible mind. He has begun making far out things that are really his own. I trust this and think he's a great young artist."
An anonymous painting
"Just before we came back to the States from Berlin to teach, we were in Bratislava, where Katarina is from. On the floor of an old antiquarian shop (where she was looking for books and old postcards) I saw a small portrait painting of a boy. I paid €75 for it, and brought it with us in our suitcase to Cambridge. It was the first thing on the wall of our new home (a beautiful, brutalist building by Josep Lluis Sert) and for me was some concrete link to Europe. I think it's probably Moravian, late 19th C. Not fancy, but an intense portrait of a boy with severe hair and glowering, questioning eyes."
And a few more pieces...
"Other works of friends that we love include Lothar Hempel, Claudia Wieser, Tacita Dean, Dolores Zinny/ Juan Maidigan, Kristin Baker, Swetlana Heger, Anne Thompson and Miriam Böhm. Some I bought, some I traded, some are gifts. I have two photos by Josephine Pryde, whose shows I always admired in Berlin. Currently we're also taking care of a sculpture by Maya Schindler, though it technically belongs to a friend. I'm looking at it as I write this, thinking how much Maya always impresses me."