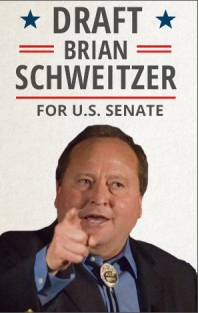 Cross-posted from The Daily Change

With the news that Sen. Max Baucus (D-MT) is retiring, the Progressive Change Campaign Committee has launched a campaign to draft former Montana Governor Brian Schweitzer (D) to run for the spot.
As of this writing. Over 15,000 Americans have signed onto the campaign, and have donated over $21,000 to a draft fund that will go to Schweitzer on Day One of his campaign.
Here's why you should join the draft campaign too -- the top 10 things that make Brian Schweitzer an awesome economic populist:
Click here to join our Draft Brian Schweitzer for Senate campaign.
(Or 
donate $3 that Brian will receive on Day One
 of his campaign, so he can hit the ground running.)