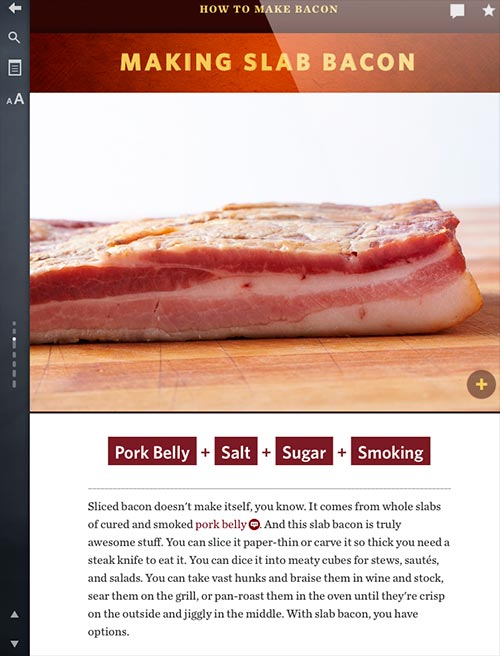 It's a vegetarian-luddite nightmare, but for those who insist bacon makes everything better the iPad won't be an exception. The Better Bacon Book: Make Cook and Eat Your Way to Cured Pork Greatness, available now on the app store, teaches the simple steps it takes to prepare your own homemade bacon using videos, photos and easy-to-follow instructions.
The design of the app is beautifully minimal and focusses on five types of bacon you can make at home: Slab bacon (what you find regularly pre-sliced in supermarkets), Face bacon, Canadian bacon, Guanciale and Pancetta. Tom Mylan, of The Meat Hook in Brooklyn, stars in twenty videos that guide you through the cuts of meat, curing mixes and finishing techniques (smoking and air-dried) that differentiate the above. All the steps are also laid out in photos and text, so there's no need to watch the videos over and over if you missed something.
The app anticipates both your surges of enthusiasm and your laziness. Ready to build your own smoker? You'll learn how to make one for around $100 with a few parts from Home Depot. Or did you get worn out just mixing the cure together? They show you how to buy a professional smoker. Too lazy or cheap to do either? All right, you can finish it in the oven (but it won't be as good).
Once you've made your bacon, chefs from around the country have contributed 31 recipes for you to try out - and only three are for breakfast. Bacon Chesseburger Meatballs, from Daniel Holzman and Michael Chernow of New York's The Meatball Shop, will go nicely with your bacon-infused cocktails, like the Swine and Thine from Mike Ryan of the Sable Kitchen & Bar in Chicago. Afterwards, you can have Malted Bacon Ice Cream for dessert.
The app is easy to navigate, allows you make notes and bookmark favorite locations, and at $4.99 is less expensive than that package of pre-sliced bacon from the supermarket you may not need again.