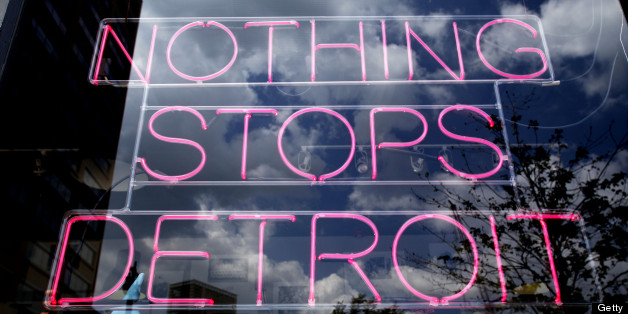 When Detroit announced that its $14 billion-plus of debt and $380 million annual budget deficit was forcing it to file for bankruptcy yesterday, only a few people around the country could understand how it feels when your city runs out of money -- the residents of Central Falls, R.I. a city of under 20,000 people were some of them.
Though much smaller, Central Falls filed for bankruptcy in 2011 citing many of the same problems now seen in Detroit -- mismanagement, reduced state and federal aid and skyrocketing health care and pension costs.
Since a municipal bankruptcy on Detroit's sale is largely without precedent, Central Falls is one of the few places in the country to observe what might be in store for Detroit. If Central Falls teaches one lesson, it's that the decision to peal off the Band-Aid and declare bankruptcy hurts, but it's the rip -- the lay-offs, slashed pensions and reduced services -- that causes real pain.
By the time Central Falls exited bankruptcy, the city had reduced the number of municipal employees from 174 to 118, cut a third of pensions by more than 50 percent and raised property taxes 4 percent. As Theodor Orson, a lawyer for Central Falls's receiver told the New York Times shortly after the final cuts were announced: "Every stakeholder except the bondholders is suffering here."
Two Different Cities
On your average day the differences between Central Falls and Detroit are probably greater than their similarities -- Central Falls has a population of just under 20,000 people, while Detroit is home to about 700,000 and Central Falls' annual operating budget is a tiny fraction of Detroit's -- but municipal bankruptcy makes for strange bedfellows.
While some larger cities have filed for bankruptcy in recent years, many of these municipalities, like Jefferson County, Alabama -- the now-second largest municipal bankruptcy in U.S. history -- came about due to particular instances of bad leadership, rather than the decades of mismanagement that brought both Detroit and Central Falls to their knees.
Jefferson County accumulated most of its debt from two places -- an overhaul of its sewer system that was so corrupt the county commissioner landed in jail for 10 years and the failure of a risky financial maneuver that would have reduced the county's debt burden but ended up exacerbating it.
One Problem
Despite the differences between Central Falls and Detroit, the same basic formula worked against each of them. In recent decades both cities have developed large amounts of debt in large part due to city officials promising municipal employees health care and pension benefits, then neglecting to pay into the funds that supply the benefits.
Both Detroit and Central Falls racked up huge unfunded pension and health care liabilities --the cities promised their employees more than it actually put aside for them. Detroit's emergency manager told the NY Times that the city owes between $18 billion and $20 billion in various forms of debt on an annual budget of $3.1 billion, while in 2011 Central Falls owed $80 million but only had annual revenues of $16.4 million.
As the unfunded liabilities and other sources of debt grew, so did the amount the cities had to pay every year to try to rein them in. Detroit spends roughly 38 percent of its budget on these "legacy" costs, Kevyn Orr, the emergency manager of Detroit told CNN, leaving only 62 percent of spending for education, infrastructure, police and fighting fires.
While these costs grew, the 2008-2009 global financial collapse significantly reduced the amount of revenue each city was bringing in -- as companies cut workers and people cut back on spending. Reduced revenue combined with larger payments on their debt created situations where governments could not afford to run their cities. In Detroit the police take almost an hour to respond to an emergency phone call, and only about 40 percent of its streetlights are currently operational.
What to Do
The first question for Detroit is whether they are allowed to enter bankruptcy. Since a city in bankruptcy often has tremendous power to slash its budget, fire municipal employees and sometimes even unilaterally reduce pension and health care benefits to retirees, judges ensure the city has no option but to declare itself insolvent. In 2011 Boise county, Idaho filed for bankruptcy, but the U.S. Bankruptcy Court for the District of Idaho denied their request.
When Central Falls received the go-ahead to begin to restructure its finances, the city's state appointed guardian focused his efforts on cutting spending and reducing spending, a possible indication of what Detroit residents can expect in its future. However, lawyers for Detroit's unions cite a clause in the Michigan state constitution that they say prevents the city from unilaterally cutting pensions.
While bankrupt cities may in theory choose not to repay some of their bonds, risking their credit ratings to prevent some cuts to city employees and retirees, a 2011 Rhode Island law prevented Central Falls from considering this kind of default. No such law exists in Michigan, and bondholders -- even those who hold general obligation bonds, historically the most secure -- could end up losing big. The fight between bondholders and pensioners over who loses how much will likely dominate the headlines. Detroit will be charting new territory in its attempts to save pensions and services by going after bonds, possibly facing long-term difficulties if they ever want to sell bonds to Wall Street again.
The most important difference between Central Falls and Detroit may end up being how long the bankruptcy process takes. Central Falls took about a year to move from filing for bankruptcy to a judge's approval of a five-year-plan to keep budgets balanced and unfunded liabilities under control. The city was able to accomplish its restructuring almost-miraculously quickly, because of the relative size of the city and the power placed in the hands of the state receiver. Detroit is a vastly larger city with laws that appear to complicate every element of the process.
Already every interest group in the city -- the unions, retirees, bondholders, and neighborhood community group upset over quality of life -- is gearing up for lawsuits that could drag on for a long time. If the process takes too long, more people could leave, businesses could decide not to invest and society could write Detroit off as a lost city.
Here Central Falls has one more lesson: It's worth looking to the small symbols of hope. This year both the Central Falls High School and Middle School chess teams qualified for national finals, raising every penny they needed to attend. Both teams finished in the Top 10.