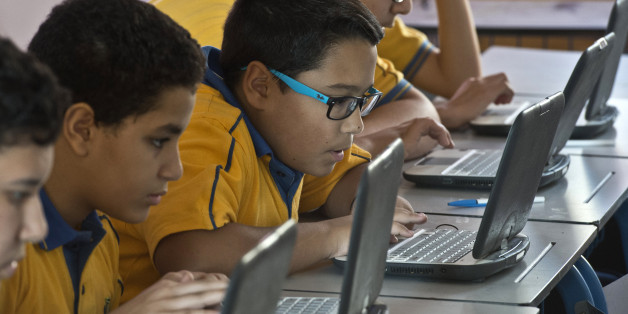 Technological innovation has long been a driving force of social progress. With rampant social, political, and economic instability, the flourishing ICT sector may hold the key for Egypt's advancement.
With a strong and conducive ecosystem in place, there are no limits to the positive impact the ICT sector can have in Egypt -- socially, economically and politically. With over 50,000 people currently employed in the offshore outsourcing sector, ICT growth holds massive opportunity for job creation -- something of increasing necessity in the face of high youth unemployment.
The impact extends beyond national boards, as Egypt could play a major role in creating an alliance between North Africa and sub-Saharan Africa, effectively positioning the continent as an offshore outsourcing destination to rival the global leader India.
Prior to the January 25 Revolution, Egypt was well on its way to establishing itself as a leader in the ICT business process outsourcing (BPO) sector. Ranked fifth worldwide in terms of attractiveness in the offshore outsourcing field, Egypt was home to companies like Xceed -- the largest call center and BPO company in the southern Mediterranean, and one that I was proud to lead as CEO from 2001 until 2013.
During my tenure at Xceed, I observed the competitive advantages Egypt holds in the BPO realm. Along with a geographic location perfectly situated to service USA, Asia and Europe, Egypt sits atop the fiber optic submarine cables that connect East to West. When combined with its world-class communication systems and multilingual talent pool, Egypt's infrastructural capacity for offshore outsourcing is unparalleled.
This not only allowed Xceed to grow and flourish, but enabled other multinational call centers such as Sykes, Stream and Teleperformance to emerge within Egypt, making it an internationally competitive market. The logical next step was for Egypt to emerge as a regional leader, starting with cross-country integration of its BPO companies. However, the post-Revolutionary economic downturn prohibited these companies from seeking growth and expansion opportunities.
Despite this temporary setback, now is the time to resume these plans. While the entire country struggled in the aftermath of the Revolution, the ICT sector remained an area of strength and growth -- albeit nominal -- throughout. With political stability on the horizon for Egypt, now is the time to build on this momentum, regain our lead, and uncover the potential a strong ICT sector holds for our development.
In order to do so, however, a proper ecosystem must first be created.
Such a process requires dedication and stakeholder engagement on multiple levels -- namely the company, industry, and governmental level. Firstly, a minimum local demand must be created by companies -- the "bread and butter" that will both create and sustain the industry. For example, when Xceed started, we could not afford to do international projects before first establishing ourselves locally. We did this by first working with Telecom Egypt 111 -- the Telecom Egypt hotline. Starting with just 300 seats, we were able to obtain new customers by showing the results and quality of our work in action. While the BPO sector is established locally, it must continue to grow in terms of quality and capacity at the national level in order to attract international clients.
Secondly, industry-wide support structures must be established -- an excellent example of which is the Smart Village. With hassle-free and world-class infrastructure, as well as business continuity services and green e-waste, the Smart Village technology park has been crucial in providing the necessary ecosystem to protect, stimulate and attract foreign direct investment to the ICT sector. This experience, while great in and of itself, must now be replicated in order to expand the sector.
Finally, governmental support on the regulatory and legislative level and partnership with non-governmental organizations (NGOs) is required to create an ecosystem conducive for ICT sector growth. With government support, the Information Technology Institute (ITI) is currently providing university graduates with two-year intensive language courses to meet the demands of offshore outsourcing call centers. Effective NGOs such as Education For Employment can also contribute to an increasingly skilled and globally competitive workforce.
Governmental support can also leverage potential partnerships and increase visibility. The local ICT industry can increase its participation in international shows under the Egyptian Pavilion, with cost-sharing schemes in partnership with the private sector. International delegations, including analysts, reporters and opinion leaders, can be invited by business associations and the government to the Smart Village and the newly-minted Maadi Technology Park to get a first-hand account of the booming ICT sector and alleviate concerns about the situation in Egypt. The government can also support and facilitate the active participation of Egyptian industry leaders as speakers in international conferences to share success stories and reinstate Egypt's position on the radar of potential outsourcers and investors. Finally, the government can actively seek out the revival of one or two anchor multinational ICT companies, such as Microsoft and Cisco, in order to serve as a success story for international media coverage. Economically, ICT holds the key to directing high levels of FDI into the local economy and giving it the push it needs.
The "Digital Economy" is not just merely online commerce. It is about applying IT and telecommunications technologies across the board as enablers of job creation, economic development, and social progress, thereby offering citizens wealth, prosperity and a better quality of life.
This post is part of a series produced by The Huffington Post and Education For Employment (EFE), a non-profit focused on creating job opportunities for unemployed youth in the Middle East and North Africa (MENA). Conflict and upheaval have dominated the news on MENA in 2014, and some see a region spiraling into chaos. But beneath the alarm bells, some digital pioneers are doubling down on their bets that the region's next generation could have a brighter future tied to technology and skills. For more information on EFE, read here.