It starts with accepting that the youth are not just the future -- they are the present. In the last couple of weeks, I had the opportunity to take part in events that highlight the role of youth in changing their community. During these events it was obvious that the youth are already engaged in activities to change their communities and we should do what we can to encourage more of it.

The chart below shows the five most populous countries in Africa and the age distribution in those countries. A large part of the population in these countries are under the age of 30.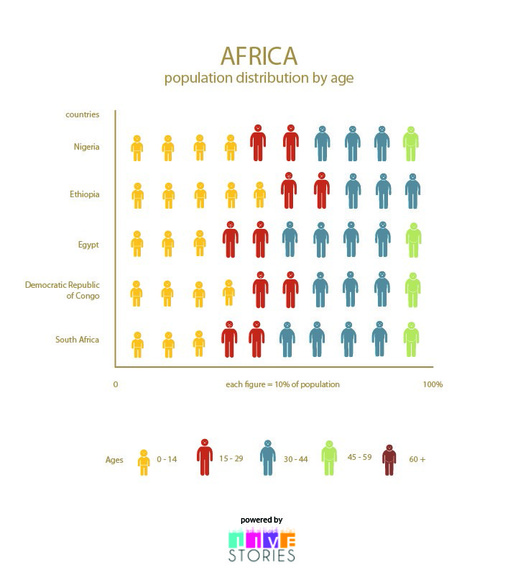 Full breakdown of population of other regions.
What I see over and over again is that many of today's youth wish to make positive change in their communities. The problem is that they need a little support and encouragement from the rest of us. We have a unique opportunity to inspire the youths of the world to make good on their wishes. I recommend starting with these simple steps:
Don't use the word "philanthropy" with youth. Many of the youth don't relate to that word. Last week, I was part of the Youth Philanthropy Summit organized by the Council of Foundations and Council of Michigan Foundations which brought together 50+ people from more than 14 countries who are empowering youths to be change agents within their communities. The participants kept saying how they don't identify with the word "philanthropy" and it suggests old thinking in giving -- mainly just giving out grants. They believe it doesn't capture all of the different activities that today's youth engage in to uplift their communities.
Understand that the youth are inspired by experiences. Providing first hand experience (or as close to that as possible) about how their actions lead to positive change in the community creates deep impressions amongst the youth. Couple of weeks back I sat in a roundtable discussion with the Seattle Foundation to talk about what is next for youth giving in our community. "Experiential giving" came up as one of the best ways to inspire the youth.
Create a support system for encouraging risk taking. It is important for us to acknowledge that the youth are ready to take a more active, leadership role in changing their community. Not only do they think differently about giving back, but, they bring creativity and passion if they are allowed to take risks and try different ideas. However, they don't have the support system to try their ideas. They are encouraged to pursue the traditional route of school - university - job - career. Jolkona just wrapped up the 1st cohort of Project Catalyst, providing mentorship, training, exposure, and coaching to five young social entrepreneurs from Indonesia. They have gone back to Indonesia inspired to take their businesses to the next level and create even deeper impact.
The youth of the world are ready to take on the challenge of uplifting their communities. We can encourage them by connecting and communicating with them in a way they can relate, expose them to the impact of their actions, and create a support system that encourages them to take risks and pursue social change.
Humanity depends on the youth of today and we must help them realize that potential. Who's joining me?!