It's natural at this time of year to look back at the last 12 months and see what has been accomplished. In putting together such a list, I always think about sardonic folk singer Tom Lehrer's definitive album about 1965: "That was the Year That Was" including his ballad about pollution. Well, 2014 was certainly the "Year That Was" for parks and open space, with many cities finding places to build new parks by creatively reusing abandoned or underperforming infrastructure as parks, and with record levels of new public and private investment in some states and cities.
To begin with the money, 2014 saw Americans deliver landslide victories for parks and conservation funding measures in a kind of "ticket-splitting" that seemed to run contrary to more partisan votes for officials. During the year, more than $30 billion was approved in conservation bonds to park district votes. In Florida, voters approved 3-to-1 a measure to use real estate transfer fees for open space and clean water purposes, with up to $18 billion in spending over two decades. New Jersey voters kept the "garden" in their "Garden State" moniker by approving a $2.8 billion environmental bond, and Seattle voters created a new Park District with taxing authority to pay for new parks and better maintenance at existing parks. Noted Ernest Cook, Senior Vice President and Conservation Director at The Trust for Public Land (which helped lead the advocacy work in Florida and other states), "at a time when political gridlock seems to capture all the headlines, these election results highlight a critically important point: Americans of all political stripes care deeply about the fundamental value of protecting our land and water."
It wasn't just voters who showed they like parks. Private donors stepped up, too. In particular, there were two extraordinary private gifts for public parks. In Tulsa, Okla., the George Kaiser Family Foundation committed $350 million to build and run a new 100-acre park on the banks of the Arkansas River. It will be called a "A Gathering Place for Tulsa," and is being designed by Michael Van Valkenburgh Associates, a firm that also designed the still-new Brooklyn Bridge Park in New York City and The 606 park being built along nearly three miles of old elevated railroad tracks in Chicago. The 606, which will open next year, will get nearly half its funding from private sources, including $5 million from Exelon.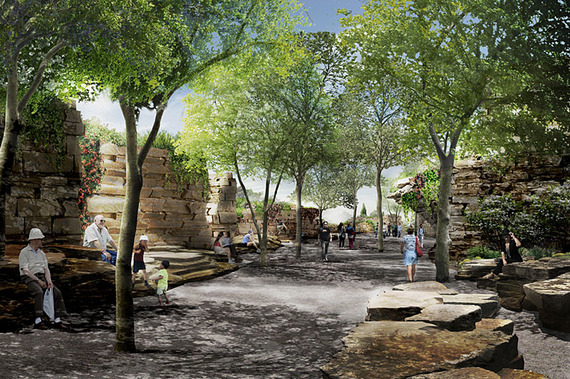 Rendering of a section of A Gathering Place for Tulsa Park, in Tulsa, Oklahoma, by Michael Van Valkenburgh Associates
In New York City, the largest private gift for a public park was announced just a few weeks ago, as media businessman Barry Diller made a $130 million commitment to build a 2.6-acre park and performance space to replace a collapsing pier in NYC's Hudson River Park.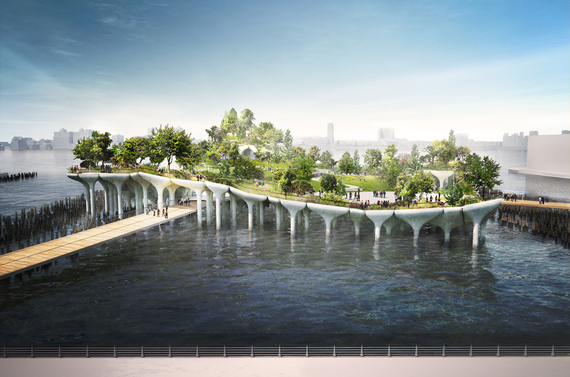 Rendering of proposed park at Pier 55 in Hudson River Park, New York City by Heatherwick Studio and Mathews Nielsen
This record gift comes a little over a year after the San Francisco-based S.D. Bechtel Jr. Foundation made a $25 million grant -- the largest cash gift in national parks history -- to connect the Presidio with Crissy Field in Golden Gate National Recreation Area. According to a soon-to-be released report by The Trust for Public Land's Center for City Park Excellence, at least $160 million a year is raised by park conservancies, the non-profit arms of parks around the nation.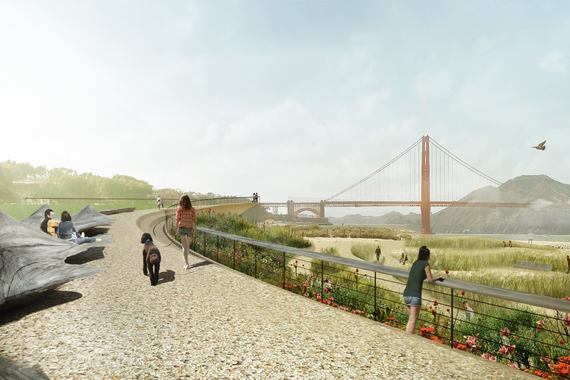 Rendering of competition-wining design for Presidio Parklands in San Francisco by James Corner Field Operations and EHDD
Aside from large financial support, the year saw two other trends gather strength. The first, the conversion of abandoned rail lines to linear parks and greenways, saw major progress in cities across the country, including completion of the High Line in Manhattan and continued work on the 606 and the Atlanta Beltline. In the New York borough of Queens, plans were revealed for a new 3.5 mile linear park known as the QueensWay, and similar plans are in various stages of development in the Seattle area, Philadelphia and New Orleans.
The second trend is the movement to create spaces out of the interstate highways which blight many downtowns. In May, San Diego opened its new 12-acre Waterfront Park, turning an old parking area into what has been called the city's largest new urban park since 1915. Seattle is in the midst of replacing the Alaskan Way Viaduct, an aging double-deck freeway with a huge new waterfront park and landscaped boulevard, designed by James Corner Field Operations. New York City is considering a park known as BQGreen, designed by dlandstudio, atop the trenched Brooklyn-Queens Expressway in Williamsburg, Brooklyn.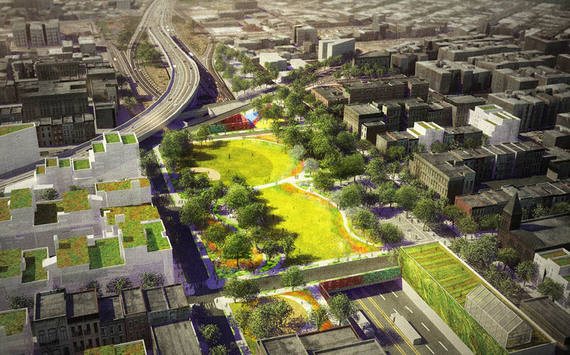 Rendering of proposed BQGreen deck park in Southside Williamsburg, Brooklyn, NY, by dlandstudio
These "freeway cap" parks seem to be of particular interest in Southern California: there are two (see one, and two) proposed parks over the Hollywood Freeway in Los Angeles. In addition, the nearby cities of Glendale and Santa Monica are studying using freeway overpasses for parks. St. Louis is looking at building a park over I-44 to connect the downtown with the Gateway Arch and Pittsburgh is considering an overpass park atop a downtown stretch of I-579. Denver is looking to create an overpass park downtown atop I-70.
With more and more people moving back into cities, urban leaders are increasingly looking for these kinds of creative projects to build the parks those new residents say they want. It is clear that parks -- with their stacked layers of benefits that include climate change resilience and sustainability, public health, community cohesion and improved quality of life -- are key components of livable, sustainable cities. The appreciation of the essential role parks play in cities -- and in our lives -- will only accelerate in the years ahead.