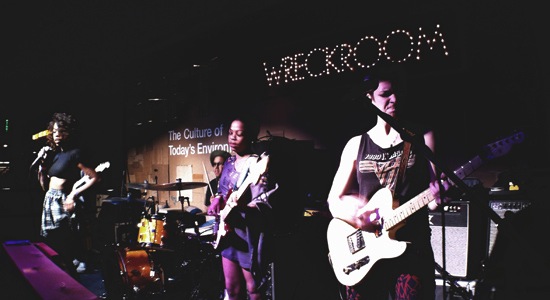 I want to welcome you to Wreckroom, a music space in the basement of my Brooklyn home dedicated to supporting emerging bands. I'm calling it a music incubator with label services. Perhaps not unheard of, but we're different in that we require our bands to give back.
We have a basic philosophy: find the best up coming bands, create quality music & videos (at no charge to the artists) and promote them with the agreement that our bands collaborate and support each other in turn. We all share in the upside of our collective efforts.

Over this past year, we've seen more than fifty incredible bands and individuals rock and vibrate the walls of the studio, and each week I'm inspired and reminded of all the incredible talent that is emerging everyday, yet to be seen by the world.
The first band I would like to introduce you is The Skins who are largely responsible for putting Wreckroom on the map. Spin Magazine describes them as "promising, heavy rock, with powerfully howled vocals and an agile rhythm section." They are the darlings of the Wreckroom and a prime example of why we exist. Consisting of three teenage siblings and two of their friends, they practice around the corner from me in Bed Stuy and often drop by just to kick-it around the house and make noise.

I want to invite you back every week to share and discover the awesome bands who pass through the Wreckroom. Through this, I hope you will carry the spirit of our community to love and support emerging music.
And if you want to hear me ramble more about the initiative, check out a conversation I had with Brian Solis at SXSW.