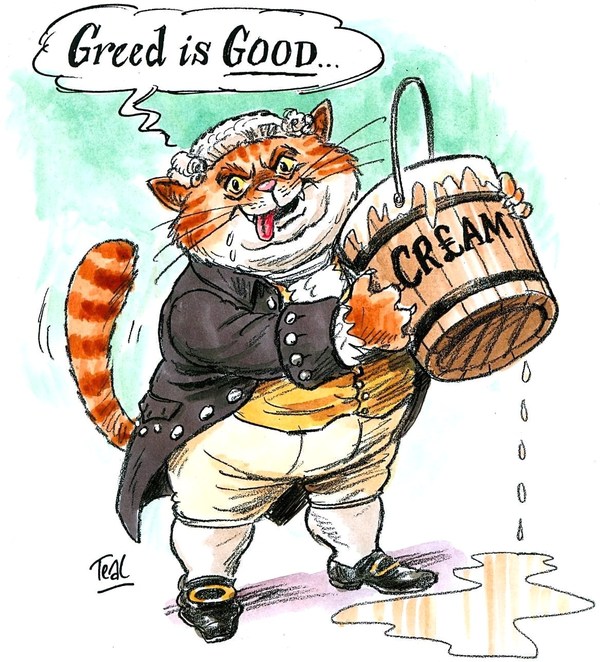 As if one were needed, the news that JP Morgan Chase & Co. has been embroiled in yet another banking scandal is a reminder that the world of finance long ago hocked its cracked and dented moral compass to the pawnbroker. Robert Peston's doom-laden career won't run out of gas any time soon, it seems.
This is nothing new, of course. Bankers have been dragging us all to the brink of ruin for some considerable time, and I'm not just talking about the crisis that erupted in 2008. In my Gin Lane Gazette, one story tells how the summer of 1772 saw a calamitous threat posed to Britain's entire system of banking, which was brought about by the feckless stockjobbing of just one rogue trader.
The 18th-century banker Alexander Fordyce enjoyed a lavish lifestyle with the proceeds of his early successes. He built a magnificent residence in Surrey, bought an estate in his native Scotland, and once shelled out £14,000 in a failed attempt to win a seat in Parliament. In 1771, however, he began to engage in reckless speculation, and shorted stock to a prodigious degree in the East India Company, the share-price of which he thought would take a tumble that never materialised. He sustained epic losses, and appropriated the deposits of his financial house's patrons to cover them.
The fiscal crisis that this precipitated was the most disastrous since the infamous 'South-Sea Bubble' of 52 years before. The collapse of the financial house of Messrs. Neale, James, Down, and Fordyce on a day later dubbed 'Black Monday' led to the failure of almost every private bank in Scotland, and to fiscal disasters in London, Edinburgh, and even Amsterdam.
In a move with eerie echoes of our own recent economic woes, the government forced the Bank of England to intercede, and to bail out those banks most at risk. Fordyce's partners were declared bankrupt, and the guilty party himself fled London for a French bolthole on the 10th June, 1772. On the eve of his departure, a deranged-looking Fordyce is said to have returned to his home in ungovernable spirits, and to have declared to his household, 'I always told the wary ones and the wise ones that I would be a man or a mouse; and this Night, this very Night, the Die is cast, and I am A MAN! Bring champagne! And butler, burgundy below! Let tonight live for ever! ALEXANDER IS A MAN!' Twenty-five banks in England and Scotland suffered irrevocable failure, as the unrepentant Fordyce scurried away from the scene of his ineptitude and swindling.
Northern Britain's trade was stalled by these events, and the financial stability of Scotland was perilously undermined. Most public amusements and theatrical performances were either cancelled, or teetered on the edge of closure. Many actors of note had seen fit to invest their fortunes in Fordyce's bankrupt financial house, and it became difficult to see how their ruinous circumstances might have been relieved to any degree, without resorting to benefit performances to top up their incomes. The famous architect John Adam, who was engaged in partnership with his brothers in building the much-anticipated Adelphi buildings, was forced to lay off two thousand labourers while the crisis played itself out.
Just desserts and humble pie have never been the banker's customary fare, although in September of 1772, Fordyce did return to England to face the commissioners in bankruptcy. He was found to be insolvent to tune of a staggering £75,000. He died in 1789, in a townhouse in London's swanky Portman Square.
The Gin Lane Gazette on sale now!