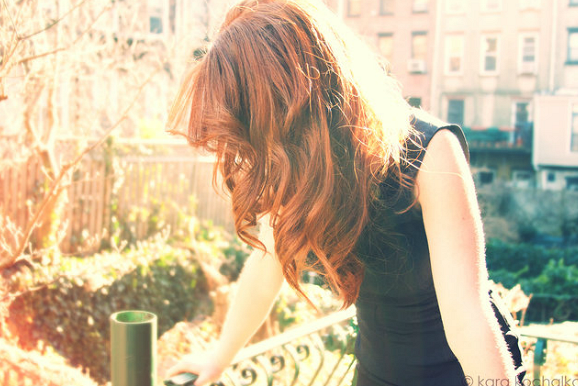 St. Patrick's Day is only a few days away! It is a celebration of the Irish and since it is believed that 10% of the Irish population has red hair, it is only appropriate to share tips on how to maintain red locks (natural or bottled).
I have natural red hair, but work hard to maintain the color. Also, because red hair is a top trend, many women ask questions on going red.
I'm bringing you the top questions and answers on how to rock your red hair!
Natural Redheads:
1. What products should I use to maintain my red locks?
It is really important to keep up your red hair because no one wants to see straggly, dry red hair. With a few simple regimens, your locks will always glisten and look beautiful.
-Use a sunscreen spray every day. Just like your skin, your hair is susceptible to harmful rays. I always recommend Shiseido Refreshing Sun Protection Spray because you can use it on your body and hair.
-Sometimes, I feel like my natural red hair is getting lighter from the sun. I love L'oreal's Color Depositing Shampoo in Walnut.
-I swear by hair masks. Before you wash your hair, add ¾ cup of olive oil to your hair and keep in for 30 minutes. Wash out with shampoo.
2. Natural redheads don't go grey, they go white. What should I do once this happens to me?
When it comes time to dying your hair, it can be a big leap, especially if you never dyed it before. When redheads are asked if their hair is natural, they always want to say, "Yes!"
My advice for you ladies is never go blonde or a "silver" because it will only wash you out. You are a natural redhead for a reason -- so keep up the color. Also, find yourself a great stylist who understands how important it is for you to have natural-looking red hair. I've met hair stylists who have worked for 5-6 hours on one redhead to make her hair look natural.
Redheads "By Choice":
1. I am going red for the first time. What am I getting myself into?
Before you dye your hair red, think about how much of a commitment you're willing to make to keep it up. I always recommending going with a semi-permanent color.
2. What type of red should I choose?
How to be a Redhead receives the question all the time! And, I always give our audience the same answer, "It depends on your skin tone, complexion and personality."
My general suggestions are:
If you have light features and want to start off slow, opt for a light, strawberry blonde. You can always go darker.
If you have darker, brunette features, choose an auburn/deep red.
Lastly, every bottled redhead has always told me, "you need to have the personality to go red!" And I agree. It is a bold, attention-grabber color and you must be ready for heads to turn.
3. Should I wash it a special way?
Yes! Try and wash your hair as infrequently as you can get away with to avoid fading and prolong the life of your color. When you have red hair, dry shampoo becomes your best friend!
I use shampoos, conditioners and dry shampoos that are free of sulfates; sulfates are harsh on your hair and will make your hair fade faster.
And since dying your hair can be drying, always use a good conditioner to keep your hair moisturized.
4. Are there any quick tips to keep my roots maintained before I can make it to my hair stylist?
There is one product I recommend to my redheaded ladies, Fancy Full in Frivolous Fawn. It won't completely cover the grey, but it will blend in your roots, provide you with a natural look and give you a bit more time in between appointments with your hairdresser.
Using these tips, you can now be even more proud of your red hair on St. Patrick's Day!
And never forget: Rock it like a redhead!
Image courtesy of How to be a Redhead! Photo by Kara Kochalko.