On a cloudy morning in Houston, TX, I peered out at the bright eyes and pearly smiles among the fourth and fifth grades girls at Codwell Elementary School. They were moments away from meeting mid-day DJ Jillian Simmons with Houston's #1 radio station 97.9 The Box. Affectionately known as "JJ" around the city, Codwell's Magnet Coordinator Aiesha Odutayo introduced her to the 60 gleeful girls. JJ wasn't there to talk about hip-hop or even the music industry for that matter, yet it has been the access point this popular radio personality has leveraged to appeal to pre-teens and teens for years.
Mom knows best
JJ holds titles as an entertainer, philanthropist, author, but most important of all, she's the proud parent of a seven-year-old girl. Although she has always had a penchant for empowering others, raising a daughter has deepened her desire to foster change in the lives of young women, and inspired her to launch the I'm Me Foundation. She talked to me about her particular focus on underprivileged youth. "I understand that some of these girls are in environments where their mom is working two jobs and dad is not anywhere to be found." She later said, "We're trying to give them the tools that they won't necessarily get at home, but that they can carry on for a lifetime."
Those tools JJ mentioned include goal-setting, healthy lifestyle habits, proper etiquette and other self-esteem builders that support inner and outer beauty. As we tried to get more comfortable in the noticeably miniature seats in the library, we discussed Codwell being the foundation's first elementary school visit, as they traditionally visit with middle school students. "It feels good to know these girls are open to what we have to say and they're ready to receive it. These kids are just awesome," JJ said glowingly.
JJ's influential inner-circle
The Ohio native has tapped some of Houston's powerhouse women to create worthwhile experiences for students. Each four-hour school visit includes a certified personal trainer, a professional golfer, a seasoned radio and events DJ, a certified etiquette instructor, and a professional make-up artist to the stars. This day culminated in a lively gathering in the cafeteria, with motivational messages, as well as positive radio hits because JJ knows all too well that music artists play an impressionable role in these young lives.
The founding members have gotten the attention of Karen Civil, who has rocketed to the top ranks of entertainment media and strategic marketing, with clients like Beats By Dre, Mary J. Blige, Marc Ecko, and a host of others. Karen was one of about 50 invited attendees at CROWNED, an interactive brunch series for career-driven women, in which she helped raise $1,000 in support of JJ's foundation.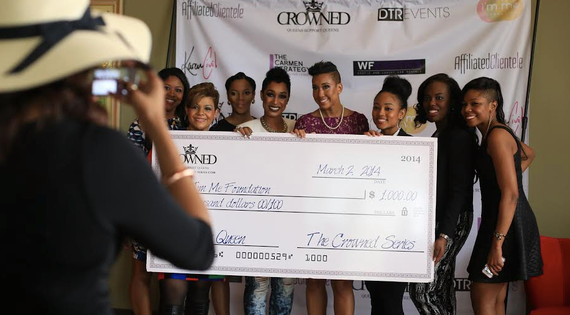 With other contributions that followed, the foundation has raised nearly $3,000 of its goal to reach $15,000 by August. The full funding would cover costs for all of their tour dates during the 2014-2015 school year.
We're on a quest to change the lives of young ladies in #HOUSTON! Our goal is $15,000 (Our next milestone is $3,000)! pic.twitter.com/IdijFSbG7L

— I'm Me Foundation (@ImMeFoundation) March 27, 2014
Brighter days ahead
So I could avoid being the out-of-place male, Aiesha checked in on her students in all four of the activities the program offered. "The girls were engaged and excited," she reported. Upon further reflection, "I think it's going to help them become better young ladies and better citizens." She mentioned about 70 percent of the students receive free or reduced lunch, and echoed JJ's sense that a significant amount of students aren't going home to an idyllic environment.
Regardless of external circumstances, they seemed as optimistic about their future as any group of young girls should be. Even more endearing was that the girls were so respectful, as well as appreciative of JJ's visit. They awarded her with a custom, name-engraved plaque, that was followed with a harmonized "aaawwww" from JJ's fellow volunteers and co-workers. Moments later, the already charmed women were handed gift bags of their own.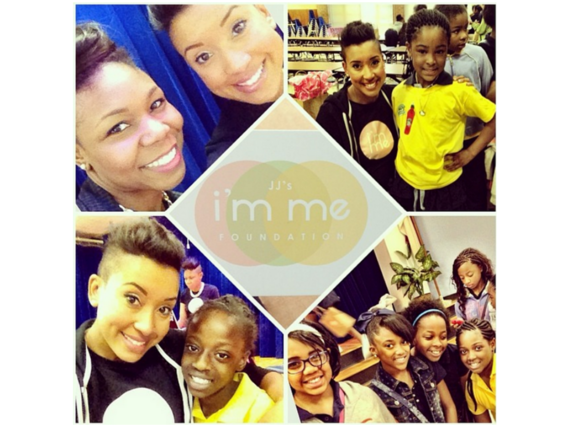 That cloudy morning turned into a rainy afternoon, as JJ signed her last autograph, gave her last hug and made her way to the parking lot. But the wet weather didn't seem to bother her. She had a lunchroom full of sprightly girls back there who brightened her day as much as she brightened theirs.
Photo and story updates of JJ's journey will be featured on The Knoble.