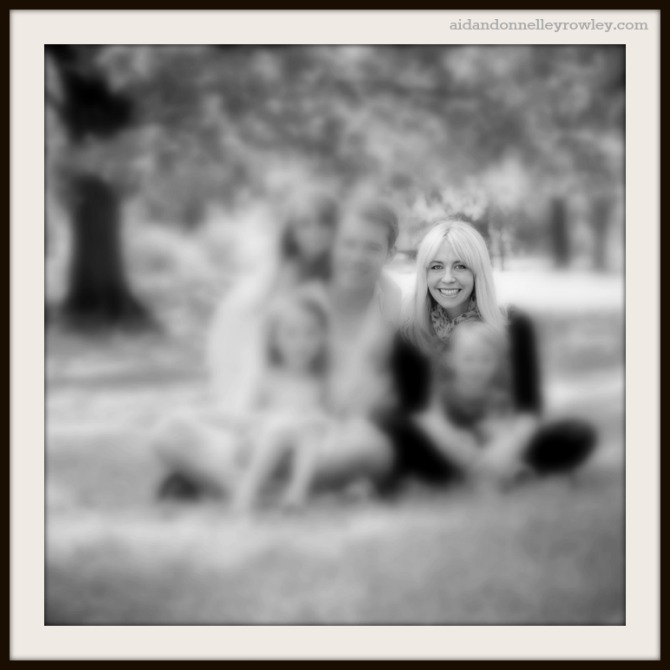 I have decided something. I will spring for a professional family shoot twice a year -- once during the warm months, once during the cold. Admittedly, these sessions are always a bit torturous; the girls know they must perform and aren't thrilled about it and I don't blame them, but I am always thrilled with the results. Even though I've been known to snap dozens of photos a day with my iPhone, it is hard to capture all the girls together and happy, and impossible, obviously, to get a winner of all five of us when I am the one behind that little lens.
Our most recent shoot was in the middle of August and we went to nearby Central Park. I came armed and ready with outfit changes and candy bribes. While the kids were fresh, we plunked down for some family photos. There was some wrangling and tickling involved, but they came out great. One in particular was my favorite -- a black-and-white shot of the five of us. I ordered this one immediately to send along to my daughter's preschool teacher and class mom. And then I posted it to my Facebook page, too. I included a caption, short and sweet: "All of us. In Central Park."
As soon as I posted the picture, the words, likes and comments started to roll in. More than I usually get when I post things. I was in Santa Barbara when I did this, visiting my sister and her family, and I was supposed to still be unplugged, but no. I was plugged in, online. And I found myself checking my page every few hours to see if more friends had liked my photo, my family. This is something I'm not proud to admit.
All of this has me wondering about the connection between family and Facebook. I am certainly not the only one who delights in sharing pictures of my creatures with those whom I've deemed my "friends." I am certainly not the only one who likes being liked. But I wonder what this is all about. Is it innocuous to want to show off our lives and our loved ones? Or is there something troubling here, that we are so hungry for approval, for affirmation?
A friend of mine and a beautiful writer, Claire Bidwell Smith, wrote a gorgeous piece on photo-taking in her postpartum life. In this piece (also published here on the Huffington Post), Claire explores the telling disconnect between her happy photos and the often less shiny reality of life at home with small children. Her words are well worth a read and have me pondering as I write these, my own words, whether our instinct to plaster our pages with precious family photos is part of an urge to prove something to others and to ourselves?
All worth thinking about. But for now, I have upwards of fifty photos to sift through. How to decide?
To read more from Aidan, visit her blog aidandonnelleyrowley.com