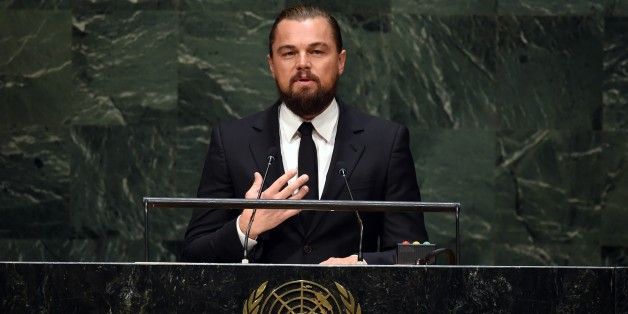 Speaking at the opening of the United Nation's climate change summit in New York, actor Leonardo DiCaprio has called on world leaders to "make history, or be vilified by it":
I am not a scientist, but I don't need to be. Because the world's scientific community has spoken, and they have given us our prognosis, if we do not act together, we will surely perish. This is not a partisan debate; it is a human one.
The address comes one week after The Wolf of Wall Street star was named by the UN as a Messenger of Peace on Climate Change. His comments come one day after U.S. Secretary of State John Kerry pledged that America will lead the charge against global warming:
This is an enormous challenge, and this is why the United States is prepared to take the lead in order to bring other nations to the table. As secretary of state, I promise you I am personally committed to making sure this is front and centre of all our diplomatic efforts.
The promise came a few hours after the Rockefeller's, who built their mass fortune on Big Oil, announced plans to divest their $860 million charity fund out of fossil fuels.
The move is part of a growing global campaign to shift money out of oil, gas and coal: most fossil fuels will have to stay in the ground if the world is to avert catastrophic climate change.
The former oil dynasty joined hundreds of wealthy individuals, foundations and universities who have vowed to unwind some $50 billion worth of fossil fuel assets over the next five years.
In a statement, Stephen Heintz, president of the Rockefeller Brothers Fund said:
John D Rockefeller moved America out of whale oil and into petroleum. We are quite convinced that if he were alive today, as an astute businessman looking out to the future, he would be moving out of fossil fuels and investing in clean, renewable energy.
The Rockefeller brothers co-founded the Standard Oil Company in 1870.
Running the world's largest refineries, the group went on to father some of today's largest oil titans including Exxon, Amaco and Chevron. Owing to their historical ties, Monday's move by the Rockefeller family represented a huge victory for the global divestment campaign.
The move came one day after the largest climate march in history swept through 161 nations across the globe.
According to organizers, over half a million people took to the streets to call on world leaders to rein in carbon emissions, and prevent the catastrophic warming of our planet:
"This is the most important day yet in the history of the climate movement--around the world and across New York people have said 'enough is enough--we demand serious action now," said Bill McKibben co-founder of 350.org.
The mass protest was timed to take place a few days before world leaders gathered at the United Nations on Tuesday.
Organized by the head of the UN Ban Ki Moon, this week's meeting marks the first time that many heads of state have gathered for the sake our climate since international efforts to rein in global warming failed in Copenhagen five years ago.
Although Tuesday's meeting is not a negotiating session, it does hope to build momentum towards next year's all important climate talks in Paris. Next December, world leaders are expected to sign a new deal to rein in greenhouse gases responsible for the warming of our planet.
And, striking a solid binding global treaty couldn't be more pressing.
According to a recent report , global carbon emissions are set to hit a record high of 40 billion tonnes this year. Dave Reay from the University of Edinburgh said:
If this were a bank statement it would say our credit is running out. We've already burned through two-thirds of our global carbon allowance and avoiding dangerous climate change now requires some very difficult choices.
At this current pace, global temperatures will race past the so called safe limit of two degrees celsius of warming within the next 30 years. That means that children being born today will become the victims of life on a much hotter planet by the time they reach young adulthood.
Five years ago, world leaders vowed to limit the warming of our planet to two degrees celsius.
But, according to a recent report by PwC, we are dangerously behind meeting that target. It says that decarbonization will need to occur at a rate of 6 percent. Currently it stands at a mere 1.2 percent.
In a bid to galvanize the much needed green energy revolution, a group of institutional investors representing some $24 trillion in assets have called on world leaders to commit to a courageous 2015 climate deal so that they can plow their funds into clean energy:
"Stronger political leadership and more ambitious policies are needed in order for us to scale up our investments," wrote over 340 firms including BlackRock, AXA and Standard Bank in a statement last Thursday.
The band of investors also called on governments to phase out expensive global fossil fuel subsidies.
And, while the task ahead may seem challenging, last year nearly a quarter of the world's energy came from renewable sources. Moreover, according to boutique investment firm Lazard, the cost of solar and wind power have now become cost competitive with gas across much of America.
According to a recent study, we have 15 years to transform our global economy into a low carbon model. After that, our window of opportunity will close, and we will forever be condemned to life on a hotter planet.
"History is our proof that the impossible is smaller than we think. The abolition of slavery. The end of apartheid. The spread of universal suffrage. All proof that the future is ours to shape. We just need to step out and claim it," wrote a coalition of NGO's in the Guardian earlier this month.
As Martin Luther King once said: "We as a people will reach the promised land," for as Leonard DiCaprio said on Tuesday:
This is the most urgent of times, and the most urgent of messages. The people made their voices heard on Sunday around the world and the momentum will not stop. And now it's your turn, the time to answer the greatest challenge of our existence on this planet: is now.