Researching Pride parade marshals across the United States over the years, I was struck by how few have been members of the bisexual community. This matter came to my attention when I was informed that one of our community's role models is up for the role in Boston for the 2013 Pride season.
This year, Ellyn Ruthstrom, president of the Bisexual Resource Center, has been nominated for Boston Pride marshal. Historically from what I've been able to find, there have been a handful of bisexual individuals in this role: bisexual activist and writer Lani Ka'ahumanu was the 1994 San Francisco Lesbian and Gay Pride Parade and Celebration Co-Grand Marshal; bisexual and trans* author and educator Debbie Davis was Grand Marshal at Twin Cities Pride in 2000; actress Sandra Bernhard was the Celebrity Grand Marshal in the 2009 St. Louis Pride Parade, Grand Marshal in the 2012 San Diego LGBT Pride Parade and will serve as Celebrity Grand Marshal this year in San Diego as well; Robyn Ochs, bisexual activist, author and speaker, was Grand Marshal at the Northampton Pride parade in 2011; and Associate Professor Raymond Rea, bisexual and trans*activist and filmmaker, was Grand Marshal of the Fargo-Moorhead Pride Parade in 2012.
In addition, while not in the specific marshal role, bisexual activist Lou Hoffman was named the "Everyday Hero" for Twin Cities Pride Parade in 2011. It's important to note that Ashley Rukes - for whom the Twin Cities Pride Parade was named after - was bisexual and trans*, too.
It's essential to point out that, while the aforementioned marshals were indeed bisexual, that was not necessarily the reason they were chosen for the role. Some, like Rea, believe those who selected him actually assumed he was gay. There is a difference between selecting a "bisexual hero" for the role of Grand Marshal, versus said bisexual Grand Marshal incidentally being bisexual, being selected for reasons that are not bi-specific. Even so, the sole fact that bisexual individuals have been chosen for the role regardless of their specific sexual identity is proof that bisexuals play an incredibly important role in all facets of the LGBT+ movement.
Lauren Beach, J.D., former Chairperson of the Minnesota-based Bisexual Organizing Project (BOP), speaks to this fact:
"Our contributions as bisexual activists to these movements are often invisible as 'bi contributions,' if you will. Too often, queer activists say bisexuals don't do anything for the LGBTQA community, in terms of helping fulfill the 'queer organizing agenda.' Frankly, I've always assumed when people use the term, 'queer agenda' in that way, they mean that bi-specific organizing is not part of what counts as 'queer organizing.' The fact that bi people have been selected as Grand Marshals for their non-bi-specific work shows that bisexuals *do* contribute to advancing 'queer movements,' too, even though our community is often invisible and excluded from such work."
While the bisexual activists mentioned above are likely not comprehensive of all bisexuals to ever step into the Grand Marshal's shoes, the fact that it was difficult to find more than those individuals in my month-long research on the subject is problematic. Considering that LGBT+ Pride parades have been happening in some way, shape or form since 1969, there should be ample numbers of bisexuals on the list of Grand Marshals over the decades.
Perhaps the lack of visibility for bisexuals in this role can be attributed to incidences of continued biphobia within the LGBT+ community itself. In many ways, the history of Northampton Pride can attest to this. In Northampton, Massachusetts, Robyn Ochs's presence as Grand Marshal just two years ago was a historical event. According to Jillian Todd Weiss in "GL vs. BT: The Archaeology of Biphobia and Transphobia Within the U.S. Gay and Lesbian Community":
"The town had held a lesbian and gay pride march for many years when, in 1988, members of the Valley Bisexual Network approached the Northampton Lesbian and Gay Pride March Committee, requesting that the name be changed to the Lesbian, Gay and Bisexual Pride March. The five or six members of the committee unanimously agreed to change the name for 1989. The overall community response was overwhelmingly negative. A vote was again held for the 1990 march, which retained the name change...At the next meeting, attended by forty or fifty people, a clear majority confirmed the decision to revert to the former name, omitting 'bisexual' from the title." (Hemmings, C. (2002). Bisexual Spaces: A Geography of Sexuality and Gender. pg. 66; New York: Routledge)
This being the case, one can see just how important Ochs's participation in 2011 truly was.
Regarding the event, Ochs said, "In 2011, the organizers [of Northampton Pride] chose to be LGBT-inclusive, by having one Grand Marshal represent each of these four letters. I was invited to represent the 'B'."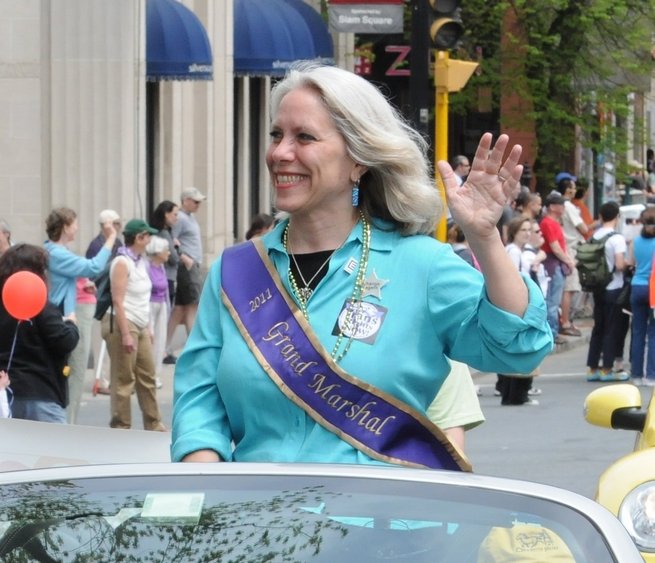 Robyn Ochs as Grand Marshal at Northampton Pride 2011.
When asked about bi-inclusivity in the role of Grand Marshal nationwide, Ochs replied:
"Frankly, I'm disappointed that Pride organizing committees around the country do not make more of an attempt to be bi-inclusive. A few do, but most do not. I've spoken at Hartford, Northampton (a few times) and been invited to speak at a handful of Prides which I was unable to attend, but that's about it. Not much, considering that I'm one of the more visible bi activists and speakers out there."
This year, Ruthstrom hopes to take up the torch for the bisexual community in Boston.
"Visibility for the bi community is imperative to ensure our concerns are taken seriously by the larger community," Ruthstrom says. "Even something like having an out bi ceremonial parade marshal helps get a message across. Boston is so lucky to have a vibrant bi community and I would be honored to represent that community if elected. Being nominated along with other awesome leaders is such an honor."
Do you know of any bisexual Grand Marshals not mentioned here, or other examples of bisexual inclusivity at LGBT+ Pride events? Do you know of any incidents where bisexuals were barred from certain aspects of Pride? Please comment below.