Since 1976, there has not been a retrospective of the art of Peter Blume, until now.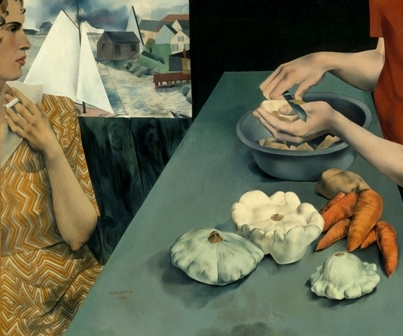 Vegetable Dinner, 1927. Oil on canvas; 25 1/4 x 30 1/4 in. Smithsonian American Art Museum, Washington, D.C. Art © The Educational Alliance, Inc./Estate of Peter Blume/Licensed by VAGA, New York
Peter Blume was born in Belarus in 1906, a few months after the first Russian Constitution was made official and amid a revolution that would ebb and flow throughout the area for decades. Within years of the promise of a new leadership in Russia, Belarus was devastated with over 30,000 Belarusians displaced and forced to emigrate. Blume began his life among that upheaval, in atmosphere strife with simultaneous feelings of deep skepticism and renewed hope, the beginning of a layered world for the artist that he would later express visually.
Through extensive collaboration and research, curator Robert Cozzolino has created an extremely well orchestrated view into a very specific world with Peter Blume: Nature and Metamorphosis. The entire show delves into Blume's "conceptual method" of creating art, so that there are series of studies and sketches accompanying finalized work. A style described by Sergio Cortesini, in his writing about Eternal City, as "mental recombination." Blume once said of his own work, "My realism is not real, I mean, it's realism on another level altogether. It's 'real' but it has nothing to do with a photograph. It's not what anybody else sees, it's only what I see." Nature and Metamorphosis seamlessly submerges viewers in this conceptualized, recombined world of Peter Blume.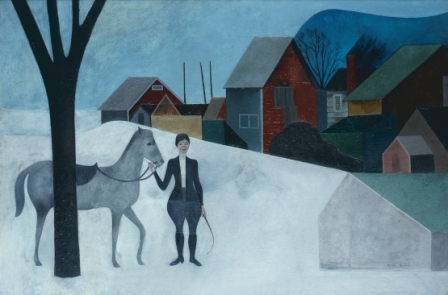 Home for Christmas, 1926. Oil on canvas, 23 1/2 x 35 1/2 in. Columbus Museum of Art, OH, Gift of Ferdinand Howald, 1931.109. Art © The Educational Alliance, Inc./Estate of Peter Blume/Licensed by VAGA, New York
In the hallway, across from the show entrance is Eiko: A Body in Fukushima, a very fitting neighbor for Nature and Metamorphosis. Through a series of photographs, by William Johnson of the performance artist Eiko Otake, taken in abandoned rail stations during their visit to Fukushima after the 2011 evacuation, the collaboration is its own kind of exploration of the metamorphosis of a space and the people within it.
Peter Blume: Nature and Metamorphosis is arranged chronologically. The paintings are realistic with strong folk art elements; accompanying sketches show the artist's superb draftsmanship. Pieces in the first room like New England Barn, Maine Coast, Torso with Tiger Lily, and Vegetable Dinner introduce the viewer to Blume's world just as Blume developed a way of visually expressing his own view. The intensity of Blume and his desire to express his view exactly as it he intends is evident.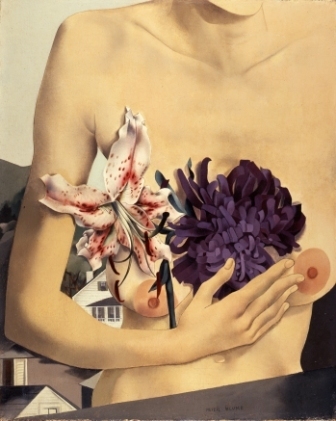 Torso with Tiger Lily, 1927. Oil on canvas, 20 1/4 x 16 3/8 in. Collection of Barney A. Ebsworth
Art © The Educational Alliance, Inc./Estate of Peter Blume/Licensed by VAGA, New York
Progressing through the galleries, studies for South of Scranton, for which Blume won first prize at the 1934 Carnegie International Exhibition, occupy the walls leading up to the award winning work, and chronicles the traveling that inspired Blume. Across from South of Scranton, begin the studies for Eternal City. Along with the studies leading to the painting there is a recreated copy of the poster announcing the painting's rejection from the Corcoran Biennial and inviting people to view the work to "judge" for themselves. The scene of Eternal City, intricate ruins of a once majestic city as the backdrop for a large grotesque jack in the box figure showed Blume's view of Italian fascism, which he saw as the death of culture. For Blume, it was oppose fascism immediately or risk being destroyed by it. At that point in the show, being so immersed in the life of Blume, the overtones in the piece of the forced immigration of the artist's childhood and his deep personal considerations of political situations gain more clarity.
There are moments in the show where the viewer can truly feel fully submerged in Blume's world. While facing Blume's water color Lilies, where the viewer is looking at lilies arranged in a vase on a windowsill, one look to the right reveals Fracture Ward, a painting depicting soldiers recuperating in a hospital. This combination Lilies and Fracture Ward replicates for the viewer the exact and specific world Blume worked so hard to portray.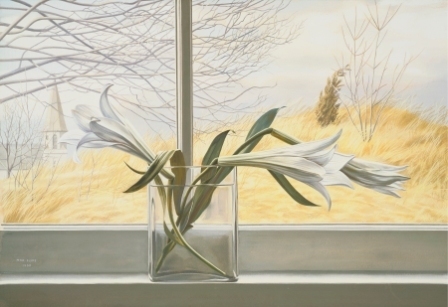 Lilies, 1938. Opaque watercolor over graphite pencil on paper, affixed overall to thick cardboard, 15 x 22 in. Museum of Fine Arts, Boston, MA, The Hayden Collection Charles Henry Hayden Fund, 41.264. Art © The Educational Alliance, Inc./Estate of Peter Blume/Licensed by VAGA, New York
Not only is the show a terrific look into the work of the artist, the accompanying book is too. It contains essays from the curator, Cozzolino, as well as Sarah Vure, Sergio Cortesini, David McCarthy, Samantha Baskind, and personal stories from Robert Cowley, son of Malcolm Cowley. The personal stories include an account of the elder Cowley and Blume finding the body of their close friend and fellow artist Arshile Gorky and recalling how the painting The Rock finally afforded the Blume's their first indoor bathroom in 1948. Peter Blume: Nature and Metamorphosis, along with the accompanying book, develops a larger, more holistic approach to understanding the artist, and this artist and his work are truly deserving of this new complex and varied understanding.

Peter Blume: Nature and Metamorphosis will be at The Pennsylvania Academy of Fine Art through April 5, 2015. On December 2, 2014, there will be a Curatorial Lecture on Peter Blume and the work in the show with curator Robert Cozzolino.
Eiko: A Body in Fukushima is also on view through April 5, 2015.