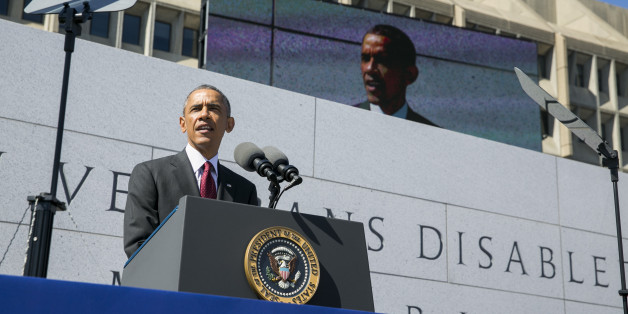 What an exciting month for America's veterans!
October 5, 2014, was an extremely significant date for veterans with disabilities with the dedication of the very first memorial in the United States honoring them and their service. Spanning 2.4 acres and sitting just 1,000 feet from the U.S. Capitol, the American Veterans Disabled for Life Memorial is a sacred reminder of the cost of freedom for our country, and, given that we are still engaged in conflicts overseas, the ongoing cost paid by those who defend our country and have paid the "penultimate" sacrifice.
The star-shaped fountain with the eternal flame at its center represents our collective hope and perseverance over adversity. As a veteran with a spinal cord injury and president of Paralyzed Veterans of America, I can attest that veterans with disabilities do share hope and the ability to persevere.
Every year thousands visit the Vietnam Wall, World War II Memorial, Arlington National Cemetery, and other hallowed sites to honor those who gave the ultimate sacrifice. But this memorial isn't for grieving; rather it's for celebrating the service of those who daily push wheelchairs, use artificial limbs, require a guide, or deal with "invisible" wounds, such as post-traumatic stress. I am so proud to see our military service recognized in such a beautiful and meaningful memorial. I believe this memorial will create awareness and help educate people and make it easier to engage with veterans who have disabilities.
And to help them get back to work.
Every October, the Department of Labor celebrates National Disability Employment Awareness Month. The campaign raises awareness about disability employment issues and celebrates the many and varied contributions of America's workers with disabilities. Its roots go back to 1945 when injured service members returned home from World War II and sought to rejoin the workforce.
It is important to recognize the disparity that exists in employment for veterans with disabilities compared not only to the general population but to other veterans. Even as overall unemployment for veterans drops, the most underserved segment of the veterans population -- those who have suffered a catastrophic injury, face a rate of unemployment three to eight times higher, an unacceptable reality that is best recognized by simply looking around your workplace and noting the few veterans with severe disabilities, if any, working there.
It wasn't so many years ago that I was a recently disabled veteran, a former Navy SEAL, facing myriad obstacles to a reintegrated life. Paralyzed Veterans of America was essentially my first employer after I had broken my neck during SEAL training parachuting accident in 1991, and I've served with the organization in many capacities since. Because we understand the unique employment challenges faced by veterans with severe disabilities, Paralyzed Veterans of America created Operation PAVE (Paving Access for Veterans Employment) to assist veterans, their families, and caregivers with job skills, educational resources, networking opportunities, and workplace accommodations.
A couple of weeks ago representatives of Operation PAVE participated in an employment conference conducted by the US Chamber of Commerce Hiring Our Heroes program and Wounded Warrior Project. Many of our corporate partners in Operation PAVE participated. They recognize the positive attributes that veterans bring to a work force: drive, determination, responsibility, teamwork, mission focus. Why wouldn't you want to hire a vet? I challenge employers everywhere, large and small, private and public, to recruit, train, and hire veterans.
When you are an active duty service member you are an asset; having a disability makes you no less so. Putting veterans with disabilities back to work enables them to continue to be contributing, productive members of society, and helps to educate others about service and sacrifice -- and that's healthy for a community as a whole.