The passing of Garo Yepremian marks for me a death of another kind, the losing battle of families to football and a Christmas we should never forget.
Yepremian's 37-yard field goal on December 25, 1971, ended the longest game in NFL history, a double-overtime heart-stopper between my cherished Miami Dolphins and AFC rival Kansas City Chiefs. It also pitted family against sport as my father and his boys ignored the pleas of my grandmother, mother and sisters to come to a cooling Christmas dinner.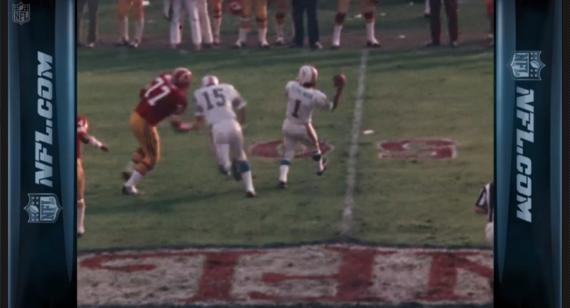 Screen Image Credit: NFL.com
I thank Garo for helping us and a million others get to their over-done turkeys. He deserved better. Yepremian, an all-star placekicker, is more often remembered for his awkward and intercepted pass, not a kick. It happened in the 1973 Super Bowl and the result nearly derailed the Dolphins historic 17-0 perfect season.
In as much as sport, and the NFL in particular, is said to have corrupted American culture, the epic 1971 tilt might be enshrined as the day that football crept permanently into our kitchens and living rooms. Some delight in the currency that football offers for friendly, apolitical and largely harmless banter among family and friends. But we have payed a high price as football has shown itself to be, first, a profit-based enterprise and, second, an exploiter of fan money and player health.
$10 beers are criminal and brain-damaged linebackers are, well, really criminal. But we should consider, too, the consequences of this invasion on other subtle and fragile things.
In the early 70s, Florida had simultaneously beckoned my father to a University of Miami teaching post and my maternal grandparents to a Sarasota retirement. Soon, we'd take turns crossing the Everglades for visits, and for the holidays in 1971, it was our happy task to pack the Volvo and drive west on Alligator Alley.
The 4 p.m. game would be watched, it was agreed by all, and dinner would be timed to its expected conclusion at, oh say, six or seven. But history records show that it lasted far longer -- 82 minutes over two additional quarters. An eight o'clock dinner was not in the picture of our anticipated Normal Rockwell sit-down. When the game wore on tempers flared and, to my great relief, my father defended the Dolphin faith as he, my brother and I sat riveted to the TV. Mother paced. Grandmother seethed. Sister's sniped. The setting moved quickly from one of Rockwellian purity to rock-walled impiety, a fair example of the chauvinism that sports enables. However historic, the game was more important than the upset of our teammates, the women whose heads were on straighter than mine.
It mattered not. The Chiefs were threatening my dear Dolphins. Ed Podolack was unstoppable. Coach Hank Stram, a pompous fool, my dad thought, was jousting with the great Don Shula. Quarterback Lenny Dawson was matching the smooth Bob Griese. And Jan Stenerud looked like he might out-kick his miniature counterpart, Garo. The Dolphins were aided, I was sure, by two lucky charms I'd brought along. Mickey Mouse ears worn when Csonka, Kiick and Morris lined up, and a pro-style pigskin I held when the No Name defense took the field. Who says superstition and sports are silly?
A dozen years later, my parents' marriage dissolved. That Garo tried to save it is absurd, but I think of that Christmas in 1971 and wonder when football took us over and when family as I first knew it ended. This might be that day.
Football is a tie that binds, but better I think in moderation. We do have other things to do, and it's the people in our homes and neighborhoods who deserve our attention more than the false heroics of athletes and the spectacles that are sold us.
Rest in peace, Garo Yepremian. You leave us with more to think about than one awful throw.