When I launched my teaching career in 1976, the school gave me an attendance roster, my choice of a basic reading text for my first graders and a cheerful note from the superintendent. Expectations were clear: teach them, keep them quiet at the right moments, socialize them and lead them to the next level ready for second grade.
The world has changed, but "school" has not changed as rapidly as the world around us. In an increasingly connected world, we still (largely) accept or even demand that a school experience delivers a product appropriate for 1976. As Mary Moss and Alisa Berger write in their new book, How To Innovate: The Essential Guide for Fearless School Leaders, "Our current school model, one based on seat time and regur¬gitation of broad swatches of factual data, is not serving the needs of our children."
Studies show that skills in science, technology, engineering, and math (STEM) will be required in the workforce of the future. For example, a study from the Brookings Metropolitan Policy Program showed that 20 percent of all U.S. jobs -- that's 26 million jobs -- require a high level of knowledge in one STEM field. STEM jobs are not confined to Silicon Valley; the same study showed that half of all STEM jobs are in manufacturing, health care or construction industries.
But hard or specialized skills are only one factor essential for success in tomorrow's workforce. According to STEMconnector's Innovation Task Force (SITF), workers must also possess these skills, talents and training to succeed in the 21st century:
• innovation excellence
• digital fluency
• employability skills 2.0
We are not prepared for a transition of this magnitude, yet if we don't launch it now, we will be rapidly marginalized. Further, we need to be aware that the STEM experiences will take place in a new environment with new expectations.
One of the most interesting new "environments" for math learning I've seen as the education portfolio manager with the Cisco Foundation is the spatial-temporal math ("ST math") program developed by MIND Research Institute. ST math uses language-independent animation to help students learn key concepts and improve their problem-solving and critical-thinking skills. ST Math helps students develop Digital Fluency because they are applying math to specific "real world" problems, like launching a balloon or crossing a chasm.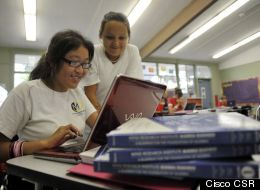 The software games are web-based, self-paced, and have a built-in performance-tracking system that is closely aligned to state and Common Core standards. Students can make as many 10 attempts before the program or a teacher intervenes. This trial-and-error approach is proven to improve understanding and to help students become more persistent and self-confident in their ability to solve problems.
Teachers have noted that the program elevates the lowest performers while also challenging high performers. We've seen double and triple growth in math scores year after year in schools using ST Math in Arizona, California, and Virginia, compared to non-ST Math schools. We invest in ST Math because it's proven to work.
What about "employability skills 2.0"? These are the skills that, according to SITF, enable employees to "sell their ideas to others, to function in teams, to develop business acumen, to develop leadership skills, to navigate across complex, matrixes global organizations"
I like to point to Cisco's own Networking Academy program as a strong example here. Networking Academy is intentionally designed to help students develop the problem-solving, critical-thinking, communication and collaboration skills that will give them a competitive edge in the global workforce. Our online learning environment, Cisco NetSpace, contains collaboration and communication tools that provide an informal and social learning environment that students are comfortable navigating.
Networking Academy also helps students develop what we call "innovation excellence" by instilling in them a determination to attack a problem or opportunity methodically, from all angles. Cisco Packet Tracer, a visualization and simulation program, allows students to design, build, and troubleshoot networks in a virtual environment. Students can experiment and explore "what if?" questions so they learn by doing.
Programs that instill the tenets of STEM 2.0 exist, but our next challenge is inspiring and encouraging students to use them. More than 80 percent of students think they need a four-year degree to get a STEM job. But according to the Brookings study, half of all STEM jobs are available to workers without a four-year college degree, and these jobs pay $53,000 on average.
One program with great potential to connect the dots is the U.S. STEM Pipeline developed by Futures, Inc., with Cisco support. This online talent exchange matches students' skills and interests to every STEM career, then shows them what nearby two- and four-year colleges offer training programs for it, and what jobs are available in the local area. As a result, students can see jobs are possible, often in their own backyard, and what they need to do to attain them.
We conducted a pilot test of the STEM Pipeline at 16 schools in 2 states and saw strong results. A study by Duke University's Center for Child and Family Policy of the 17,000 students who used the Pipeline found the following:
85 percent have a better understanding of STEM careers
72 percent have a better idea where to find sup¬porting programs
76 percent feel more confident about getting a STEM career they would enjoy
70 percent said they are "more determined to do well in high school"
The tools to move education in our country toward STEM 2.0 -- 21st century learning and preparation for 21st century jobs -- are out there. Our next step is to collaborate and capitalize on the human innovation and networked connections that can multiply their impact on our students and our workforce.
This piece is part of Cisco's series on the workforce of the future. As the worldwide leader in networking, Cisco is committed to helping people develop the technology and career skills they will need to succeed in tomorrow's workforce. Learn more at http://csr.cisco.com/pages/workforce-readiness