Fall Fashion Week is turning into a wash of gray with an undertone of blue. On the runway are women in boyfriend pants and button down shirts. Some carry messenger bags and satchels. Fur, leather: the durable is in, much to PETA's chagrin, but it lasts, unlike the faux stuff. Nary a flowery dress or color splash; earth tones and knits are predominant. Comfortable and affordable. Exotic, no. I find myself wanting to look at pictures from McQueen's past shows more then what vaults from the current runway offering.
A while ago, a Vogue editor commented that she noticed women raiding their laid-off banker boyfriends' closets for clothes. Now we see that trend on the catwalk. The importance of fashion: I find myself in a heated conversation with a good friend -- she doesn't understand my fascination with this industry's inner workings. She goes on to say, "I don't buy things more than twice a year." She freelances as well.
My reply. The garment industry buys ads in magazines. They're sometimes 25% to 50% of the publication. The top houses spend millions building their image and brand. When consumers don't purchase, the houses take out fewer ads, magazines can't pay writers and photographers. So we as creative types make do with Ramen noodles and Pop Burgers in the W Hotel Lounge. The runways are a quick and public posture of the health of many an industry and our economy as a whole.
If this Mercedes-Benz Fashion Week is an indication, we're in for a long haul, till everyone figures this mess out. Sustainability is becoming the buzzword, not on the catwalks, but in the corridors of taste-making.
In the Amex Lounge under the massive Twitter board, I overhear a long conversation with a mid-level manager at one of the powerful PR firms ruminating with a co-worker. "They want it [the business model of fashion] to be sustainable but I have my doubts." He goes on to ponder the crew he's handed, saying, "They give me these interns that don't know anyone," implying there are too many interns and not enough dedicated paid staff.
As with all creative pursuits, money is behind the veil. So if the business model itself is threatened, I'm gravely concerned. Funding is on everyone's mind. Some fashion insiders wonder if Alexander McQueen couldn't balance the internal turmoil of being creative at his level with the business demands of a brand. All of a sudden, at his death, my conversation changed, as almost everyone had a paradigm shift. He's in a league of his own, one of only a handful of designers that actually invent new looks and the dress itself.
McQueen only bought art. He never owned real estate. One report states that even though he was booked at the Four Seasons when traveling, he spent his nights in a friend's basement. He never owned a home and only rented. This parallel to Marc Jacobs is astonishing -- a desire to never experience permanence. Just like clothing, each season changes like an eastern breeze or the waft of a bakery's scent with bread in a window one can buy, but one chooses to go hungry instead.
At Y-3 the show is somber. Yohji Yamamoto recently lost his own line because of bad business management. The collection for Adidas is well crafted and put together, but the mood is dark. The models come in and out of a tunnel, then back to the light as though returning to the afterlife. Yamamoto, the consummate showman created a Sumo ring in the center of the Armory, out of lasers. Where he fights a model, almost as though he's taking on fashion itself. He wins. Then loses. Then gets up again. I find myself rooting for him more then ever before. (Note: the official take on the show, is that it's a superhero theme. I like mine better.)
Christian Siriano has a Payless deal that sustains him; Charlotte Ronson received an influx of cash because she's spot on the trends and creating wearable cheap clothes with the halo effect of celebrity. Diane Von Furstenberg has Barry Diller, not to say she isn't uber-talented in her own right. A show off the fashion folks' radar and a personal fascination of mine is The Arise African Collection. It does seem that oil supports the magazine (there's also a rumor that some funding comes from the Nigerian government).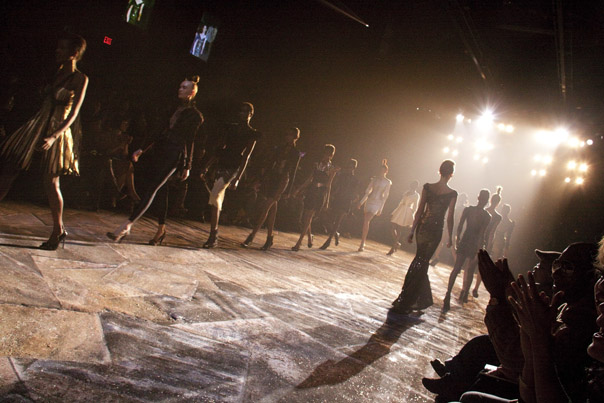 (the Arise African Collection, The Tent, Bryant Park)
The goal is to highlight African fashion and give these designers a show in the tents. Now ponder this carefully. A magazine is sponsoring a fashion show, while American publishing seems to be waiting for Steve Jobs to save them. We have our billionaire publishers, yet they seem more content to just buy magazines and extol their virtue, rather then growing the brand they've just bought (I'm stopping now, this isn't a media column). According to Jim Shi, Barneys Co-Op bought the Gant by Michael Bastian collection. Yay. Thank goodness.
I can't help wondering about the health care bill that's now gridlocked in Congress and seems an afterthought. If we did give ourselves universal care, how much of that cost would be alleviated from the fashion industry, so designers could spend that money developing better collections? If, instead of telling stories with numbers and rewarding those stories, as we do with bankers and bailouts. What happens if we rewarded people making the world a better and more beautiful place? What would our society look like then? Would our runways still be awash with gray?
More frivolous things in the next post. I promise.