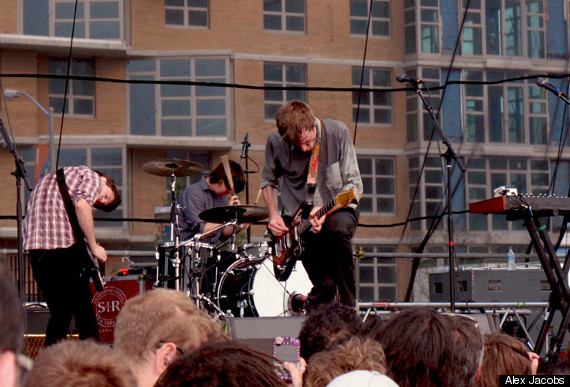 It's been two years since the release of Cut Copy's hit sophomore album, In Ghost Colours, and the band's popularity is rising still. Their set at the Williamsburg Waterfront this Sunday was extremely well-attended and turned out to be, by all accounts, a wild success. Cut Copy's energy onstage was infectious, and their songs sounded balanced and crisp. The audience was jumping, sweating, smiling and singing along to almost everything they played.
Melbourne's Cut Copy was one of the first bands to successfully incorporate the sounds of contemporary house and electro into indie rock. Like-minded contemporaries of the band like Franz Ferdinand and The Bloc Party sounded similarly dancey, but never went so far as to use electronic drum beats and techno synth stabs. Their first album, Bright Like Neon Love, was a dance record first and a collection of songs second. Most of its tracks sounded at home in the club right alongside straight-ahead techno. When I saw them open for Franz in 2004, they actually played a cover of Daft Punk's "Around the World," vocoder and all. They even released a DJ mix for the FabricLive series, whose alumni include electro stars Diplo and Simian Mobile Disco.
Their second album, In Ghost Colours, features more live drums and guitar than Bright Like Neon Love did, and has a more song-centered approach than their earlier material. The production on the record makes the band sound cleaner, bigger, and ultimately more accessible. In Ghost Colours received rave reviews and reached number one on the Australian charts, propelling the band to stardom in their home country and abroad.
Although this new sound has enabled them to craft a number of catchy choruses and synth lines for dance clubs and car commercials, in live performance the band's bouncy techno-pop can become monotonous. Each song seemed indistinguishable from the one that preceded it, which made the set sound like a one long remix of a new wave track. Every number was comprised of the same basic elements: Drummer Michael Scott's incessant four-on-the-floor beat, bassist Tim Hoey's Caucasia-funk bassline, lead singer Dan Whitford's maudlin New Romantic croon, and a host of digital synths and effects played by some auxiliary member. None of these facets of their sound are inherently bad, but I found the redundant nature of the set to be irritating to say the least. Moreover, their whole 80's-dance-party shtick has become hackneyed in recent years. At the turn of the millennium, Cut Copy was one of the few bands that played pure dance music live. Back then it was novel and original. Now, a decade later, half the bands around use electronic drum beats and vintage synthesizers; and they're outputting much more interesting material than Cut Copy.
One particularly low point during the show was the performance of their new single "Blink and You'll Miss the Revolution," in which Whitford imitates the cadence and tone of Kraftwerk's robot voices over cheesy synth marimbas and even cheesier 90's house music piano. He even danced a stylized robot at one point. It was embarrassing.
So what caused such a discrepancy between my opinion and that of the adoring crowd? Why did they erupt at the exact moments when I was cringing? Perhaps some were on ecstasy. Perhaps some weren't listening to anything but the expertly amplified kick drum. Maybe some people enjoyed Mr. Whitford's miming hand movements or his Boy George hip sways (I found these to be the worst part of the show). Either way, it is quite clear that Cut Copy delighted old fans and won some new ones on Sunday. Reluctantly, I say congratulations. They're obviously doing something right.