Crafting a BLT was the height of gourmet sandwich making in my teen years. Toasted white bread, mayo slathered on both slices, a hint of sliced tomato and shredded iceberg lettuce layered on crispy bacon formed, in my mind, the perfect sandwich.
At the age of 25 my food sensitivities set in, I cleaned up my diet, and enjoying a BLT became an impossibility.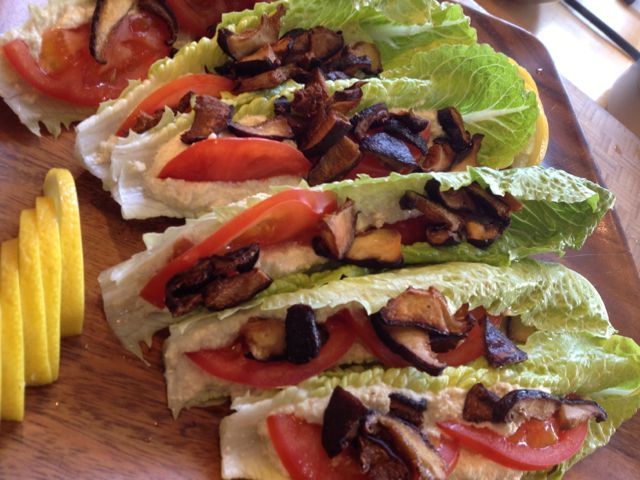 Many Americans avoid BLTs for the same reasons I do -- too many reactive, sodium-filled foods in one sandwich. Bacon has one of the highest fat contents of any meat, and adds an average of 842 mg of sodium per serving. Through the curing process, chemicals and preservatives are added to lend that "healthy pink" color you see reflected back to you from the gleaming white Styrofoam trays in the supermarket.
The mayo adds eggs, a common food allergen, and more salt for an additional 90 mg of sodium. The tomato and lettuce are nice for texture and color, and a hint of freshness and juice.
2 slices of wheat bread can add another 300 mg of sodium, creating a sandwich with over 1,200 mg of total sodium. If you're 51 or older, have high blood pressure, diabetes, or chronic kidney disease, the 2010 Dietary Guidelines recommend limiting your sodium to 1,500 mg a day, and that traditional BLT will be out of reach.
Celiac and other gluten-sensitive people may be crying in their millet porridge that wheat-wrapped hoggies are a thing of the past, but this Shiitake BLT wrapped with lettuce will save them from their deli purgatory.
The secret ingredient is roasted shiitake mushrooms. Roasting these thinly sliced mushroom caps brings out their umami flavor. That tongue-coating, long lasting, pleasantly meaty taste, umami transforms the mushrooms into a surprisingly delicious bacon replacement.
Weighing in at less than 500 mg of sodium per "sandwich," this gluten-free, layered imposter will satisfy the savory cravings of the health conscious.
Shiitake Bacon, Lettuce & Tomato Wraps
2 cups thinly sliced shiitake caps
3 tablespoons + 2 tablespoons (divided) extra virgin olive oil
¾ teaspoon sea salt
8 romaine lettuce leaves, washed and dried
2 tomatoes, sliced thinly
1 recipe cashew cheese
1 lemon
Shiitake Bacon
- Preheat oven to 360 F.
- Spread the sliced shiitake caps on a sheet pan covered with a piece of parchment paper.
- Drizzle with olive oil, sprinkle with salt, and toss with sea salt.
- Bake for 40-50 minutes, stirring every 10 minutes, until crispy.
- Remove from oven and eat while warm.
Cashew Cheese
2 cups unsalted, raw cashews, soaked in water for 6 hours
¾ cup room temperature filtered water
2 tablespoons nutritional yeast flakes (Red Star preferred)
1 tablespoon freshly squeezed lemon juice
1 ½ teaspoon onion powder
¼ teaspoon fresh ground nutmeg
1 ½ teaspoons sea salt
freshly ground black pepper to taste
- Combine the cashews, water in a food processor and blend until smooth, adding more water by tablespoon as necessary.
- Add the remaining ingredients and process again until well combined.
- Use immediately or refrigerate leftovers in an airtight container for up to 3 days.
To make the BLT wraps:
- Spread romaine leaves with ¼ cup cashew cheese.
- Top with 2-3 tomato slices and several pieces of shiitake bacon.
- Drizzle with a little olive oil, a squeeze of fresh lemon juice and fresh black pepper.