Azealia Banks performed at Details magazine party "DETAILS @ Midnight" in Los Angeles Wednesday night, playing a quick set highlighted by Banks' hits "212" and "Liquorice."
DETAILS @ Midnight (#detailsatmidnight) is an ongoing series of events held throughout the U.S. that features up-and-coming artists in hip venues. Past events have featured artists such as Kid Cudi and Theophilus London. That bar, Bootsy Bellows, is a small lounge on Sunset in Hollywood, and it brimmed with sharply dressed Los Angelenos. That it was so packed proved that DETAILS @ Midnight's surprise artist conceit is gaining traction.
At a few minutes past 12 o'clock, Banks arrived. The crowd erupted the second Banks slid through the silvery strands that separate the stage from the back room, greeting the quick-tongued 21-year-old rapper with shouts and whistles. Though not everyone knows her by name (one bystander asked, "Is she famous?"), the audience's screaming profane sing-alongs offered her a passionate embrace.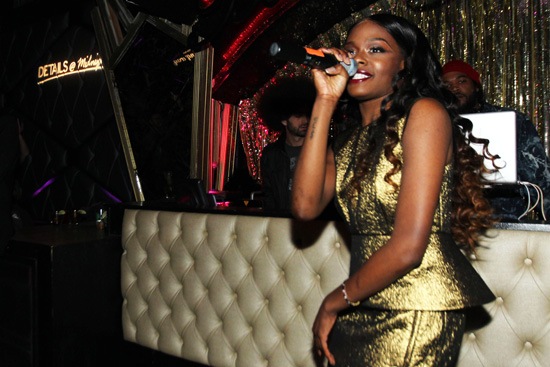 Banks rapped emphatically while strutting back and forth on the small stage. There's no pausing, no small talk and no letting up and that energy translates to an enthusiastic audience. Behind the first rows of people hanging onto Banks' every lyric are rows of people standing on tables and couches, each seemingly raising their drink in excited salute. Banks shrugged off the stadium-esque atmosphere and focused on the people immediately in front of her. It was an intimate occasion with the feeling of a brash celebration.
"212," Banks' biggest hit, was saved for the end of a short but sweet set. It may have been no more than 10 minutes in total, but that's all it took to work the front few rows into an excitable, jabbering frenzy.
With that, she said a few words of gratitude then disappeared back through those silvery strands separating the stage from the back rooms, and we're all left waiting, wanting more. Until then, there's her mixtape Fantasea, and the fervent hope for the debut of a full-length album.