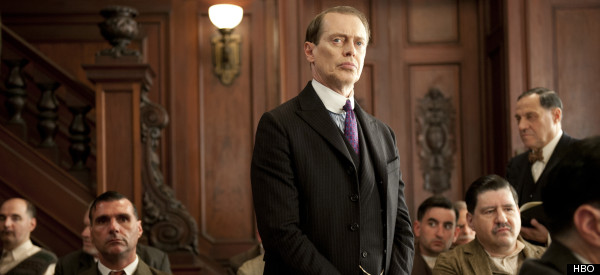 Spoiler alert: Do not read on if you haven't seen Season 3, Episode 6 of "Boardwalk Empire," titled "Ging Gang Goolie."
One week after an action-packed episode of "Boardwalk Empire" that we declared the best of the season, "Ging Gang Goolie" followed it up with a slow, ponderous episode that pivoted away from Nucky Thompson's looming war with Gyp Rosetti to focus on Nucky's marital and political problems.
The problem is that with the show's signature brand of mobster violence put on pause, "Boardwalk" is kind of meandering right now. So most of what we were left with in this episode was watching the predictable, sad disintegration of Nucky and Margaret's marriage. At least "Boardwalk's" writers had the good sense to throw in a few weird sex scenes -- Owen and Margaret finally did it again, and Gillian seduced a Jimmy lookalike -- to keep things lively.
"The Sopranos," for which "Boardwalk" creator Terrence Winter served as a writer, sometimes followed this frustrating pattern too. After a violent climactic crescendo, the next episode would often re-focus on Tony's home life. Still, it would've been nice to at least get a glimpse of how Rosetti and Van Alden were reacting to the craziness of "You'd Be Surprised."
Then again, the fire in the garage -- and in Margaret's pants -- wasn't all this episode was about. With his protection from Attorney General Harry Daugherty drying up, Nucky hatched another grand political plan to get himself out of a possible federal indictment. Nucky's at his best when he's wheeling and dealing in the political arena, and he hasn't had much opportunity to flex those muscles since he stepped down as Atlantic City treasurer.
To keep track of the deals, deception and death, check out a politically-focused edition of HuffPost TV's "Boardwalk Empire" gangster rankings in the slideshow below:
PHOTO GALLERY
'Boardwalk Empire' Gangster Rankings: Season 3, Week 6