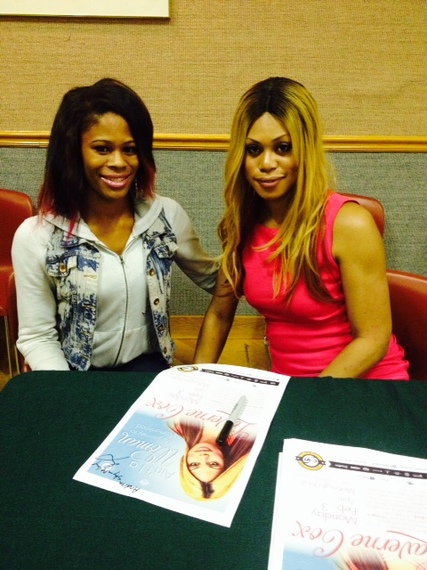 Andraya Williams and Laverne Cox are pictured together in February. (Image Credit: Sarah Demarest)
More than one hundred supporters of Andraya Williams turned out at a North Carolina college on Friday to take part in a demonstration. The protest was held at Central Piedmont Community College in Charlotte after the school administration allegedly discriminated against the transgender freshman. As was previously reported, Andraya was asked by a school security guard if she was "a man or a woman," after Williams' exited the female bathroom on campus. What resulted has become the beginning of a civil rights case against CPCC and attention on Charlotte, North Carolina, from LGBTQ advocates around the country.
I spoke to Andraya Williams and her attorney, Sarah Demarest, on Friday following their appearance at the student-organized protest. What Demarest wanted to make clear is that this is not a "bathroom story." Demarest said, "This is a story about harassment, prejudice and the school having a clear policy that protects transgender students rights' and dignity." I learned from my phone conversation with Andraya that she feels some local media in Charlotte have been reporting the story wrong. I reached out to the CPCC social media liaison on Thursday following their contact with me on Facebook. In an email to the school, I inquired about how to go about requesting access to public information in the school's ongoing investigation into the incident. At this time I have not received any further communication directly from CPCC or their liaison.
According to Charlotte NBC affiliate, WCNC, the college's spokesman, Jeff Lowrance, claims that Andraya was never suspended from the school. Andraya responded to that statement from the school today when she told me that after being detained by the initial security guard and six subsequent back-up guards, the student was told by the guard she was suspended and to not return to class until she was contacted. It was during the incident with officers that Williams' attorney says she was made party to the entire situation. Demarest said that Andraya called her and she heard the incident happen over a mobile phone.
Since the incident with the school, Andraya has met with Dean of Student Life Mark Helms. Andraya explained that in her meeting with Dean Helms she was told that she could return to school under the condition that she use the gender-neutral bathroom on campus or could bring a medical note verifying her gender. She returned to school but has avoided using the public accommodations and says she missed important tests during her suspension. Andraya says that this situation has been taxing on her mind and has made her feel uncomfortable even attending classes at CPCC. The school has admitted this week that there is no specific policy which protects LGBTQ students and Lowrance said the policy, "is evolving."
Andraya's lawyer, Sarah Demarest, is an attorney who represents LGBTQ people through Freedom Center for Social Justice LGBTQ Law Center. The FCSJ is also an organization with which Andraya has been an active volunteer. Ms. Demarest has said that all students at CPCC should feel safe to navigate the campus without fear of harassment by anyone - especially a staff member or security guard. Mecklenburg County Commissioner Kim Ratliff has also called on the school's administration to correct the situation "by offering the student a written apology." Commissioner Ratliff also said in a press release that she encourages the school to create a comprehensive "policy and education plan" that will ensure all students are welcomed.
The takeaway from all of this is that, as Andraya says, she is not "gender neutral." Her lawyer informed me that anyone who meets Andraya knows that she is a woman. Andraya wants the media to report on the discrimination she has faced at CPCC and to not make this a sensationalized story about her private parts. We have seen time and time again -- whether it was Katie Couric or Piers Morgan -- where the media has simplified the lives and realities of transgender women. Andraya Williams is a brave, strong and resilient trans woman of color who has demonstrated to us, once again, that transgender women of color are even at risk of prejudice and harassment at an institute of higher learning. Andraya's attorney claims that the school violated Title IX and Title VII and that she was denied due process by the school. The lawyer told me that all Andraya has asked for is an apology, to be allowed to use the restroom that corresponds with her gender identity and for the school to issue a clear policy that is welcoming and safe for all students, including transgender students. She's still waiting for the school to get back to her on that.