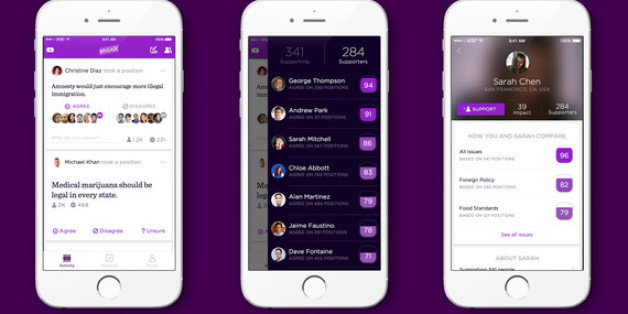 In June 2014, tech billionaire Sean Parker, the co-founder of Napster and former president of Facebook, announced he would invest $9.3 million dollars in Brigade, a new company that aims to "use social media to transform politics" and reignite civic engagement and activism in American life.
On Wednesday, the new company finally gave the public a sense of how Brigade will actually work by releasing its first app. The simple, well-designed software for iOS, Android and Web uses the familiar social networking metaphor (you have a personal profile, you follow others) and then adds a twist: along with updates, you're prompted answer questions about specific issues ("agree" or "disagree") and then can try to sway others to change their positions on issues. Over time, you develop a range of positions that can be used to calculate an alignment score to show how congruent your views are with other people, political candidates and advocacy groups. Your participation in discussions will lead to an "impact score" that shows how influential you in convincing others to change their positions.
Brigade is going to use those profiles and the associated data to form a new civic network that's separate from the one that Facebook or LinkedIn builds -- except that instead of connections to friends, family and coworkers, they're going to be mapping your intentions, beliefs, and influence.
"We want to help you think about relationships with friends, neighbors and towns in the context for having political or civic discourse," Matt Mahan, the company's CEO, said in an interview. "That's the first building block for improving it."
Brigade is launching with a mix of twelve advocacy organizations that span nonpartisan, progressive and conservative causes, including Represent.us, Drug Policy Alliance, Color of Change, Forecast the Facts, Fight for the Future, Center for Food Safety, Heritage Action, Iraq and Afghanistan Veterans of America, Generation Opportunity, Americans for Tax Reform, Americans for Prosperity, and the Susan B. Anthony List. Brigade offers a dashboard for organizations, access to network-level data about who supports their issues and shows them "what's trending" in the news so they can respond quickly and effectively.
"Traditional tools allow us to put pressure on key people at key times," said Paul Rieckhoff, the founder and CEO of Iraq and Afghanistan Veterans of America, in an interview. "What the Internet can do is democratize it, enables us to keep average people updated on the job, in school, when they're not tracking a vote that just happened in the Senate. We have used the beta Brigade tool. It's fun. If it makes people feel like they have real voice and they can see how they relate to other people, we can create a real robust national dialogue about veterans issues. Today, anyone with a mobile device can advocate for the issues that matter to them."
Aligning people with advocacy groups or candidates is not a new idea. Candidate sorters like ISideWith.com have been around for years, with a new and improved "OK Cupid for elections" every cycle. To break through, Brigade's first app and everything the company rolls out in the future will have to be much better than existing options for civic connection and advocacy. And if Brigade catches fire, it will face tougher questions about who its tools are for, how they're being used, who they empower and what kind of impact they're having on society.
The start of something bigger?
The Brigade mobile apps and website that are going live today are designed to form the foundation of a bigger vision that's quietly been built out in California over the last year. Future releases will share new analytical tools for advocacy groups, the ability for users to form groups, and "experiences" around elections, focusing on bringing a profoundly polarized electorate that has lost faith in its institutions back into civic life.
In the video below, recorded by Brigade, Mahan talks more about the company's vision.
"There are a lot of people building tools for better advocacy and participation," Mahan said. "We're starting with something more foundational. People don't love politics. They're pretty cynical and disillusioned about state of the political system right now. With everyone we talked to, it turned out they all have issues they care about, opinions, and they have a view on where they want to see the world go."
But to really work, Brigade needs a lot more users--what Silicon Valley calls scale. According to Nielsen research, Americans use an average of 27 apps at least once per month. To have a national impact, Brigade needs to be one of them, carving out their slice of attention from a hyper-stimulated public. Brigade is competing with more than attention, though. It's up against disaffection, apathy, and many other distractions, along with the commitments of family, schooling and work. Although Americans are engaged with their phones, they aren't engaged in the most fundamental aspect of democratic process: voting.
"In the last election in November, turnout was abysmal, even in so-called higher performing states," said Mindy Romero, director of the California Civic Engagement Project, UC Davis Center for Regional Change, in an interview. "We know from the U.S. Election Project that the eligible turnout rate was only 36 percent. It's been widely understood to be the lowest since World War II. Just 31 percent of all voters in California participated. Only 8.2 percent of eligible youth in California voted."
So out of 3.5 million eligible young people in that election, only 285,000 actually voted. That's a problem for long-term civic engagement. If young people turn out to vote when 18, Romero explained, they're much more likely to continue to vote the rest of their lives. If not, only some will come back into the electoral process.
Why aren't people participating? "We hear again and again that it's apathy, and it's a real thing," said Romero. "Many voters do feel it, but why they're feeling apathetic is what we should be asking. Voters are acting apathetic because they're disconnected from the political process. Survey research shows voters increasingly feeling that campaigns and candidates aren't representing them and what they care about."
The question is whether it's possible to bring interested bystanders back into politics. The evidence suggest that it's possible through through discussion of specific issues at the local level.
"For young people, lots of research do show that they do care about their communities and are involved, Romero said. "Young people are volunteering at the highest rates of any generation. They talk about wanting to see a change in their local communities, but there's a disconnection between caring and the political process."
Romero hopes that Brigade will help to bridge the gap between caring and civic participation.
"Social media is one important component," she said. "We know that it's been underutilized. If it could be harnessed, it could provide a platform that does allow folks, including youth, to talk about issues, post their own issues and to invite others to come talk about them."
Brigade has questions for you to answer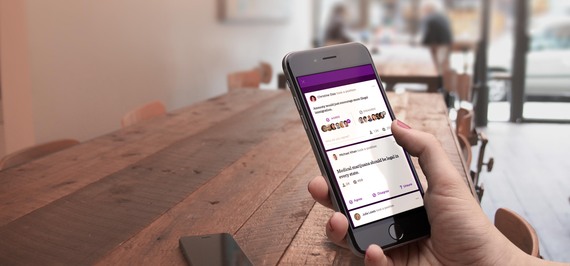 Brigade is purposely built to draw people into discussing issues by posing questions with a lightweight "agree or disagree" option optimized for a mobile device. Over the past six months of testing Brigade's private beta app, over 13,000 users have taken 1.1 million positions. The average number of positions taken per user is about 90.
"These agree/disagree questions are Brigade's binary utility," said James Windon, president of Brigade, in an interview. "You don't get to see if your friends have taken a stand until you have taken a stand."
The broader goal is to use questions and answers to draw civil discussions and debates, wherever they are. Brigade will be moderating them, on some level. (How well remains to be seen.)
"As a user, you can create your own positions and survey your friends," said Windon. "For instance, do you agree that all food should contain GMO labels? You can then add reasons. If people respond, your influence builds up.
Brigade has tied those kinds of questions to sharing tools tied into Facebook, Messenger, Twitter, SMS, and email, enabling users to draw upon their existing network of connections.
If they build it, will we come?
If this all sounds a little familiar, it should: people have been trying to use information technology for democratic purposes for decades, from websites to apps. Jumo, which matched people's interests to nonprofits, failed in 2011.
Often, these apps, campaigns and websites have failed because they embraced the "'Fields of Dreams' fallacy": if you build it, they will come. Social entrepreneurs building something with a "civic purpose" doesn't necessarily guarantee an audience unless it fulfills a need that can't be accomplished elsewhere. Citizens have flocked instead to Facebook, Twitter, Instagram, Pinterest, Tumblr and a host of other social media platforms and messaging apps that may host civic dialogue and political campaigns but are not expressly designed for them.
Brigade's value proposition is that it has built a civic social network in a way that existing sites or future competitors might find challenging to duplicate.
"There always is a threat if you feel content or media or relationships isn't sufficiently differentiated," said Windon. "We're confident our platform is quite different: it's a platform around issues, opinion expression and political engagement. Facebook is not."
Brigade has a better chance of making an impact than most. I've been watching the company take shape since last April, when the stealthy startup made a splash by raising $9.3 million dollars from Parker to close the gap between the electorate and government. How, exactly, the startup would do that wasn't at all clear, but the financial backing and involvement Parker, the chairman of Brigade, signaled that whatever it produced would be worth watching. That was further confirmed along with executives who had worked on the Facebook Causes app founded by Sean Parker and Joe Green, and Jason Putorti, the designer and co-founder of Votizen, a political advocacy app that amassed over 200 million voter files that Causes acquired in 2011. In 2014, Brigade Media acquired Votizen and Causes, bringing them all under one roof.
As Nancy Scola wrote last August, that big round of funding and the racial and gender makeup of the executive team raised some hackles in the emerging civic tech sector, along with skepticism about the prospects for yet another app that hadn't been built yet.
Whether or that skepticism is warranted will be known by year's end. What is clear is that big investments by foundations and venture capitalists has put what has been a smaller community onto a much bigger stage.
After Wednesday, Brigade will be off of the staging server and under the spotlight, with its mobile app scrutinized, reviewed, poked, prodded, hyped and criticized by media (like me) who gained early access to the private beta or joined Brigade this week.
Making civic engagement sticky, through thick and thin
One of the fundamental challenges of making civic technology meaningful lies in moving people from "thin," superficial engagement to "thick," substantive involvement with a campaign, cause or community project. It's the difference between clicking "like" on a Facebook page versus showing up in person to clean up an abandoned lot, or retweeting a campaign slogan versus canvassing a neighborhood for a candidate. Both sides of this spectrum have civic value, in terms of participation, but moving people up the ladder of citizen participation is critical to collective action leading to impact.
Malcolm Gladwell's 2010 New Yorker essay about social media and activism made this point effectively: successful digital campaigns generally have an offline component.
What Gladwell perhaps underestimated is the extent to which the loose ties of social media can lead to thicker engagement over time, as relationships are formed around shared interests. That's what Brigade is after.
"We want to expand the notion of why someone would do this by creating social rewards and social costs," said Mahan. "Now I'm voting because I'm also having meaningful conversations with friends, building our identity. We want to spark conversations about civic life that get people embedded in it."
The private beta of the app is the start of that kind of connection, not the end point.
"If you use it as designed, you are being civically engaged," said Peter Levine, a professor of philosophy, citizenship and public affairs at Tufts University, in an interview. "Sharing ideas and participating in discussions is a public good."
Levine doesn't define civic engagement as simply voting every two years. Rather, he looks at how involved people are in their communities, why, where and when.
"if you can get people to do local causes, like volunteering, you can imagine boosting mainstream things like voting," he told me. "We know from massive amounts of research that one of the things that leads to voting is someone encouraging them to do so, like a volunteer or peer. You can imagine that this [app] would both be civic engagement and lead to more of it."
Thorny questions on diversity, privacy and data use
Research on citizen engagement has found that while technology tools can increase participation in previously unengaged sections of the population, the new participants are likely to be more socioeconomically privileged. To put it another way, civic apps for smartphones can still leave the poor and their concerns behind.
According to Brigade, 83 percent of the initial users of the private beta are under 33 years old. 50 percent were 18-24. That may change in the months ahead.
"Over summer and fall, we will be reaching out tons of specific cohorts of people, from students on college campuses to issue bloggers in people more traditionally involved in politics," said Mahan. "Any social product has to grow organically."
He told me that Brigade is being thoughtful about their partners, including where they are rooted, and expects to do outreach "in places where the average internet company would never target."
Given its explicit use of "alignment scores," a measurement of how many questions different users answered in the same way, Brigade could accelerate the formation "filter bubbles" around political beliefs, as opposed to exposing people to debate.
"We want to help is people feeling alone and powerless and work towards collective action," Mahan said. "Rather than finding compromise, you're finding other like-minded people to act together on down-ballot issues that are less controversial, like cleaning up a park, clearing a river, issuing a bond for a local school or putting in bike path. If we can do that, we're helping democracy work better. We are aware of the concern about siloing people into echo chambers, but it's not our intention."
There's also the matter of Facebook, which is the 1600-pound gorilla of social networking. Brigade is going to have to convince people they should spend time on its app instead of Facebook. Even if Facebook was not to designed to get people to engage in decisions, debates and political campaigns, there's no question that it's hosting them.
Brigade is betting that their civic network will give people a better option for sharing and discussion.
"Everyone has that Facebook friend who posts gratuitous political content," Windon told me. "Even if you agree with it, there's a question about context and there's a collateral cost in posting content that's not designed for politics. Even if you know someone, the tool we're rolling out now will help you know them better."

If Brigade does catch on, the long-term outcome of all of those answers and discussions will be a huge trove of data that represents granular views on specific policy questions that might then be tied to an individual voter file. The company is aware of potential concerns.
"We've gone out of our way to write a privacy policy that's human-readable so that people will understand what's being collected and how," said Windon. "You can go to your profile and see a complete breakdown of every position you've taken."
The kind of data is a valuable strategic asset for campaigns and activists. As I mentioned earlier, Votizen reportedly amassed a database of over 200 million voting records.
"Down the road, the data they're collecting could be misused," said Levine, the Tufts professor. "If they had some kind of dominant market position in the discussion of current events, that would make them very powerful. We would worry about many things, including microtargeting."
For the moment, however, Levine is rooting for Brigade to get some part of people's attention. "I see the monopoly problem as not immediate,' he said. "I don't see a good place for online discussion and see more opportunity for public good than a threat. The threats are more from Google and Facebook than Brigade at this moment. There's potential for huge manipulation in all these services, but the benefits are pretty strong."
To have any measurable impact on democracy, Brigade will have to figure out how to move people from lightweight engagement to actually registered and voting, both of which have structural barriers in society. (Automatic, universal voter registration would knock down one of them.) Others issues that affect the public's view of their impact on the political process, like dark money in politics, no app will solve.
For now, the Brigade app is in private beta, but if they can't attract millions of users to join and keep them engaged, the pedigree of the founders and funding will be for naught. Hyped startups with smart founders, much more funding, and grand plans to change the world have failed.
"Even if they don't get the design right the first time, if they can create a shared space for good discussion, it's a public good," said Levine. "It's an attempt. It could be a great contribution to democracy."
CORRECTION: An earlier version of this story misidentified Jason Putorti. This has been corrected.