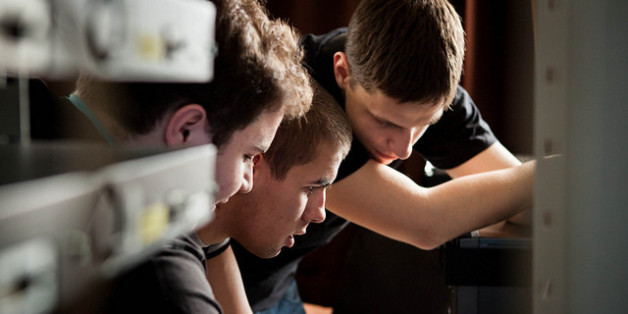 Nearly 6 million people under age 25 are currently out of work in Europe. In some countries, more than half of young people wanting to work are unemployed.
At the same time, there could be up to 900,000 unfilled positions in information and communication technology (ICT) by 2020 if we don't take action.
If we are to draw lessons from these statistics, we'll need to look critically at our workforce and explore how digital technologies are transforming Europe's society, economy and labor markets.
One shift we are witnessing in our workforce is the polarization of low- and high-skilled workers. Young people with low qualifications are the worst affected by the economic crisis; they encounter increasing difficulties to find a job, face lower job stability and are outcompeted by medium-skilled workers even in elementary occupations.
In contrast, high-skilled workers will greatly benefit from the shifting labor market. The digital economy offers great job opportunities to young Europeans -- if they have the right skills.
ICT JOB GROWTH
Demand for ICT practitioners is growing by around 4 percent a year, but the number of new ICT graduates is flat, leading to a mismatch between demand and supply for highly skilled individuals. Europe is not particularly unique in this situation; we see this trend all over the world right now, such as in the US, Canada, Australia but also in several Asian countries.
Unlike most other parts of the economy, the ICT industry is creating new jobs. More than 100,000 new ICT jobs were created in 2012 while overall employment dropped sharply. Moreover, these jobs -- application developers, big data analysts and others -- are among the best-paid in Europe. Not only that, digital skills are in high demand across all industries, not just the ICT sector. Companies in financial services, energy, automotive, retail, manufacturing, creative services and more are looking for ICT experts.
THE GRAND COALITION FOR DIGITAL JOBS
Given this situation, it is clear that we need to invest more in ICT training and education and promote careers in digital technology, especially among women. With a skilled labor force, digital technology will continue to play a significant role in driving a sustained economic recovery, but for this to happen, we must consider both short- and long-term solutions.
Building a workforce fit for the digital age requires all stakeholders to work closely together: companies and governments, schools and universities. We need to improve the awareness about the exciting opportunities in digital technology -- in smaller and larger organizations. We need to adapt curricula and provide more in-house training opportunities. This is not trivial and requires decisive action, resources and a vision shared by all stakeholders.
That's why the European Commission launched the Grand Coalition for Digital Jobs last year, bringing together ICT, education and employment around these five goals:
1. People need basic ICT training embedded in their education. We need to offer more aligned degrees and curricula at vocational schools and universities so students get the skills to succeed on the labor market.
2. We should ensure that people, especially women, know that ICT is an attractive career option.
3. We should offer training packages co-designed with the ICT industry so the skills people learn are the skills businesses need.
4. Once people have completed their training, they need to earn certifications so employers recognize and reward their skills.
5. People need to be where the ICT jobs are. This requires better worker mobility in the EU.

The Grand Coalition for Digital Jobs asks all supporters to take action themselves, and so far the results are encouraging: Fifty-five pledges have been received, including from large companies such as Cisco, but also from smaller companies, education providers and NGOs. These supporters are pledging to offer trainings, internships and jobs; or to organize events and school visits to inform young people about ICT careers.
We are also asking CEOs and political leaders to pledge substantial support for the Coalition, widening the membership to additional ICT and ICT-using companies. We also need to reach out more to companies' HR managers and public and private employment services. We want to create a stronger co-ownership of the Coalition by stakeholders and connect to funding opportunities through the Youth Guarantee, the European Social Fund and Erasmus+.
HELP PUT YOUNG PEOPLE TO WORK IN DIGITAL TECHNOLOGY
It's not too late for you to join the biggest European collaborative effort to date to create digital jobs. We need more training and on-the-job learning opportunities. We need more awareness-raising actions in schools to excite youngsters to learn digital skills.
Get involved in the national or local coalition in your country or start your own. National coalitions in Bulgaria, Poland, Lithuania, Romania, Latvia, Greece and Malta have already been launched and grassroots coalitions in Austria, Ireland, Italy, Spain and Portugal, the Basque country and the Amsterdam metropolitan area are under preparation.
And a message to the young people out there: the world is going digital and so too is the labor market. Skills like coding are the new literacy. Whether you want to be an engineer or a designer, a teacher, nurse or web entrepreneur, you'll need digital skills, and it's up to you to get them. There are plenty of opportunities. Along the way, you'll find that digital technology is empowering, fun and creative and can also make the world a better place.
See our current pledges and get involved.
This piece is part of Cisco's series on the workforce of the future. As the worldwide leader in networking, Cisco is committed to helping people develop the technology and career skills they will need to succeed in tomorrow's workforce. Learn more at http://csr.cisco.com/pages/workforce-readiness