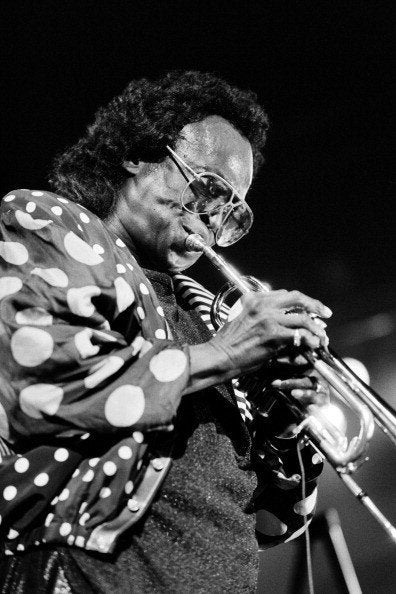 'Play' your dues Music Producer Shelly Liebowitz sings. Shelly knows music and music knows him. There is nothing auto-tuned about this man what-so-ever. He is a record producer who has worked with such greats as Sammy Davis Jr., c, Ella Fitzgerald and Frankie Avalon. On the business front, he is the CEO of SRI Entertainment Group, a Los Angeles based independent record company that carries classic jazz and other established artists in blues, country and rock.
In the 80's, Shelly created and produced two shows that benefited the Black Music Association: To Basie With Love, a tribute to Count Basie in 1982 and Miles Ahead, a tribute to Miles Davis in 1983. They raised $4 million for the BMA's musical scholarship fund. Continuing on his work with many of the classics, he was the executive producer of Judy, Frank & Dean, which aired as part of a pledge drive special nationally for PBS Television stations. This special starred Judy Garland, Frank Sinatra and Dean Martin.
Later on, he released a spectacular multi-faceted duet CD called Friends and Family with Ray Brown, Jr., the son of Ella Fitzgerald and Ray Brown (musician). It features duets with artists Jane Monheit, Melba Moore, James Moody, Maria Muldaur, Dr. John, Dionne Warwick, Freda Payne, Sophie B. Hawkins, Paul Williams, Dr. Lonnie Smith, Dave Somerville, Sally Kellerman, Kim Hoyer, Ella Fitzgerald and Haylee (Ella's grand-daughter), who sings Ella's first hit "A-Tisket, A-Tasket".
When I asked Shelly what he has been up too and if he'd give any advice to those looking to get into the music industry he said, "I am currently working with several new artists and also working on several movies as a producer. The advice I would give anyone who wants to be in this business is to make sure it is what you love to do. It's not an easy business to break into and financially it can be tough at times and very rewarding at other times so you better really love it and be willing to struggle at times." Wise words from a wise man who certainly is not going anywhere as his legacy burns bright and strong blazing his record label, SRI Records, right along rocking hard into the future.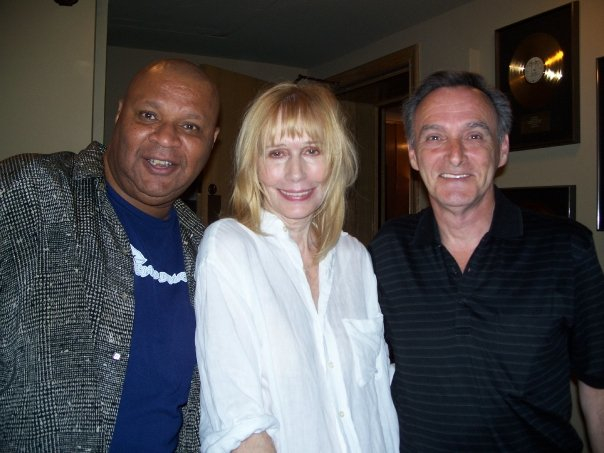 Ray Brown Jr, Sally Kellerman, Shelly Liebowitz. Copyrighted Shelly Liebowitz.
Alexandra Holzer: How did you get started in the music industry and connecting with TV and producing?
Shelly Liebowitz: I started in the business as a teenager recording demos for other artists to learn. After that I formed a band, The Phantoms, and we played all over NYC and Long Island for a couple of years. Following that I was offered a job doing promotion for a small indie label. I was drawn to producing music specials for television simply because it was more of what I was already doing and from there it branched out to producing other projects but music has always been my first love and producing music is still my favorite thing to do.
AH: Who were and are your role models?
SL: I was first inspired by my cousin, a well-known singer, Steve Lawrence, and his brother Bernie who was a great producer. After that it was Count Basie and Sammy Davis Jr. As a producer, Phil Ramone is someone who always inspires me and makes me a much better producer. Teddy Kennedy was a friend and a great role model. He gave of himself constantly trying to help people have a better life until the day he died. Another great role model for me is Bill Clinton. I have never met anyone like him who is that dedicated to changing the world.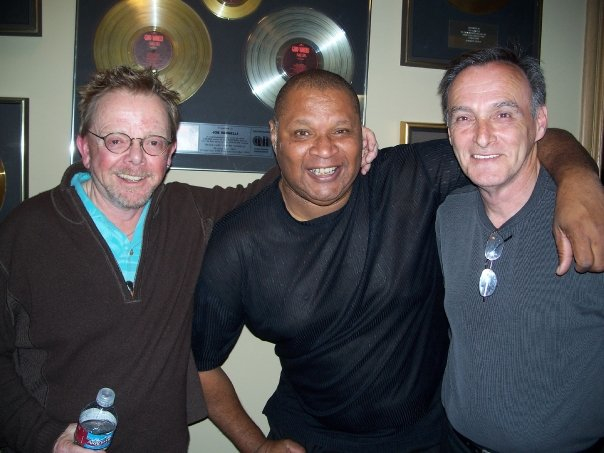 Paul Williams, Ray Brown Jr, Shelly Liebowitz. Copyrighted Shelly Liebowitz.
AH: What inspires you to get up each day and stay in the biz?
SL: I love what I do and I also enjoy helping young talent be the best they can be. It always thrills me to hear new talent or a great new song. Every day brings new possibilities and adventures in music so I look forward to each new day and each and every project I work on. I am also involved with several charities.
AH: What are a few of your most memorable times making music and why? Share some stories if you can.
SL: The first time I went to Las Vegas was with Sammy Davis Jr. and it was for a Rat Pack Show with Frank and Dean. Working with Sammy was always an exciting time as when I first met Ella Fitzgerald and worked with her. Ella was never sure that the audiences liked her. She would always come offstage and ask "Do you think they liked me?" and that was after three or four encores. Being in the studio with Harry Nilsson, John Lennon, the Concert For Bangladesh and so many other stand-out memories. I have so many great memories of working in the studio with artists but one of my favorites was producing the all-star duets album for Ray Brown Jr. So many of my old friends came in to record on that album from Dr. John to Dionne Warwick. There were 14 artists who performed on those sessions and it was great fun and very rewarding for me.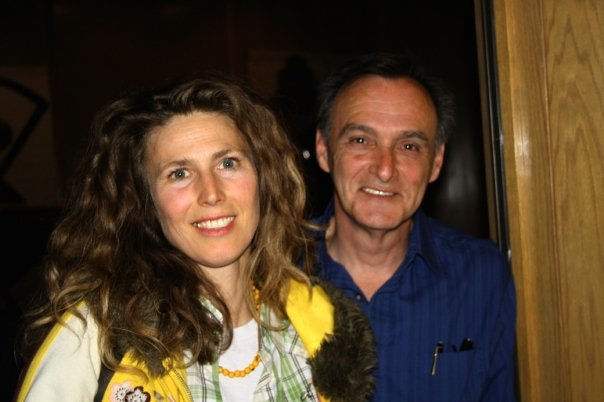 Sophie B. Hawkins, Shelly Liebowitz. Copyrighted Shelly Liebowitz.
AH: What do you think about how the music industry has changed since you began in it and do you think it's going in the right direction, or are there some old school ways we should still use?
SL: I think it's a shame that artist development is a thing of the past. Young artists think that being on TV is all they need yet they have missed out on all the training that used to be offered by labels and all the lessons to be learned by paying your dues. In artist development we would teach them everything they needed to learn to be successful in the industry as performers. How to deal with the press, how to move on stage, how to connect with the lyrics and so much more. The digital age makes it easy for young artists and cheaper for labels but the sound suffers. Analog recordings have much more life in the sound as opposed to digital.

To learn more about Shelly, please visit his website.