During the President's health care speech two days ago, the shared experience that is the realtime Internet reacted to a perfect Twitter-fodder event -- Joe Wilson's "you lie" outburst -- with a surprising amount of conversation about the real issue in the room, health care reform.
This realtime 24-7 Internet did not exist in 2001. We had the earliest versions of social media, instant messaging and blogs. But we had nowhere near the household use of many-to-many communication channels like Twitter and text messages. For the most part we spent 9-11 watching CNN. The Web in '09 is more about doing rather than watching. Twitter asks, "What are you doing RIGHT NOW?"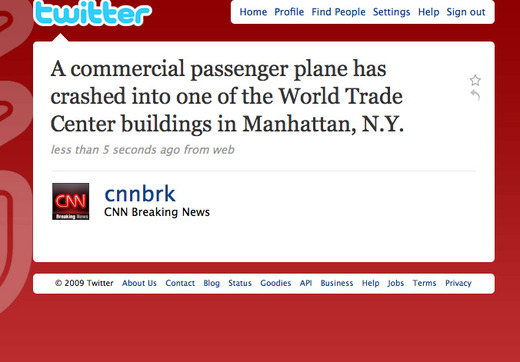 Here's an exercise for today: Ask the people on your social networks what they were doing today in 2001. Get ready for lots of responses.
Read more in "What Would 9-11 Be Like in the Age of Social Media."