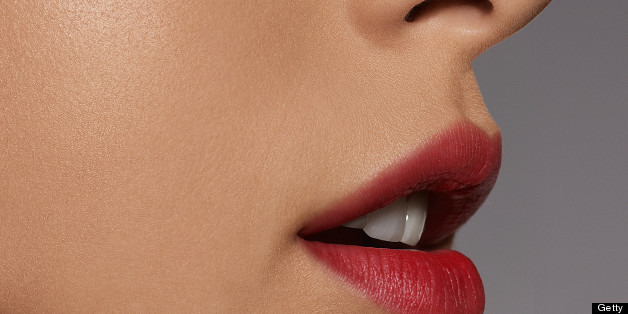 Change the way your complexion glows with just the right bold lip
Judging by the boldness of summer's new lipsticks and glosses, it seems safe to proclaim this season a time for vivid color. "I'm loving a '50s-meets-Hawaiian vibe for summer," says the Aussie authority on the topic, Poppy King. "I love those vibrant crayon shades -- bubblegum pink, peach and coral," adds the Lipstick Queen founder. Even better than the cheery shades they're coming in is the simple fact the color of one's lip can affect their complexion, specifically it can even enhance a tan. "The right lip color will make you look like the sun has just come out from behind a cloud," says King. "Your face will light up, your skin will look flawless, your eyes will sparkle -- it completes your look, ties everything together."
Many tones work to show off a great tan or faux bronzed look: "corals always look amazing with a tan, as does a bright '50s pink. I also love a classic true red with tanned skin -- keep the eyes simple and go wild with the lips!" (Try Dior's new Jelly Lip Pen in the true coral Carioca, Chanel's hot pink Pygmalion and Lipstick Queen's orange-red Stoked.) The lipstick guru, whose latest release, Endless Summer, comprises three made-for-beach-babe shades inspired by the surf flick of the same name, recommends her Sinner lipstick in Sunny Rouge as a perfect starting point. "It's the most joyful corally red; it's wonderful paired with some tropical fruit earrings and a tan!"
To make your tan appear darker, King advises looking for cooler-toned shades like blue-pinks and berry shades. "These will contrast with the golden warm tones of tanned skin." One such option is her Hello Sailor, which appears navy blue in the tube but goes on super smooth with a hint of mauve. (It even makes teeth appear whiter!) As King believes, "lip color is the single most powerful tool in makeup," and in that vein it's even able to give the appearance of a little more color in the palest of complexions. "The trick is to try a lot of shades and see what lights you up!" In other words, have no fear. "Bright red lips look amazing with a white summer dress and big floppy hat," says King. "Wearing just a pop of lipstick is at once totally relaxed and fresh, fun and summery."
This post was originally published on Beauty Bender.