Last month, I had the honor of attending Live in the Vineyard, a magical (and exclusive) music, food and wine festival in Napa, California. Twice a year, Live in the Vineyard welcomes music industry executives and lucky radio contest winners for four days of delicious food, fabulous wine and beautiful serenades by up and coming as well as established artists.
This year, I had the chance to speak to many of the artists that performed, and what I found was the most touching (and authentic) collective theme: the desire to move people, to inspire people, to make a difference with their music.
Interview after interview involved an outpouring of the most heart-centered desire to share with the world the artists' true vulnerabilities and humanity, the hope to reach people with a message that they're not alone in feeling what they feel, experiencing what they're experiencing, dealing with the bumps and fireworks and roadblocks and disappointments of life.
I have had the privilege of becoming friends with the founders of Live in the Vineyard, Bobbii Hach-Jacobs and Claire Parr, and have known them both to be some of the most open-hearted, loving, inspirational women I know. But to find that the superstar artists they hand pick to join them at this special event reflected an aligned energy was surprising, and wonderfully refreshing.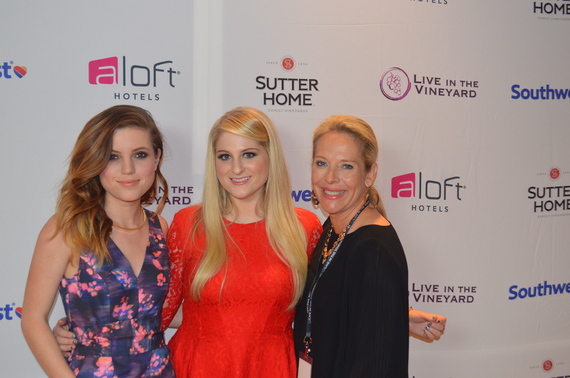 Teenager Sydney Sierota, lead singer of Echosmith, shared with me that the hit Cool Kids was born out of the desire to share a message that she and her siblings felt strongly about -- that it's okay to be yourself, that you should accept yourself just as you are.
Bea Miller told me how much she wants her music to help people "get through the day, to deal with how they're feeling." She told me that she appreciated listening to the radio and hearing her own story shared reflected in the lyrics of her favorite artists, and that she wrote her hit Young Blood because she wanted to do the same for others. "I felt really alone in how I was feeling, and I wrote the song because I wanted others who were feeling the same to know that they weren't alone."
Ingrid Michaelson told me how much it means to her to know that she's affecting someone's life in a meaningful way. "I'm not a doctor," she said, "I'm not saving someone's life in that way, but I have been told on numerous occasions that it has even come to that for some. I know that music is really powerful, and when I realize just how powerful it is and really let it in, it's heavy!"
And YouTube sensation Alex G shared with me how important she feels it is for us all to share our stories--and that she tries to do that in her music. "It's comforting to hear others' stories," she told me. "It gives people hope knowing that other people are going through the same things you are," she said. "The thing I want to do the most is be a light in people's lives," Alex shared. "I want to move people to do things that they love. To inspire them to take risks, be vulnerable and brave." And that's exactly what she's doing herself.
It's one thing to listen to a song and feel moved by the lyrics, to feel that you're a part of some universal human story. It's another to know that the artists singing that song are really in it with you, that their words are more than beautifully strung melodies expertly arranged and produced to hit just the right note of trendy and radio-worthy.
Thanks to Claire Parr and Bobbii Hach-Jacobs for creating a truly one-of-a-kind, transformative experience--I can't wait for their next event in the Spring.
Check out more about Live in the Vineyard here.