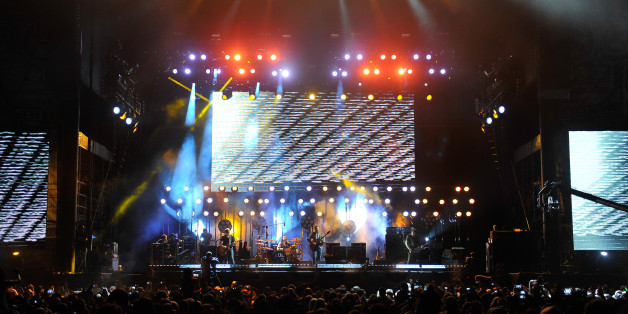 I recently had the chance to sit down with David Graham, the new Managing Director of Bottle Rock -- the multi-day musical festival set to take Napa by storm this May 30-June 1.
Resuscitated from its rocky financial inception last year by Dave and his team of partners, Bottle Rock brings together the magical combination of music, food and wine -- it's described as a celebration of "Platinum records... lit by Michelin stars."
While most of the articles you'll read on Bottle Rock cover the financial disaster of the festival's launch last year -- the debt, disgruntled vendors, and upset event workers -- I wanted to get to the heart of the festival, what's special about it, why Napa, and what on earth a tech entrepreneur and investor was doing taking on a project of this kind. My conversation led me to a connection with an authentic, smart and kind entrepreneur with deep roots in Napa and an appreciation for an epic community celebration. Read on.
Dave, you're a tech entrepreneur with experience building, operating and investing in tech and e-commerce companies. What inspired you to take on a project like Bottle Rock?

I jumped on this opportunity for a number of reasons. First, it was a chance to put Napa on the map in a way that's different than -- but complimentary to -- what it's typically known for: food and wine. That was very intriguing to me.
My wife and I are from Napa and live in Napa, and attended the festival last year. We had an amazing time. It was the coolest thing we've experienced on a social level here in Napa.
One of the magical things about Bottle Rock was that people from all walks of life just got along. You had the older crowd, the hipsters, the classic '90s rockers, families with kids, and people from all socioeconomic levels. I was inspired by the chance to continue to create an amazing experience like this for people. And I wanted to make it better moving forward.
I also saw that this was a unique window of opportunity to ensure that the festival stayed true to its Napa roots, that it continued to convey the unique flair that the Napa Valley offers. If the festival were owned by a larger organization, there is a possibility that the uniqueness and authenticity of the festival could be lost. I didn't want to see that happen.
Finally, we saw that no one was willing to step up and eliminate the debt. We saw the chance to bring down the debt in a material way, in a way that few people thought about, or were unwilling to take on if they had thought about it.
Had you been seeking out a Napa-based project?
No. Though I was born and raised here, my tech work was based in San Francisco, Silicon Valley, and around the world. In tech, you need a vast amount of resources available to you. I had never worked in Napa before, other than in wineries growing up.
Were you hesitant to jump into a completely new field?
I didn't have any hesitation jumping into something different. As an entrepreneur, you only learn by mistakes and failure. I've been an entrepreneur my whole life. I'm 42. I've built up a certain set of skills and wisdom - the older you get, the more mistakes you make and wisdom you gain, which allows you to make better decisions quicker. Given the timeline relative to making Bottle Rock work, it was going to be a challenge. So I tapped into the wisdom I've gained over time.
Tell me about your team of Bottle Rock partners that make up Latitude 38 Entertainment (L38). Who are they?

Jason Socggins has been my best friend since third grade, and Justin Dragoo since seventh grade. Joe Fischer I met five years ago.
How is working with friends?
It can be very special, but it can be very difficult if the vision and expectations aren't the same, or if the lines of responsibility are not clear. You can't let your personal relationship enter into the equation. Like with Jason -- we have our pecking order that goes back to elementary school, but that doesn't apply. With Jason, we've been in stressful situations before, so there's a lot of trust and mutual expectation. We're on the same page in regards to pace and how demanding we are and how accountable we feel to one another. Trust comes from knowing someone really well, and when you have it, a lot can get done.

What did you love most about Bottle Rock last year?

I loved, believe it or not, the music!
There are some amazing music festivals out there. They have such a following and they're awesome. But what was really cool about Bottle Rock was that there wasn't a bad seat in the house. You're able to get there, get up close, and see and feel what's going on -- as opposed to being eight football fields away. That was really special. And to be able to do it in my backyard is incredible.
And, of course, I love good wine and good food. It was so much fun for me to watch Black Keys while drinking a nice cab and eating Morimoto ribs.
How will this year be different than last year?
All that was good -- amazing food, amazing wine, awesome bands, a lack of pretentious vibe, open culture -- that will all be the same.
But what will be different are things that really make a difference -- more water, more shade, more bathrooms, it'll be easier to navigate to and within the festival, and we'll have a more well thought out VIP program -- (if you're paying for the extra access, you're going to get it).
And this year the festival is fewer days -- three instead of 4.5.
What's your vision for the future of Bottle Rock?
To be who we are versus trying to be similar to any other festival. We want to make this festival about experiencing close up the beautiful marriage of food, wine, music and good weather. We want to make it about that; we don't want to make it about being seen, we don't want to make it about celebrity or being able to see celebrities. We want to make it authentic to Napa and what it brings to bear. It'll never be a massive, massive festival. We're never going to bring in 75,000 a day. It's going to be special in its own way.

This year's line up includes Outkast, The Cure, Weezer, The Fray, Eric Church, Third Eye Blind, Matisyahu, Shelby Lanterman and so many others (60 bands!). Wineries include Miner Family Vineyards, Ceja, Del Dotto, Cakebread--and delicious food includes everything from Angele to Sweetie Pies. Get info at: http://www.bottlerocknapavalley.com/.