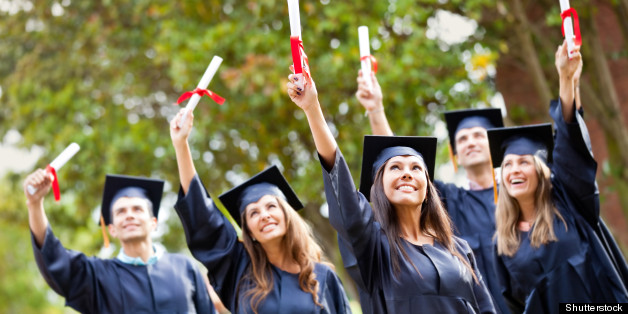 First, to all of the women who are graduating from college, let me apologize for being the umpteen-millionth person to offer advice. You've gotten advice from your advisers, your parents, your commencement speakers, and seemingly well-intentioned people (like me). You've probably heard about the recent news articles and research that attempt to debate whether your advanced education means you'll be an stay-at-home mom or become the family breadwinner. I'm not here to tell you to "lean in," "lean back," or when and if you should "opt out"; I just want to tell you to keep your options open.
If you're anything like I was during my senior year, you've got a pretty strong sense of where you want to go in your career and your life. But here's the thing: a lot of what I thought I wanted then has turned out to be wrong. Back then I couldn't imagine being a working mother and I probably wouldn't have considered a role in executive management. And, if I hadn't kept my options open, none of those things would have happened for me.
Too often, the conversations about women in the workplace are focused on the wrong things. Your generation can change the discussion. To my mind, the discussions today are about obstacles -- demanding office hours, limitations on flex time, working remotely, maternity and paternity leaves. It's up to you, the women of the Class of 2013, to change the discussion from obstacles to one of options. Your careers are just beginning, so I want to challenge you to not only keep your own options open, but also to challenge my generation to see options for reimagining and reinventing the future of work. Tell us where we can improve with:
Building better infrastructures. You're the digital generation and you were practically born able to text and type. Show us how we can keep the productivity that alternative work structures create, but also tell us how we can keep the innovation and creativity that comes from meeting with colleagues face to face. What are your ideas for making work what we do and not where we go?
Building our careers and our families. Back in 2007, the economist Sylvia Ann Hewlett began talking about the off-ramps and on-ramps on a woman's road to success. In the last few years, a few professions have tried to make the career journeys of working parents more seamless, but there's a lot of work that still needs to be done. How do we create environments that allow all of us (men and women) to do the most important work of raising families while at the same time contributing to the essential intellectual capital the economy needs?
Navigating cultural roadblocks. I'm a woman and I'm fiercely passionate about equality, but I firmly believe we need to take some of the focus off women in the workplace and place it back on the guys. The Class of 2013 needs to be the first generation that starts shunning new fathers who don't take paternity leaves. I've always found it funny that there's no male counterpart for the phrase, "A woman's work is never done." Imagine how our homes and offices would change if there was a similar phrase about men.
You are in charge of your career, and you will help define the future workplace. What choices will you make and will they increase or decrease the options available to you?