WildCare's Wildlife Hospital treats nearly 4,000 ill, injured and orphaned wild animal patients from over 200 species every year. This is one patient's story.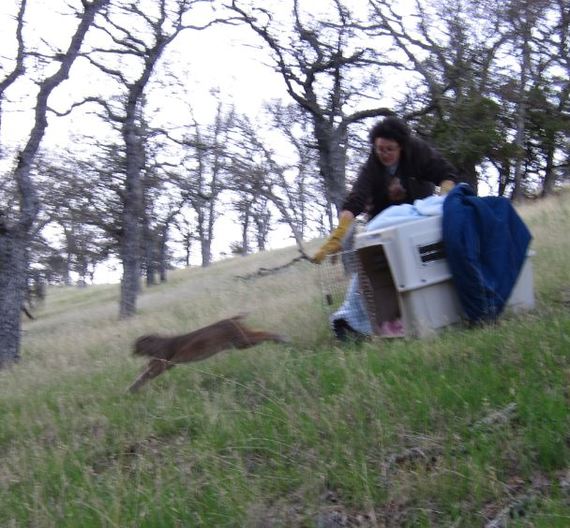 The odds against this young female Bobcat's survival were significant.
Desperate, emaciated and absolutely crawling with parasites, this normally-shy feline turned to a fisherman's cleaning station dumpster to survive. She lived for several weeks on fish scraps before marina residents called authorities to arrange her rescue.
When she arrived at WildCare in December 2013, her prognosis was extremely guarded. A bad case of ear mites, truly the worst WildCare Medical Staff had ever seen, had caused the cat to deform her own ears with scratching. She had also scratched the cornea of her eye.
But this cat is a survivor, and with the dedicated medical care in WildCare's Wildlife Hospital, she started back on the road to recovery.
By mid-January, after more than a month in care, the cat's health had significantly improved. She had gained weight on the nutritious and varied diet provided at WildCare, and anti-parasitic treatments had successfully eradicated the mites and worms that had caused her so much distress. She was no longer scratching at her ears.
It was time to transfer her out of WildCare's intensive care and give her the chance to regain her strength and hunting skills in larger caging at Sonoma County Wildlife Rescue.
In the video below, watch this Bobcat, now feeling much better, thank you, being captured and examined before she is transferred to Sonoma.
Fast forward another month and a half, and with a clean bill of health from the medical team at Sonoma County Wildlife Rescue, this Bobcat was ready to return to the wild!
The cat had been rescued from the Del Valle Regional Park near Livermore, so California State Fish and Wildlife regulations required we return her to the same area. Now healthy and able to hunt successfully, the cat had regained her natural antipathy toward humans, so she would not be seeking out the dumpster for fish leavings again.
The Bobcat was coaxed into a large carrier, covered with a blanket and transported to the East Bay in the back of WildCare's van.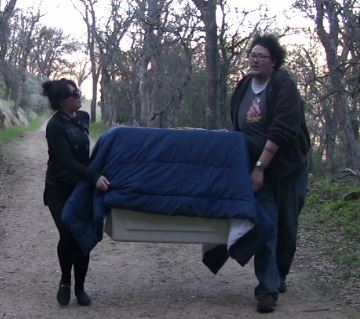 Once at the park, mud and the steepness of the terrain required the use of an official four-wheel drive vehicle to access the remote area chosen for her release. But even four-wheel drive was no match for the large oak tree that had fallen across the trail three quarters of the way up the ridge!
With the perfect release site just a quarter of a mile away, WildCare staff and volunteers showed their dedication by transporting the Bobcat like an ancient Egyptian queen in a litter up the road and into a secluded canyon.
Lots of huffing and puffing later, the carrier was placed on the hillside, and Nat Smith, RVT gently opened the cage door to set the Bobcat free.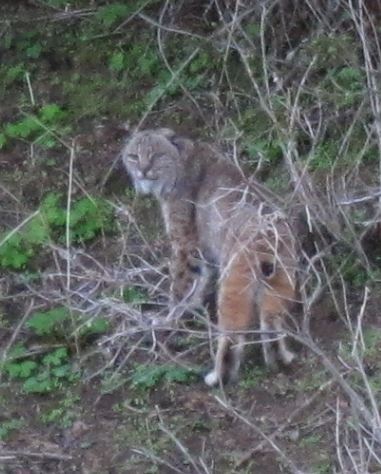 Months of dedicated care paid off as this beautiful feline launched herself back to her home in the wild, and everyone watching cheered.
Bobcats are confident animals, especially when they are feeling healthy and fit, and this one turned back several times to eye her rescuers before slipping silently into the undergrowth.
With luck she will live a long and healthy life, and even raise some litters of Bobcat kittens in her beautiful home in the hills.
WildCare is a 501(c)3 nonprofit organization supported almost entirely by private donations and individual memberships. Visit us online at wildcarebayarea.org.