WildCare's Wildlife Hospital treats nearly 4,000 ill, injured and orphaned wild animal patients from over 200 species every year. This is one patient's story.
The Black-crowned Night Heron rookery above an Oakland Post Office made national news when a tree-trimming company cut down nesting trees and nearly tossed live baby herons into the wood chipper.
Several of those babies suffered injuries and couldn't be returned to their parents' care. But other chicks survived the near-massacre unharmed and remained in their parents' care.
This bird is one of those, but the drama in his young life wasn't done yet!
As birds of this age do, he hopped out of his nest to learn to balance, flap and eventually fly from the branches of the tree in which he had hatched. As happens to some of these "branchers," he hopped a bit too far and ended up on the ground. This is a dangerous, but not necessarily fatal situation for a young night heron.
However, this bird had the bad luck to be nabbed by an inebriated man who seemed ready to carry him off somewhere!
As he was picked up, this juvenile heron started making the ear-splitting noise that you can hear in the video above.
Apparently this wasn't enough to cause the man who had grabbed him to release him. Fortunately for the bird, another passerby heard the racket and approached the man to find out what he was doing with the upset heron.
The man's responses indicated that he was drunk. He didn't seem to have any clear idea of what, exactly, he planned to do with the young heron, and was holding the screeching baby in an uncomfortable way. The bird's champion bravely insisted that the man relinquish the squawking heron so she could get the bird proper care and finally he did so.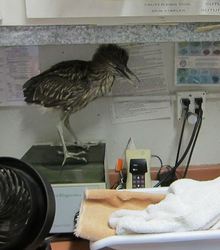 Once she had the bird in her possession, she called WildCare's Living with Wildlife Hotline and spoke to Nat Smith, RVT. Nat instructed her to keep the bird in a dark, warm, quiet spot overnight, to not give him any food or water, and to bring him to WildCare in the morning.
Upon his arrival at WildCare, Wildlife Hospital Medical Staff performed a physical exam to determine if the bird had injured himself hopping out of his nest tree, or if being mishandled by the man had caused him harm. Fortunately the exam showed no injury, and the bird was placed in an enclosure featuring several long branches which would give him the practice balancing and flapping every fledgling heron needs.
Eventually he will be transported to join his kin at International Bird Rescue (IBRC) in Cordelia which specializes in water birds. Once he's old enough, he will be released back to the Black-crowned Night Heron colony in Oakland.
Why couldn't this bird be reunited with his family?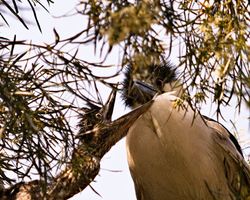 WildCare tries to reunite baby wild animals with their parents whenever possible. This year we have reunited seven fawns, nine squirrels, 13 Mallard ducklings and an Osprey among many others.
The dilemma with this Black-crowned Night Heron was that he came from a large rookery of other night herons, and there was no way to know from which nest he had fallen. You can absolutely return a healthy fallen baby bird to its nest (see WildCare's "does it need to be rescued?" guide) or in the case of fledglings, to a nearby branch.
Parent birds will not reject their offspring due to human scent-- that is a complete myth. Unfortunately in this particular case, the rescuer did not know from where in the expanse of the rookery the inebriated man had picked up the heron, and clearly there was no way for us to contact him to ask for that information. In the blaring cacophony of a large heron rookery, we cannot be certain that this bird's parents would be able to locate and identify their baby to continue caring for him if we did not return him to the right location. He will remain in care at IBRC until he's old enough to be released back to the wild.
A happy ending
At first look, this rookery of Oakland herons and egrets may seem to be the most unlucky nesting site around, but we prefer to focus on the brighter side of the many stories that have unfolded since the fateful tree-trimming incident! Thanks to the voices of countless concerned citizens and the work of IBRC, WildCare, Golden Gate Audubon Society and more, not only were the displaced and injured herons given a second chance, but their siblings, cousins and future offspring are now protected at the rookery under the watchful eye of a new program of volunteer docents who will educate the public so that the following generations of humans and birds can all live together in harmony -- no matter how cacophonous it may be.
--
WildCare is a 501(c)3 nonprofit organization supported almost entirely by private donations and individual memberships. Visit us online at wildcarebayarea.org.