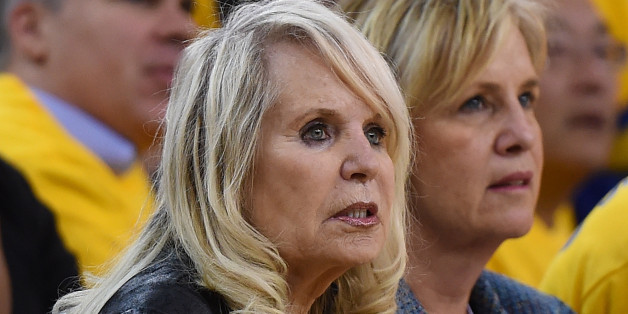 Although I normally write about the law and its implications, there are times when I find a subject outside of the law so compelling that I must comment. Shelly Sterling is one of those times. What fascinates me in this sordid tale is not the legal wranglings that are sure to drag on for some time, but why in the world would Shelly Sterling be willing to fight with everybody except Donald Sterling?
The racist rants of Donald Sterling are only the beginning of the wave of destruction the Sterlings intend to cause for the players, the coaches, the owners, African Americans, women and the city of Los Angeles. Now that Shelly Sterling -- Donald's "estranged" wife -- is demanding that she retain ownership of the Clippers, she is certain to become the second most hated sports figure of recent past. Not to mention, the epitome of all things wrong with women who stay with men purely for money.

Whether or not she has the legal footing to hold on to the Clippers is a question that seems to be inevitably headed to a court of law. However, a more troubling question is has her behavior over the years been so reprehensible that she too deserves to be banned by the Commissioner? After all, this is a woman who has been the defendant in two housing discrimination lawsuits, faithfully stood by her philanderer husband for over fifty years, never fully denounced his racist views instead coming to his defense and in fact, when faced with another one of her husband's dalliances, her answer is not to leave her husband, it is to fire off a lawsuit taking direct aim at the other women accusing them of seducing her husband. Where is her accountability in all of this? Why doesn't she ever float one of the lawsuits Donald Sterling's way? The answer is by not leaving him after all of his appalling behavior, the money, power and prestige that has come with being Mrs. Sterling has meant more to her than her own self-respect.

By all accounts, Mr. and Mrs. Sterling have amassed their fortune together, working as a team. Shelly Sterling has been intimately involved in their business affairs over the years, even going apartment door to apartment door to collect rent. By her own right, Ms. Sterling is a powerhouse of a business woman. And with so few women to look up to in positions of great power, Shelly Sterling should be a role model for young women everywhere. Yet, with all of her money, fancy cars, beautiful house even her own NBA basketball team, she is the worst example for young women to follow. I say this because in the best case scenario, she has to play the victim who doesn't share in her husband's racist views and disapproves of his infidelity yet sits silently by while her husband publicly humiliates her. Or in the best case scenario, she accepts his vile behavior and has chosen net worth over her own self-worth. Either way, she is clearly not the person who can restore a sense of decency, equality or humanity to the Clippers, the players or the NBA. At this point in her life, she needs to rip a page from Jaime McCourt's playbook and take the money and run.