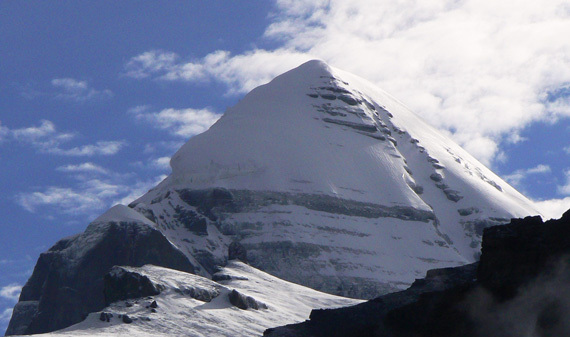 The South Face of Kailash (CC0 Public Domain Image)
Pilgrimages have always been a big part of every culture's spiritual ethos. As a Hindu, perhaps one of the most important pilgrimages to make would be the one to Mount Kailash and Lake Mansarovar in the Himalayas. Kailash, a peak that tops 21,000 feet in altitude, is considered the spiritual center of the existence in Hinduism, and is a very sacred spot in the religions of Buddhism, Jainism, Sikhism and Tibetan Bonpo as well. Lake Mansarovar, about 15 miles from Kailash, is considered to have healing powers, besides being the site of many mystical happenings down the ages. Traditionally, it is said that pilgrims from the Indian subcontinent have been travelling to Mount Kailash for 12,000 years, and thousands of devotees still make the journey every year. This time around in August, I added my number to that multitude.

Ironically enough, Kailash and Mansarovar aren't situated within India's current borders. They fall within the territory of China thanks to some strange legacy of international geopolitics. The Chinese can be a bit stingy with visas but fortunately, I was spared any such drama and my travel group, the Sacred Walks Kailash Yatra, managed to get us into Nepal and then into China smoothly enough. From here on, we travelled in vans, on highways newly laid by the Chinese.

Most of the journey to Kailash passes through Tibet at altitudes of over 10,000 feet. Altitude sickness and shortness of breath were my constant companions despite swallowing two tablets a day that were supposedly meant to reduce my nausea. But thanks to my daily yoga practices and pranayama, and liberal doses of willpower and determination, I hunkered down and carried on.
Tibet is a strange landscape. It is an unreal blend of almost every other earthly landscape. As we rode on in our vans on the smooth, exceptionally well maintained roads, I took in a small hill carpeted with grass, tall sand dunes, majestic grey mountains, and a vast crystal clear lake all at once. So many different geographies kept each other company on the roof of the world.
My unabashed, shop-athon before I embarked on the trip meant that I was kitted out in sweaters, pullovers, North Face jackets and all manner of other things that had burnt a yawning hole in my pocket. But I was glad for them whenever I experienced the frighteningly erratic weather conditions on the plateau. One moment I'd be stripping down to my t-shirt because of the glaring sun, when suddenly the sky would go overcast and icy winds would force me to put on my sweater and jacket.
After trundling along a few hundred miles through this "never-where", we reached Mansarovar on the third morning of our journey. This massive 120 square mile lake stands at an altitude of almost 15,000 feet, and is one of the largest freshwater lakes at such an altitude. Chill winds were blowing from the great expanse of water, and there was a slight drizzle, but I somehow felt very warm inside when I beheld the lake. It exerted a strange attraction on me. Its turquoise blue waters stretched out to the endless horizon to meet an overcast grey sky. And then, in the space of one sudden minute, the rain stopped and a small patch of sky cleared to reveal Kailash, the mountain, in the far distance across the lake. It dwarfed its two neighboring peaks and stood aloof, a steely blue in color, compared to the dull brown of the rest of the small peaks.
I couldn't sleep much that night as we camped on the lakeshore, so eager to make the trek to the mountain tomorrow.
The next morning, a short drive brought us close to the peak, which had veiled itself in cloud once more. We were to trek about 6 miles around the base to a stay area, and return the day after. By now I had somehow gotten past my nausea and altitude problems and was able to complete the trek quite comfortably, but the sight of a few Tibetans making a full circumambulation of the base -- about 35 miles -- really gave me a sense of what true devotion was. With each step, they also prostrated fully on the ground, bowing down to the sacred peak. They would continue this way throughout their journey!
The mountain played hide and seek with us throughout that day and we barely got a glimpse of it at all. Towards evening, we reached our hostel, which came complete with a complement of grazing yaks, a broken steam heater and wet, cold, hard mattresses.
Our perseverance was rewarded the next morning however, as a glorious day dawned, free of mist or cloud with a clear blue sky framing the mighty peak in all its glory. The past few days with the altitude sickness, outlandish terrain, erratic weather, and minimal or absent basic facilities were completely worth it when I beheld the snow-streaked blue of the sacred mountain.
Looking back at it now, there was something there that touched me at the most fundamental level, something beyond my logical grasp. I may have spent only a few hours there, but it doesn't really feel like I've left because the energy and experience of that space will be enshrined within me always.