Last week I read an article that alerted me to Sotheby's fundraising efforts earmarked for repairs to one of the buildings in the Philip Johnson's Glass House compound. I learned that a 100 artists, architects and designers have generously donated drawings, models and works of art to Modern Views: A Project to Benefit Farnsworth House and the Glass House. Apparently, Modern Views has unfolded over 4 months of signature events and an online exhibition.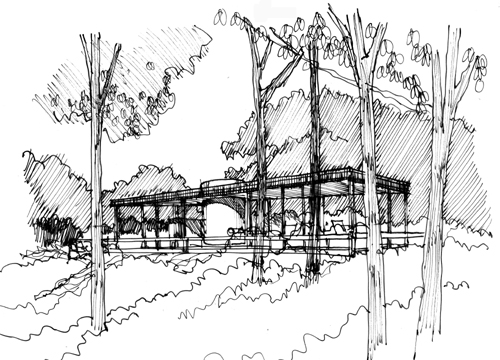 Located on a 47-acre property, a simple glass box supported by slender steel I-beams, it was once one of the most famous houses in the United States. It reformed and re-defined the living environment. From the 1950's through the early 1980's, Johnson conducted regular architectural salons at the Glass House; to sit here with the architect was to enter the heart of the American cultural establishment.
Perched atop a crest, the house provides a panorama of wooded hills, rolling meadows, and a placid pond. Johnson employs natural landscape as the shaping force of the building. According to him, the design is "worked out from the landscape point of view." He says, "[I] take in nature, from all sides."
The architect devoted two full years to the design of his residence, producing 96 drawings and 27 definitive schemes. A brick cylinder containing a bathroom and low walnut cabinets comprising a kitchen exude an attitude of serenity. With its dark colors and closeness to the earth the building is calm, ordered.
The Glass House is absorbed by the landscape but is not dissolved in it. "Just shut up and look around," Johnson tells his guests who don't know what to make of its ephemeral walls. This 56-foot-by-32-foot structure is not only sleek and brittle. It's clear and pure.
This building's harmonious connection to the landscape serves as a metaphor for keeping balance.
If we were to visit, what can we learn from Johnson's approach? Understanding the see-through nature of this flat-roofed one-story home that has been considered a landmark of modern architecture since its completion, might expand our horizon. In fact, it might invite an original interpretation.
We might see this building as a clear illustration of what needs to be re-shaped in our own life. We might feel compelled to examine and eliminate perceived barriers. We might be influenced in such a profound way that we would suddenly become inclined to convince the sabotaging voice inside, constantly nagging, "You don't have what it takes..." to change the attitude and ask: "What are you waiting for?"
Here is one of many possible scenarios. Suppose, you work at your day job more out of habit than necessity; it's your security blanket. You feel guilty about not applying yourself to your work and not taking it seriously. What matters to you and what you say matters to you are, indeed, still separate.
"Who am I? What might be going on? How can I keep my balance? Do I really have something important to say?" Trying to find answers to these questions makes your head hurt. Yet, you truly want to get to the bottom of this. The way the Glass House both integrates with nature and preserves its autonomy might just be the inspiration you need!
Aldous Huxley said: "The end cannot justify the means for the simple and obvious reason that the means employed determine the nature of the ends produced." There are corners of your creativity you still need to explore. You envision a meaningful life of launching and completing creative projects. You want to be your own best ally. You want to give yourself permission to believe in possibilities.
Sometimes you allow things to float along for a while if a decision doesn't have to be made immediately. As a result, some things disappear or become more obvious. You are quite comfortable in letting it happen. The image of the Glass House has prompted the architect within to conceive of your own transparent enclosure. You designed it to fully embrace the surroundings while keeping calm and ordered. And now, it's time to say:
"I will do everything in my power and more to be seen and heard."
The sketch of Philip Johnson's Glass House is by Miller Yee Fong, Architect
Alla Kazovsky teaches "The Architect-in-You" online workshops