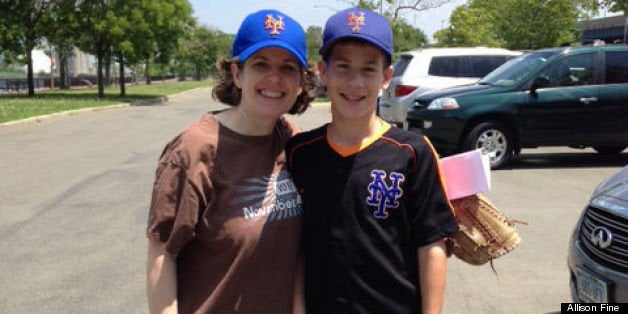 A sign of how badly I want my son to go to sleepaway camp is the hours and hours I spent packing him up to go.
My youngest son, Jackson, is going to a camp in upstate New York. His brothers went to a camp in Western Massachusetts. There were expected differences in the camps: geography, activities and schedules. What I didn't expect was the enormous difference in the packing lists. For instance, here are the linen requirements for each.
a pillow, a sheet, and two towels.
3 bath towels (to use for showering)
3 beach towels (to bring to the pool)
2 face towels (for hand and face washing)
2 wash cloths (to use in the shower)
2 fitted sheets (twin size)
2 flat sheets (can also be used as light blankets)
2 pillow cases (bring an extra if you want your bunkmates to sign it!)
1 pillow (or two if that's what you're accustomed to)
1 blanket (light to medium weight)
1 laundry bag (to use when camp-provided bag is at laundry service)
1 mattress pad or egg crate (for those who like to pad their mattress)
In all fairness, one of the camps has a laundry service. However, the camp with the more extensive packing list isn't the one with the laundry service!
The new list confounded me. As you can see, I was used to pages of very specific instructions. But the new list just said pack T-shirts. But what kind? Long sleeve, short sleeve, three quarter sleeve? All cotton, cotton/wool, cotton/polyester? And it just says swimsuit. Do they really mean just one bathing suit for weeks at the camp without the laundry service? Even if it's not clean, it might not be dry, which would be a really uncomfortable situation. I assume that Jackson will come home with some moldy things like socks, but I was hoping the mold and fungus and smell might stay with his stuff not with him.
I soon realized that the packing lists represented more than clothing going into a duffel bag, it was really an existential question of my mom-ness -- which list reflects me best?
Like my mother I feed a cold and a fever. I make matzo ball soup whenever anyone is sick, or even when someone is just thinking about being sick. And I worry a lot. Here is my stream of consciousness advice to my oldest son as he packed his pencils to take the ACTs. Try not to go too fast, but don't go so slow you run out of time. Don't worry if you don't do well, you can take the test again. But, for gosh sakes, try your hardest, this is really important!
Wouldn't you be comforted and empowered going to take the most important test of your life with these nuggets of good sense swirling around in your head? Poor kid got out of the house as fast as he could.
However, I don't hover a lot. I am, at best, a beta mom. For instance, I don't own a thermometer. Oh, I did own thermometers, lots and lots of them. I had an anal one I never had the nerve to use. I had several digital ears ones that announced everyone's temperature as 93 degrees. I had a mouth one that made them gag (and one tried to eat like a lollipop) and the strips that just slipped off their hot little foreheads. So, I threw them all out and now just use my common sense. A little hot and they have a little fever. A lot hot and they have a high fever and I should probably do something like tell my husband to take them to the doctor.
I learned the value of not hovering a few years ago when we were vacationing in Gloucester, MA. After the third day of sailing lessons, I felt obliged to go over to the instructor, a crusty old fisherman who had one squinty eye but unfortunately no corncob pipe, and ask, "So, how are the boys doing?" He squinted at me, spit on the ground, and said, "They're here, aren't they?"
He was just right. They were here, and I didn't really care if they were good sailors or not. I cared that they were gone the whole morning so I could read my book, and I cared that they came back. And since both of those things had happened there really was no reason to ask Popeye how the lessons were going.
I like being a beta mom, it suits me well, but as I held two towels in my hand I still wondered where I fit on the camp packing list continuum. Two towels just didn't seem like enough. What if Jackson went swimming and got one drenched and then took a shower (I can hope!) and balled that one up soaking wet under his bed and was now going swimming again? But the ten towels I sent to the old camp seemed excessive. I grabbed another two towels and shoved them in the bag.
And that's my answer: I'm a four-towel mom, a little more than the new list and a lot less than the old list.
After I finished packing everything plus a bit more, I reached for an illicit candy bar and a picture of the two of us at a recent Mets game and packed those, too. After all, my baby boy is going to sleepaway camp for a long time!