Do you remember your first PDA? Mine was a Palm Pilot and I loved it. Little did I know as I walked into a dinner event at the London Club almost a decade ago that was about to change.
That night, an executive from Research in Motion was the keynote speaker and talked about the future of mobile. As I was typing notes about his talk on my Palm Pilot, he laughed and said, "You don't know what you're missing."
Later that same night, as luck would have it, I won the door prize and became the proud owner of my very first BlackBerry. I'll never forget it. In a matter of days, I was officially a BlackBerry loyalist, a sentiment that has never wavered. Even during the difficult times, as my friends were jumping ship and going to what they called the "cool side," I was still proud to be using a piece of Canadian technology.
Aside from a serendipitous beginning to my relationship with BlackBerry (really, I don't think the executive rigged the draw, but maybe I'm wrong) this phone stands for so much more than just a device for typing and talking. For a decade, it's been the symbol that has joined me as I communicated with the outside world.
There is no other object that has been by my side as consistently as my BlackBerry. It's outlived every inanimate object in my life from overpriced-but well-worth-it shoes and purses, furniture to cars. It has been the one constant companion in my overloaded life of multiple social media channels, constant connectedness, the writing of hundreds of columns and two books. It's been dropped in puddles, forgotten and gone back for, lost in my purse, slid between the seats of the car and buried under paperwork, but it's never been out-of-sight or out-of-mind for very long. Once it even fell down the garbage chute from the 20th floor and was successfully, albeit difficultly, rescued.
In fact, the only thing the BlackBerry symbol hasn't outlived is my family and close friends and yet, it plays a huge role in my ability to stay connected with them.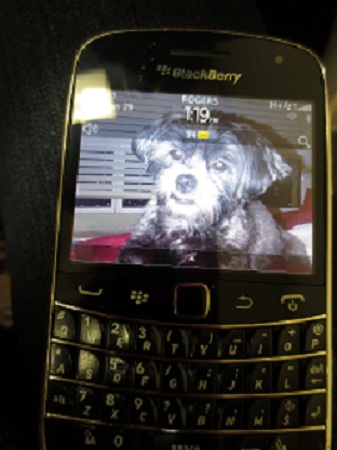 To put so much stock into a symbol may seem dramatic, but one only has to lose their phone or forget it at home for a day to realize how much we, as a society, rely on the smartphone.
To me, the BlackBerry stands for Canadian potential in the marketplace and how innovators who work hard can take an idea and influence the world.
Granted, BlackBerry also stands for the many business challenges growth can present. It's an example of how when you lead the pack with innovation, others are bound to catch up and if you're not careful, one day you will find yourself chasing your competition rather than having it chase you.
Over the last several years, being a BlackBerry loyalist has not always been easy. The gentle ridicule of friends saying you should switch to Android or listening to them blab on about the functionalities of the iPhone has been frustrating to say the least.
Until tomorrow, my main retorts have been the incredible security, the keyboard and the enterprise functionality that BlackBerry has to offer, none of which have won a debate over a glass of wine. It got to the point where I caved and bought an iPad just to see "what I was missing". I only use it for quick internet searches and reading, so all of the apps are lost on me.
When someone disses my BlackBerry, I feel the same protective feeling one gets when someone insults your friend or doesn't like your dog. It sucks, but tomorrow that will all change. At least I hope it will.
Finally, I'll be on the "cool-side" again proudly touting the merits of the BlackBerry 10 which at this point, even with the benefits that come from being a BlackBerry Elite member, are still speculation. The suspense is getting to me. I just can't wait to see if the BlackBerry10 is all that we could imagine. It's just a matter of hours before we know if this device will be the flagship that saves and invigorates a company that has fought through some tough times and if it will prove that thoughtful innovation can bring BlackBerry back to the top.