 Two weeks ago, Demi Lovato played a concert in at Central Park in New York City. I really, really wanted to interview her for my blog. I wrote to a lot of people asking them to help me get just a few minutes with her so I could tell her my story and tell her how inspiring she is and how she helped save my life. In the darkest moments, when I wanted to die, sometimes singing her songs were what kept me going for just one more night. I thought that if I met her, it would be amazing and I'd be able to share my plans on stopping bullying with her. That if everyone would just #BeBrave, bullying would end.
I didn't get to meet Demi. I never got to share with her how she helped me stay strong or tell her my story. I was disappointed, but then something amazing happened -- I made hundreds of new friends camped out in Central Park waiting for a chance to hear Demi perform. I got there at about 1:30 p.m. and was about 200th in line. Standing in that line, I started talking to people, and we started sharing stories.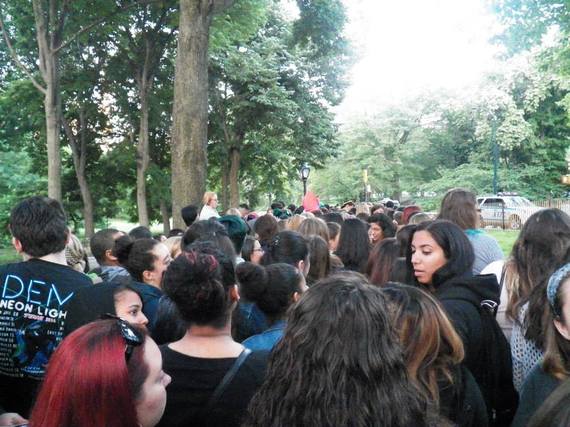 The stories they shared are not mine to tell, but what I can tell you is that we all had something in common. We all were, at some point, lost, and needed to find strength and hope. We shared a certain kind of frailness, yet extreme strength, that comes with being broken and then put back together. We were not only together to hear our hero Demi sing, but also to celebrate: We were strong and we made it through! We were all Warriors. We are our own heroes.
I thought that meeting Demi was what was important. I was wrong. The people I met were the most important. The stories we shared were important. What I found was even more important: community. I think I got a lot more out of sitting on a sidewalk in Central Park, huddled together with new friends, avoiding the stinky port-a-john, laughing and singing, sharing strength and hope and bravery. So, Amanda, Paige, Roberta, Nicole, Jenn, Sam, Alana and everyone else who sat in line to see our hero, what we really did is reinforce: we are our own strength and bravery.
We can all, together and separately, share what we have with others who need it. The simplest way is to #BeBrave and stand up for ourselves and others, and for what we know: Bullying is wrong, depression is real, self-harm happens, but hope is there and we can all make it through. It gets better.
By the way, the concert was amazing and I was happy to see Demi (and was surprised by Cher Lloyd and Nicki Minaj), but I left inspired and motivated by the people I sat up all night with, waiting in line and sharing hope, strength and love.
Need help? In the U.S., call 1-800-273-8255 for the National Suicide Prevention Lifeline.