I am on Day 3 of my 8 days of Thanksgivvukah in picture quote format where I post one thing I am grateful or ungrateful for.
Day 3: Ungrateful for Hashtag Crimes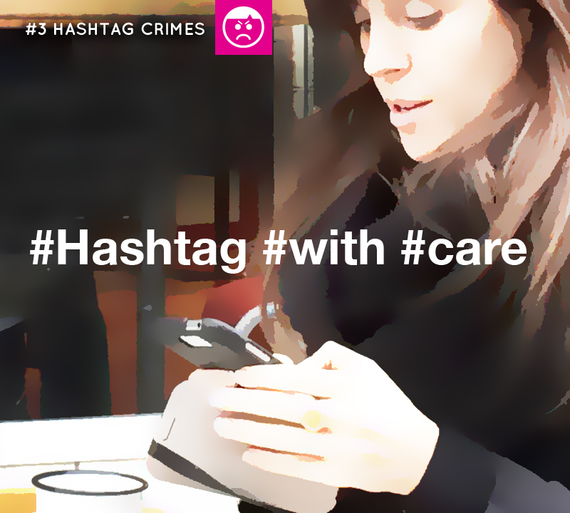 Friends don't let friends commit hashtag crimes. Hashtagging is for tracking, indexing and humoring. As with anything you do, hashtag with consciousness and awareness. Here is my Hashtag Haiku:
Please don't hashtag much
You look desperate, so sad
Just be yourself, k?
Things you don't hashtag:
1. Full sentences like #OverlyHashtagAndYouAppearAmateurSocialMediaMaven unless you are Jimmy Fallon and it's part of your sketch.
2. Definite articles like "the", prepositions like "of" or "under"
3. Gerunds like #loving or #sharing
Things you can hashtag
1. Shows like #BreakingBad to connect to your TV watching community
2. Words that make you post funnier like #fail or #NOT
3. Campaigns you want to track like Charlie Sheen's #Winning or Southern Comfort's #WhateversComfortable
I could go on, but those are a few good rules to wean you off the hashtag.
If you are serious about getting hashtag dry, have a look here at Facebook's hashtag best practices and Twitter hashtag best practices. And if you want more, try Mashable's guide to Hashtagging.
Follow me on Twitter @brandinista and get ready for tomorrow's Picture Quote.
Hint: Everyone hates them except Chanel and I.