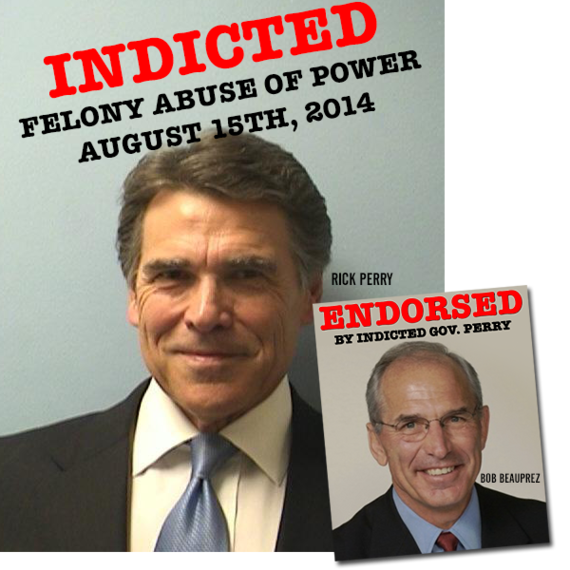 As a life-long Coloradan, I am concerned about right-wing nominees whose records are unknown to most voters. At the top of the ticket is the Republican nominee for Governor, Bob Beauprez.
Bob Beauprez's campaign would be a lot easier if we forget his right wing extreme friends, or his long history of unethical misconduct, he even his selling out to the big banks, and looking out for his fellow banking buddies.
I won't forget, let's take a trip down memory lane...
Beauprez has refused to renounce his recent endorsement of indicted Texas Governor Rick Perry and he continues to tout Perry's endorsement on his campaign website.

And just last month he brought scandal-ridden NJ Governor Chris Christie to Colorado for an exclusive downtown Denver fundraiser.
What is most disturbing about Beauprez is that these examples are the tip of the iceberg: his ties to corrupt officials and misuse of office go back years and years. While he claims he is looking out for the people of Colorado, he continues to earn his nickname, "Both Ways Bob" as his record actually shows a long history of unethical misconduct where Beauprez puts himself, his banking cronies, and big banks on Wall Street above the people of Colorado.
Beauprez's Long History of Unethical Misconduct:

In 2006, it was revealed that Beauprez co-sponsored legislation to help Beauprez's own bank:

A 2006 report from the Denver Post stated, "Records show [Beauprez] accepted more in contributions -- $163,371 -- from commercial banks in 2004 than all but two other members of Congress. In 2005, he co-sponsored a bill that gave regulatory relief and tax reductions to community banks such as his own Heritage Bank. Among other provisions, the bill would limit regulatory audits of his and other banks and exempt them from disclosure reports that protect consumers.

In 2006, it was revealed that Beauprez had misused his Congressional office to help donors to his campaign:

From 2002-2006, Beauprez directed $11.5 million in earmarks to Baber-Nichols Corporation, whose employees had made campaign contributions to Beauprez. Beauprez even used his time on the floor of the House of Representatives to publicly praise contractors in his district who make frequent campaign contributions. In May of 2005, Bob Beauprez gave a speech on the House floor praising Barber Nichols, a defense contractor in his district. A few months earlier, this corporation's employees made thousands of dollars in contributions to Beauprez,

In 2006, Beauprez voted against initiating an investigation into Congressional connections to convicted felon Jack Abramoff.
In 2006, Beauprez voted for the Boehner, R-OH, motion to table the Pelosi, D-CA, privileged resolution that asked the Committee on Standards of Official Conduct to begin an investigation of the misconduct by members of Congress and their staff implicated in the scandals associated with lobbyist Jack Abramoff's criminal activity.

In 2005, Beauprez would not return money he received from Tom Delay who was also indicted and then convicted of felony.

In 2005, it was reported that "Watchdog groups are calling on Colorado Congressman Bob Beauprez to return $30,000 in campaign contributions he received from indicted GOP strongman Tom DeLay -- and to ask for a refund of the $1,000 that he kicked into a fund to offset DeLay's legal expenses. DeLay [was] ... charged with conspiracy to use corporate donations to aid political campaigns in his home state of Texas." Just a few months ago, while running for Governor, Beauprez decided to join a right-wing Board with Tom Delay.

In 2004, Beauprez voted to table an investigation of Tom Delay:

In 2004, Beauprez voted to table an investigative subcommittee to determine whether there is substantial reason to believe that Majority Leader Tom DeLay, R-TX, had violated the House's Code of Official Conduct or other relevant laws, rules or regulations.

In 2003, Beauprez's start in Congress was by weakening the Congressional Gift Ban:

In 2003, Beauprez voted for H Res 5. The legislation set the rules for the 108th Congress, in effect easing the stringent congressional gift ban. The changes allowed lobbyists to cater meals in the House and permitted charitable groups to pay for members to attend celebrity golf tournaments or similar fundraising functions. Over the objections of the House Ethics Committee chair, Joel Hefley, R-CO.
Beauprez's past has come full circle:
Just last month it was reported that just like Mitt Romney, Beauprez blamed "47 percent of all Americans" (namely middle/lower income citizens) "for our economic problems" when speaking to a "friendly" audience behind closed doors.
As a concerned Coloradan, I ask for your help in watching whether Bob Beauprez tries to play it both ways: claiming he is for us, when the facts show that he a long his history of lining his own pocket, selling out to the big banks, and looking out for his fellow banking buddies.