The trend of integration in the natural hair movement may contribute to the erasure of kinky hair textures in the media.
Cross-racial friendships, relationships and alliances are wonderful! For example, naturallycurly.com, which supports non-straight haired women of all races through product tips, testimonials and other articles, was one of the few hair blogs that interviewed me during my kickstarter campaign for my children's book that honors afro-textured hair, Sunne's Gift. Dozens of individual African-American natural hair bloggers (including Curly Nikki) either missed or ignored my repeated requests. Naturallycurly.com's diverse readership truly supported Sunne's Gift and its message of self-love and hair-acceptance. Suffice it to say that I am a grateful and avid naturallycurly.com fan.
On a personal level, I'm pleased that my curly-haired Eastern European friend, Tanya, and I can read naturallycurly.com together and chat about the featured hair products. Again, cross-racial friendships are beautiful!
But don't get it twisted! Although Tanya and I both have hair that is not straight, our hair is different. To my knowledge, no white woman with Tanya's curly hair texture has been fired in the past year for wearing an afro to work. To my knowledge, no white little girls with Tanya's hair texture have been expelled from school for having locks or puffy hair. White girls with Tanya's hair texture are not systematically put in chairs at the tender ages of five, four or sometimes two or three so that toxic chemicals found in Drano and Nair can be placed on their hair. (That process is also called a relaxer.)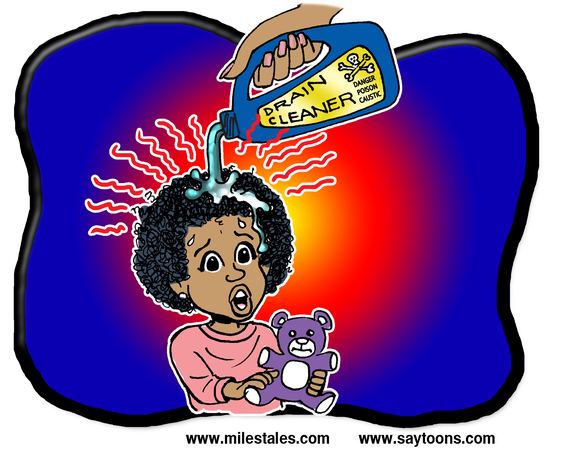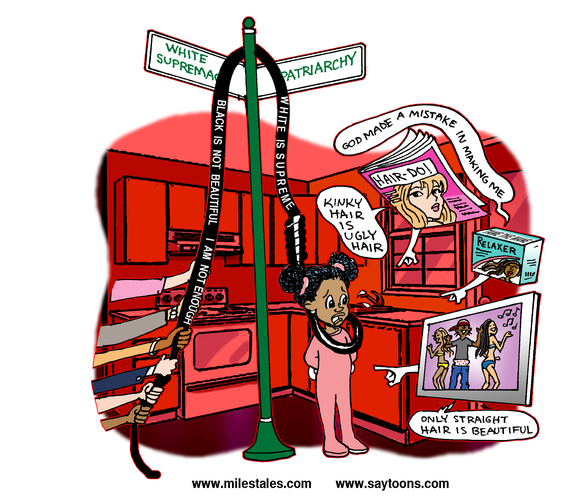 Additionally, the U.S. Army did not effectively ban Tanya's hair by banning afros above two inches, dreadlocks, twists and multiple braids of a certain width.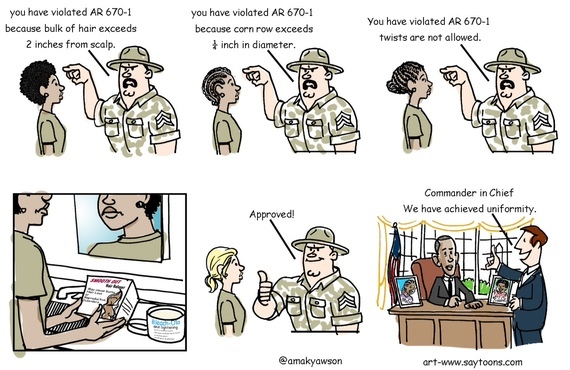 Nope, those things did not happen to white women with Tanya's curly hair, but they sure did happen to black women and girls with my kinky hair. I love Tanya dearly and I respect her hair story. But our hair stories diverge.
For these reasons, I agree with Ebony editor Jamilah Lemieux's assertion that black women with kinky hair need safe spaces which exclusively tell our stories. In these safe spaces we can vigorously promote our own beauty, share our deepest fears big chopping, discuss the lures of weaves and creamy crack, express our disappointment if the men in our lives tell us that they preferred us with Brazilian hair weaves, and mobilize ourselves to make sure that kinky haired women and girls' rights are respected.
Curly Nikki's stated mission is hair therapy -- not hair therapy for only black women. I completely agree with Nikki Walton that she has every right to create a diverse and inclusive platform. But black women also have every right to create and support exclusive ones.
When there are only cross-cultural hair coalitions, there is a tendency to seek a middle ground. Therefore, middle of the road curly textures may be celebrated and kinkier textures may be marginalized. When I chopped off my sisterlocks at the beginning of the year, I had a warped expectation of what my loose hair would look like. The pervasive celebration of curliness on natural hair blogs made me think that my hair could go back and forth from kinky to curly by simply applying pomades. Six months and six curl custards later, my hair has never known a curl. I saw my cousin with curly hair and thought that a seventh curl cream would do the trick. Later I learned that she had used a chemical texturizer. The curl hegemony has black women being oppressed by the natural hair movement that aimed to liberate them.
Moreover, while the talk of new custards, conditioners and twist-out techniques continued unabated, the natural hair movement was unable to garner the 100,000 signatures needed to challenge the U.S. army's effective ban of black hair a few months ago. In the words of Niyya Tenee, the founder of Locs Revolution, "What good is a movement if we can't move people to protect their own interest?"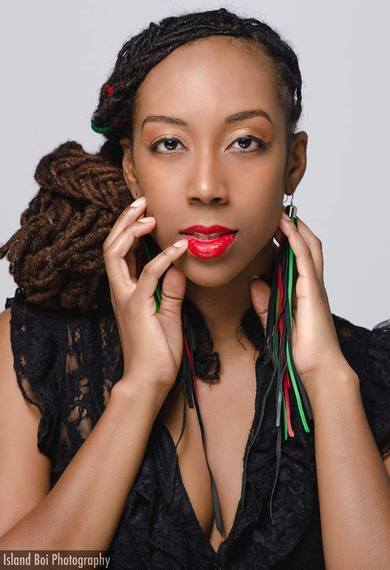 Courtesy of Niyya Tenee of Locs Revolution
The apolitical curl hegemony makes me fear that one day the natural hair movement will be synonymous with curly hair and kinky hair textures will be completely eliminated. It would not be the first time that black women of darker skin tones and kinkier hair textures have slowly witnessed their erasure in media by people who claimed to be champions of diversity.
Oil of Olay's 2012 Olympics commercial discussed the fact that "our nations and our skin" make us different, but the ad does not have any brown or deep-hued women. Despite the many dark-skinned women Olympic athletes from the United States, South Asia, Africa and Caribbean, Saatchi and Saatchi thought that they had done a phenomenal job representing skin diversity by presenting skin that ranged from pale white to light yellow.
Similarly, Pharrell said that his album, Girl, was about challenging the notion that women have to be white and waif thin to be beautiful. But instead of challenging it by placing women who look like singer Ledisi, Lupita Nyongo, Nina Davuluri and Liris Crosse on his cover, he came up with this album cover with thin to slim women ranging from pale white to light tan.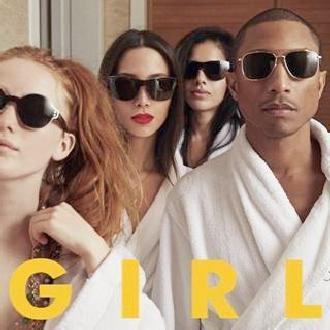 In this climate of faux diversity, it's not shocking that dark-hued women such as Nina Simone, Harriet Tubman and the non-mixed Igbo protagonist of Half of a Yellow Sun are being represented by light-skinned and mixed race actresses Zoe Saldana, Jacqueline Flemming and Thandie Newton, respectively. Controversial novelist Kola Boof has warned of this trend of replacing darker-hued women with lighter-hued women in Hollywood for years. This erasure seems almost inevitable in an era in which "one-drop" is made synonymous with blackness, curly is conflated with kinky, substitution is masked as support, and colonization parades as cooperation.
The media erasure of darker hues and kinky textures has real life consequences. A study in the book Click: The Magic of Instant Connections, revealed that just casually seeing a person, without even consciously knowing that you have seen that person, makes that person more attractive and more likable. Darker skinned and kinky-haired women may risk being perceived as less attractive and less likable in real-life as result of their lack of "being seen" in the media.
Do not misinterpret me. I love and fully support fair-skinned and or mixed race black women, curly-haired women, straight-haired women and all people. My children's book that honors afro-textured hair, Sunne's Gift, is not just about hair. It is about loving and celebrating one another because of our differences, not in spite of them. That said, we need media that represents everyone. There is no shortage of diverse stories to be told. The question should not be whether cross-racial hair blogs like curlynikki.com and Naturallycurly.com should exist. They should exist and they deserve our support. But beware. If black women fail to ALSO support more black-orientated blogs that cater to kinky hair while promoting the true meaning of the natural hair movement by defending black women's right to avoid chemical hair processes, such as afrostateofmind.com and blacknaps.org, among others, kinky-haired black women may wind up supporting our own erasure.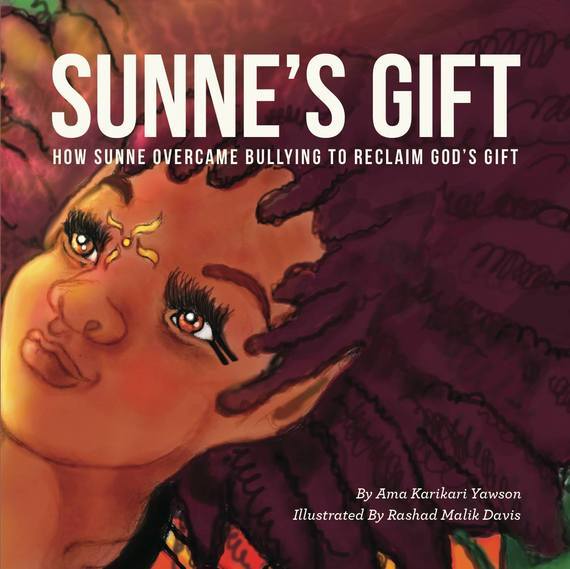 Cover of Sunne's Gift, Courtesy of Milestales