As Fashion Week kicks off this year, MAC Cosmetics and Milk Studios have partnered to offer a new show venue for designers: MAC & Milk. Located at 450 West 15th Street, this venue is an opportunity for independent voices and younger artists to showcase their designs in a setting more intimate than the tents at Bryant Park. MAC Cosmetics and Milk Studios maintain that there is no competition between their new location and Mercedes-Benz Fashion Week at Bryant Park, which is organized by IMG Fashion, since practically none of the designers showing at MAC & Milk showed at the tents last year; the exception is Erin Fetherston. Working with the CFDA, MAC & Milk coordinated the show schedule with the events at the tents so there would be no overlap; and they even snagged their own German car sponsor in BMW who will provide a small fleet of cars to shuttle attendees back and forth between venues.
Over thirty-one shows, presentations and parties will take place in the 80,000 square foot venue this season including Proenza Schouler, Altuzarra, Gwen Stefani's L.A.M.B. and Peter Som. These designers, selected by Mazdack Razzi, Founder & Creative Director of Milk and John Dempsey, Group President, The Estee Lauder Companies, do not have to pay a location fee to show at MAC & Milk, a fee that can run up to $50,000 at the tents.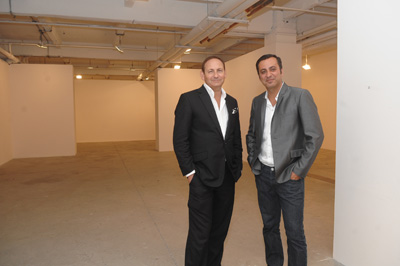 "The decision to shake things up was a concerted effort to strengthen the bond formed years ago between makeup artists and the fashion designers," said Dempsey. "This collaborative showcase allows us to be involved in a unique way and remove some of the non-essential commercialization that sits around the whole week." Fair point. McDonald's "McCafé" is one of the sponsors of Mercedes-Benz Fashion Week and the brand seems very out of place; MAC has been providing makeup support during fashion week for over 15 years.
Over the four floors at Milk Studios that will be used during Fashion Week, there will be a separate room for hair, a room for makeup, a designer press room for post-show "kiss & cry," and indoor plumbing. (Attendees to the shows at Bryant Park must suffer the indignity of negotiating port-a-potties in five inch stilettos; ain't nothing chic about that.)
Milk also offers 360 degree capability on-site for the designers including a full service casting agency, a film and production company, and a photography studio. "As the economy got worse, we found that we were supporting designers more and more in terms of providing the space and resources," said Rassi. "We're not investing in Fashion Week or Milk, but in new designers and a lot of them wouldn't have been able to do this if we had not put this together."
This exciting new venue raises the question: Is the traditional runway format still relevant? Some designers live-stream their shows via webcast, others show via presentation or installation. A group for whom ennui never goes out of style, the fashion crowd can be pretty jaded when presented with something new and exciting but it's always thrilling when young artists are given the support and resources to shine.