Just 24 hours after getting married, my husband and I jetted off to Maui to start our honeymoon. Life was crazy busy leading up to our wedding, so we didn't have much planned for our Hawaii trip other than flights and hotels. But we bought a couple of guidebooks and knew there were a few things on our list we had to check off before heading home. Here are some of our Maui honeymoon highlights: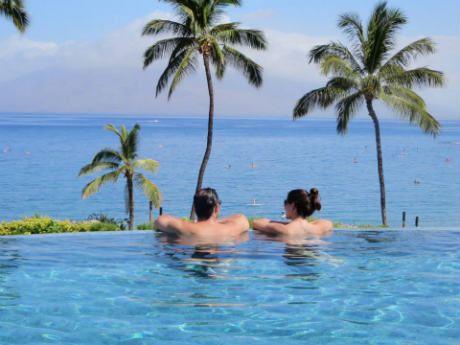 Where to Stay
We split our time between the Four Seasons and The Fairmont Kea Lani -- both fantastic choices for honeymooners. There is a reason why the Four Seasons Maui is constantly named one of the best hotels in the world. Without a doubt, the resort lives up to its reputation! While on property, we spent most of our time at the Serenity Pool, which features an infinity edge overlooking the island of Lana'i and the West Maui mountain range. Not to mention, a swim-up bar and an underwater music system. At The Fairmont Kea Lani, we loved the space and privacy our tropical villa offered, especially our very own plunge pool. We dined at both of the hotel's restaurants -- Nick's Fishmarket and Ko -- but more on this later in the post.
What to Do
Maui is a great place for beginning surfers...even those still learning how to stand up without wiping out. I took a two-hour lesson at Goofy Foot Surf School and had a great time. They say that you will ride a wave -- standing -- in just one lesson or it's free! My husband played a round of golf at Wailea Golf Club Emerald Course. He said it was beautiful and has the photos to prove it. While he was on the fairway, I treated myself to a massage at Spa Grande, which was voted "Top 10 Spas in the United States" by Condé Nast Traveler and Travel & Leisure magazines.
What to See
Be sure to dedicate one whole day to The Road to Hana. But you have to be committed to finish the journey. If you're in a rush to "do" Hana, you won't enjoy it. Our favorite waterfall was Three Bears Falls, located between mile markers #19 & #20 and just a short hike from the road. Our other favorite spots include the rainbow eucalyptus trees, the bamboo forest and the Venus pool. Just a word of advice, don't buy the $20 CD guide. Instead, go for the guidebook "Maui Revealed," which will help you find these tucked away gems and more.
Where to Eat
Our two favorite restaurant experiences in Maui were at Mama's Fish House and Ko. For our wedding, my sister gave us a gift certificate to Mama's Fish House and we went on the way back from Hana. I knew it was a popular tourist spot and wasn't sure what to expect, but the food was outstanding. As for Ko located at The Fairmont, our meal was truly memorable! Start with the Ahi tuna that you sear yourself on a lava rock and end with the plantation pineapple cake. There are so many choices in between, but you can't go wrong!