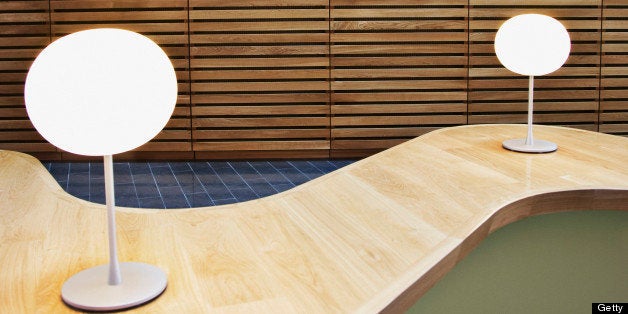 It hasn't been that long since the curtain closed on NeoCon 2013 but I'm still basking in its afterglow. The innovation, commitment and parties are almost to pre-Recession levels so it was great to see the furniture industry on the rebound. The excitement was palpable but there were some standout companies at NeoCon that I thought were particularly inspiring.
Haworth's Bluescape 'Best of NeoCon - Best of Competition' award-winning collection showcased the seamless integration between technology, space and collaborative furniture that I believe is the future of our industry. The company is providing designers with bold ideas and pieces in which to create workplace environments that influence employees to collaborate while still promoting focus, work and efficiency.
Allsteel's NeoCon launches took a polar opposite view on office collaboration by creating sophisticated, low-tech furnishings under the tag line "Humans Being." I loved some of their collaborative furniture for casual brainstorming areas such as standing market boards and soft bleacher seating as these pieces create excellent spaces for both group and one-on-one collaboration. The Allsteel Create collection took home a 'Best of NeoCon - Furniture Systems' Gold award and leads the market in collaborative furniture. I love this because despite all the high-tech advancements out there, nothing really replaces the basic need for human interaction. Allsteel certainly supports this!
Teknion launched a new studio furniture partnership with Suzanne Tick that drove home its "Details" philosophy it was promoting at NeoCon 2013. The company is certainly a fierce competitor in terms of differentiating their furniture pieces with noteworthy, yet subtle, touches. For example, although there are many desking lines out there, Teknion's Interpret line showcased a underdesk metal storage unit that instead of the expected boxy finish, featured a subtle yet visually stunning edge detail that lightened the unit and makes the entire line appear much more sophisticated. Teknion's latest book on collaboration, "No Detail is Small," is a must-read.
OFS is a smaller manufacturer that has caught my eye as of late. They are a company that has traditionally been focused primarily on old school wooden furniture for private offices. In recent years, OFS has completely reinvented themselves while staying true to the spirit and materials that made them so successful. The results are impressive as new materials -- including raw plywood -- are used for daring new designs such as their nicely executed "cavelike" workspace furniture. The company took home a Gold 'Best of Neocon 2013' award for its Eleven Work Space line in the "Furniture: Benching" category and a Silver for its Slate conference room furniture.
DIRTT was a company that I was looking forward to viewing before NeoCon 2013 and I'm glad to say that they did not disappoint. The self-proclaimed "Dirtt Bags" were out in force and the showroom was amazing. Unique spins on conventional residential and professional workspaces left me inspired as the company blends a unique perspective with unconventional materials to create unique and distinctive solutions to a variety of spaces.
The izzy+ Nemo Bar and Trellis is another Gold 'Best of NeoCon' winner that had NeoCon 2013 attendees buzzing. This synergistic furniture system provides companies with everything a company needs to drive innovation from its employees. The Bar offers a hub for connection and collaboration while the Trellis provides a sense of enclosure and privacy for an individual or small group. The Nemo Bar and Trellis could be set up in just about any setting -- corporate office, airport lounge or even at a college -- to provide just the right mix of collaboration and focus workspaces. Although I saw quite a few copycats this year, you can't beat the original!
It was great to see NeoCon climbing back towards normalcy. There was so much to see, so many new companies to meet and parties to attend. I'm sure there were many other standouts, so please let me know if there were any NeoCon standouts that I missed!