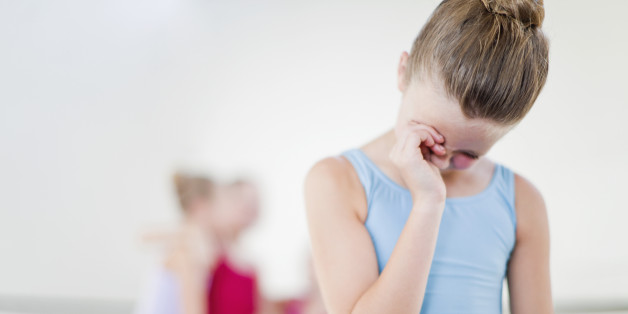 Oh my God, is there anything you can't do?
I throw it at you, you pick it up. I show you something, you copy it perfectly. I give you a rhythm, you automatically repeat it.
Your legs are statuesque. Your turns are perfectly atop your foot. Your posture is remarkable.
You are every choreographer's dream.
How many times have I worked with dancers who shouldn't have been cast? Ballet dancers who can't hear a tap rhythm to save their life. Children with an attitude. Adults with no attention span.
You. You are none of those things. You are a child without an attitude and an adult with the focus of a freaking ninja. You listen, you work, you try everything I ask for.
Fearless, eager to please, and driven, you are every choreographer's dream.
So I took all my dreams out on you.
Take this Fosse move and this triple turn and this toe stand and this Gregory Hines step and this song and do it all at once because you can.
Come show my little 8-year-olds what a proper double pirouette looks like. Look up this dancer on YouTube this weekend. Take this variation in class and dance it double time while everyone else stays on the beat with me. Because you can.
Smile. Show me your personality. Come on, let it out. Let it shine. Where's your performance quality? Where's that face? C'mon, there's more to dance than kicks and turns. And holy crap, yours are glorious. Now I just need that face.
COME ON. I'm serious, you want to be a professional dancer with that face? WHERE IS MY SMILE? Where are your eyes? Why don't you look alive?
Do you want to be a professional or not? Do you want to go past this little studio or not? Do you want me to introduce you to my connections or not? If you can't perform, you can't move on to the next level.
You can't. You won't. You never will.
I'm losing you. You've left but you're still here kicking and turning. Your spirit stayed in the car today even though your body is here copying my every move like a champ.
You're too young to know what your dreams are but yet I've already designed them for you. You haven't developed enough to control your emotions but I'm asking you to let them show all over your face every time I press "play" on the iPod. You have little sisters to care for and a family who is overwhelmed by your talent but I have so much to teach you and I don't understand why I can't have you here at the studio more often.
And I'm so sorry that we did this to you. I'm so sorry for all of us -- all the choreographers who long for students like you. I'm so sorry that we took our dreams out on you.
There's no way you can know, at 12, what you're meant to do with your life. There's no way I can make you decide that now, and if you don't find yourself smiling every time you cross the floor with your jazz shoes on, then maybe dance isn't making your heart sing as much as I thought it was.
Sometimes, my dear, we're very good at things but we could care less about them.
I have always been stubborn enough to assume that dance doesn't fit into this category. But you have proven me wrong.
Because now you're at home seven days a week and your shoes are in a box in the attic and there's no one left for me to put my choreography into and watch it come to life.
I have to teach everyone how to prep for the turn before I can throw the triple at them. And I took for granted that you would always be there, waiting in your black capris and your tight ponytail for a lesson where I put all my talents into your feet and watched you illustrate it like a live storybook.
The emotion was never there. The happiness and the ecstasy of moving to a melody was never radiating from within.
And I am so sorry that I ignored that for too long.
So I want to assure you of one thing, regardless of how much dust your tap shoes gather over the next few years.
There is a voice inside your quiet little body. And if turning and leaping is the way you let it out, then I wish that the backyard always be your dance floor and you never let a pair of shoes or a stubborn teacher keep you from dancing across the grass.
But if that's not what the voice wants to do, then I pray that you let that voice talk to you and tell you how it wants to speak. Maybe it quite literally wants to sing. Maybe it wants to quietly exit your body through your fingers and onto a perfect piece of blank paper. Maybe it wants to try a few things before it decides where it wants to live.

My dear, I implore you to let that voice out when it's ready. When you're both ready.
When you're ready, the world will be waiting kindly for you with open arms. There will be naysayers waiting at the front gate, encouraging you to stay in the dark and hold on to the comfortable silence. But I promise you, that just beyond that little pack of naysayers, will be people like me, who have been thinking about you since you first entered the studio, who will be waiting, smiling, gently coaxing you to follow your heart and step out onto the uncertain pavement of opportunity.
There is a platform for your voice to stand on somewhere in this world, and if a marley floor isn't the place, then I promise you, with time, the platform will present itself. And when it does, I pray you will be brave enough to step upon it and throw your arms open while your voice lets out a sigh of relief.
Here we are, it will say. This is where we can be free.
I pushed you too hard, and I pushed you into a corner. I am so sorry that I saw your potential and attempted to use it as my own platform - my own little way of expressing my voice.
I'm so thankful for the moments that I did get to illustrate that old marley floor with your beautiful legs and your exquisite turns. And I hope one day that you will be thankful for it too.
But for now, please take my apology, and take the time you need to let your brain develop and your heart speak up and your wings take flight.
I support you in whatever journey you end up taking, and if you'll have me, I'll always be here to give you a ride to the next destination.
You will do great things, my dear, if you shut off the self-doubt and listen to that little voice inside you that is longing to step into the light.
That voice will never fail you. And you will do great things.
With humility and compassion,
The teacher that took her dreams out on you