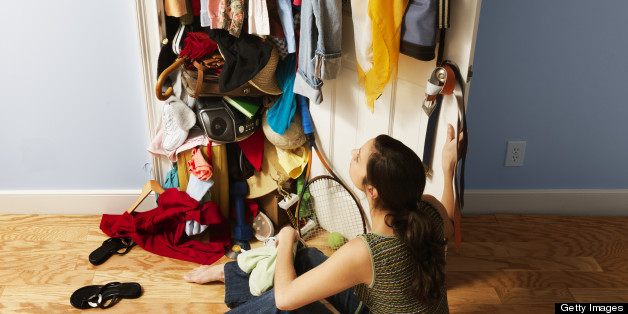 Changes in season are beautiful markers of time and, perhaps even more beautiful, opportunities to take stock and evaluate. And while this can certainly be applied to the "big picture" life stuff, it can also apply to the more practical. As days become longer and temperatures warmer, just as with the opposite, our wardrobes and closets transition to accommodate the change. With these twice-yearly seasonal switch-outs comes a real opportunity -- a chance to edit what you have and assess what you really need.
A closet is such a special space, perhaps the most personal and sacred in your entire home. It is a reflection of you -- what you love, what you are drawn to, what makes you tick -- and something that is entirely your own. A closet can hold so many memories. It's amazing how many moments, both happy and sad, can be attached to your wardrobe and personal effects. So it's not all material after all...
I love my closet -- it's a space that I have shaped over the years to resemble a carefully curated little boutique. Unfortunately, I do have to share this space with my husband, so the ability to be ever-expanding is limited, but perhaps that is a good thing. I dislike clutter in my life, and my closet is no different. I like to be able to see clearly what I have in front of me. That said, I also obviously love clothes, so for me, it's about finding the balance between the two.
Do you feel comforted when surrounded by large quantities of things? I, personally, feel the need to be surrounded by the things that I love and wear. I could pull anything from my closet and know that it will work. I am big on editing, clear on what I'll never wear again and have over the years built a pretty cool wardrobe filled with great pieces. At the end of the day, no matter how many things you do have, there will always be the occasional feeling that you have nothing to wear. That's why I like to edit -- built in permission to invest in something new.
Do you? It can be hard when emotional attachments get involved. The dress that you wore when you met your boyfriend, the first expensive piece that you splurged on, those fancy, iconic bags that just aren't you anymore... Whatever the attachment, deep down you know if you will never wear it again. As a rule, if I haven't worn something in the last year, it's time for us to part ways. And if I have even the slightest doubt, I wait and revisit when I make my next round of edits, eliminating the possibility of regret.
My unofficial 10 commandments of recycling:
Reasons to edit:
• Fashion and fits are ever-evolving. This is way too Spring 2010.
• I love the style, but what was I thinking when I bought this color?
• This reminds me of the old me. I lost weight and will certainly not allow myself to gain it back!
• I have tried this dress on several times but never end up wearing it.
• I only wear my favorite tees (the ones on top of my tee-shirt pile).
• I always wear the same perfectly fitted black blazer, though I have a collection of others.
• I haven't worn it in one year, two years...whatever number feels right for you.
Reasons to keep:
• I haven't worn this trench in years, but it's truly a classic piece that will never go out of style.
• This piece is an heirloom and elicits so many beautiful memories.
• I am not wearing it, but I am saving it for my daughters one day.
Fashion is ever-evolving and so are you, so edit accordingly. My latest obsession, aka the new Céline mules, will find a place on my shelf instead of those open toe Louboutin heels that I will NEVER wear again...Recycle. Those ultra-forgiving Lanvin dresses were gorgeous...when I was pregnant....Recycle. What was I thinking when I bought that Isabel Marant Western shirt...Recycle.
Recycling will make someone extremely happy and will give you the room and budget for your next inevitable splurge.
At the end of the day, we don't need any of this.
XXA