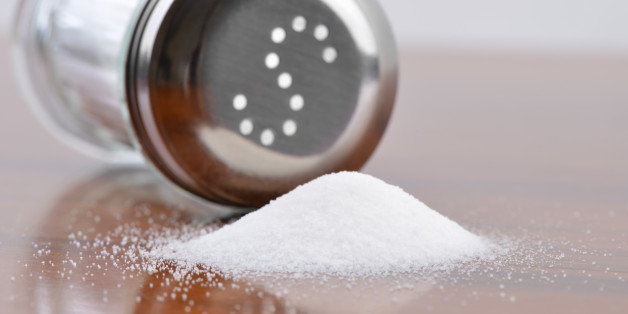 Let's face it: Most of us love the taste of salt, but our relationship with salt is not a healthy one.
Too much salt in your diet can lead to high blood pressure, a major risk factor for heart disease. Hispanics face higher risks of cardiovascular diseases because of high blood pressure, and other factors such as obesity and diabetes.
It's a challenge to lower the amount of sodium we eat, especially since more than 75 percent of the sodium we eat is already in the foods we buy. But by comparing nutrition labels of similar products and choosing the one with the lowest amount of sodium and cooking at home more, we can decrease the amount of sodium. And even with less sodium, food can still be full of flavor!
Most Hispanic foods are traditionally well seasoned, but don't confuse good seasoning with just adding excess salt to get "authentic flavor."
Here are several easy alternatives to help you get great flavor without adding extra salt:
•Use fresh garlic along with powdered garlic instead of garlic salt. Garlic powder when cooked with poultry, pastas and sautéing vegetables increases their flavor. You can also try roasting garlic. Thinly slice some garlic and brown the slices in a skillet with a little olive oil. When we sauté the garlic, the flavor is released into the oil, allowing you to use as a marinade.
•Freshly ground black pepper. There is a big difference between the powdered pepper and fresh ground-pepper, which has a more intense flavor and stronger aroma. When combining fresh ground pepper with fresh garlic for fish, meats and sauces we greatly enhance the natural flavor of the ingredients.
•If you are not a fan of garlic, use onion powder instead. Similar to garlic powder, onion powder does not contain salt. However, garlic salt or onion salt does indeed have salt. Powdered onion has an intense flavor, so use it in moderation.
•Fresh-squeezed juice from lemon and lime can be used in marinades or sauces, especially if you grill any type of meat, fish or shrimp. Adding lemon juice right before eating will give them the flavor your taste buds seek. Lemon or lime juice and olive oil is also a tasty salad dressing.
•I recommend two versions of
bouquet garni
. Combine various herbs, by tying them together with thread, and add them to a recipe.
Parsley, thyme, and bay leaves, for sauces and stews
Cilantro, coriander and celery for stews and soups
•Flavored vinegars. Vinegars usually do not contain sodium (check the label to be sure) and come in a variety of flavors, such as red wine vinegar, sherry vinegar, and cider vinegar. Vinegars add a pop of flavor to marinades, dressings, and even some soups.
•It's true that raisins and dried cranberries are naturally sweet. But when they're dried, the sweetness is even more concentrated and adds flavor to salads; also try them in sauces, marinades, and rice. You will love them!
The American Heart Association has launched "I Love You, Salt, But You're Breaking My Heart" to educate people about the risks associated with excess sodium, how sodium is sneaking into our foods and how to make better choices. Visit the campaign website, www.heart.org/sodium, to take the pledge to reduce the sodium you eat and watch the video: "Don't Let Salt Sneak Up On You." You'll also find information about sodium, healthy tips, and recipes.
Chef Hamlet Garcia is a volunteer national spokesperson for the American Heart Association's Go Red Por Tu Corazón movement.
Chef Hamlet García | Instagram y Twitter: @chefhamletg